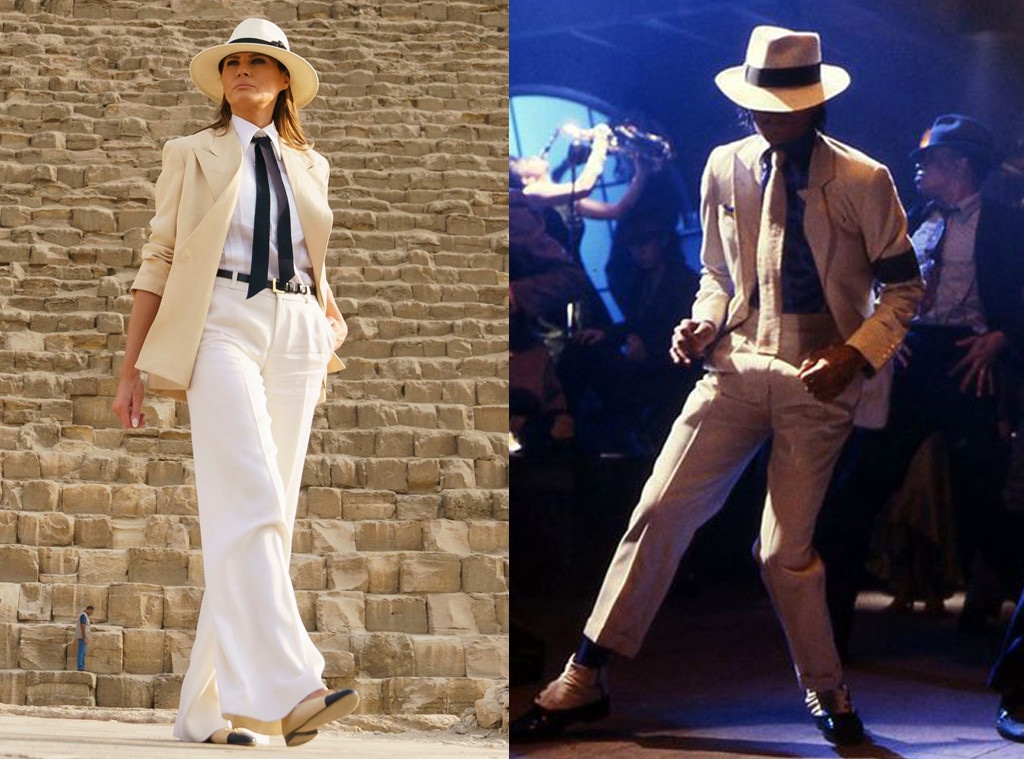 Carolyn Kaster/AP/Shutterstock
First Lady Melania Trump's sartorial decisions in Egypt left Twitter in a flurry. She began her four-country tour of Africa on Oct. 1 where she visited Ghana, Malawi, Kenya and Egypt. 
Trump's outfits have been known to cause a stir among fans and critics alike. What she wore on her trip to visit the pyramids and Great Sphinx instantly drew comparisons to fellow pop culture icons, including Michael Jackson, Dr. René Belloq of Indiana Jones' Raiders of the Lost Ark fame and more. On this outing, she wore a tan blazer, a white button-down shirt, cream-colored pants and black flats. She also had on a tan fedora and black tie.
Trump told reporters that the central message of her trip was to "show the world we care." According to Associated Press, she also said, "I wish people would focus on what I do, not what I wear," after a hat she wore drew ire and comparisons to British colonialism of Kenya.
Many Twitter users see a resemblance between the First Lady and Michael Jackson in his "Smooth Criminal" music video. In it, Jackson wears a tan suit, tan fedora and black tie. Dr. Belloq wore a similar outfit.
Below are some of the best reactions to Trump's outfit of the day.
In August, the First Lady faced some criticism in the Twitterverse when she planted a tree at the White House while wearing Christian Louboutin heels and a Valentino skirt. In June, however, she wore a jacket that said "I Don't Care, Do U?" while visiting immigrant children in Texas. That outwear is still a reference point for many comments on her attire.
Trump expressed some transparency with reporters in Egypt about her husband President Donald Trump's own Twitter comments. "I don't always agree with what he says and I tell him that," she said. "But I have my own voice and my own opinions and it's very important for me that I express what I feel."
According to CNN, she has, in fact, asked her husband to put his phone down occasionally.