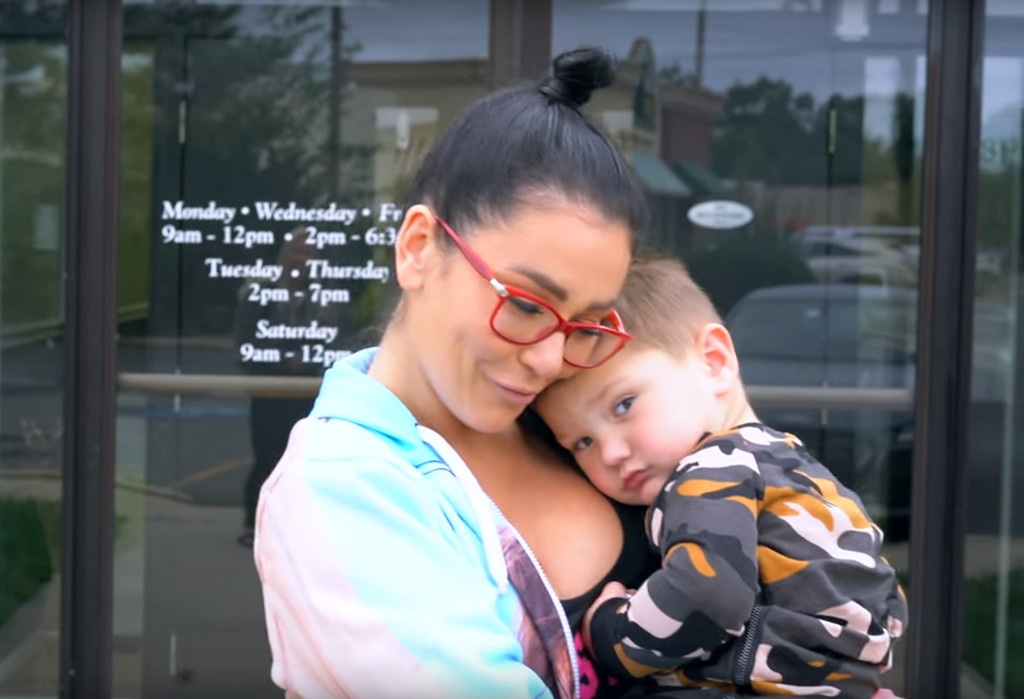 YouTube
Jenni "JWoww" Farley continues to seek professional help for her son Greyson to overcome his speech delay.
The 32-year-old Jersey Shore Family Vacation star revealed this summer that her and soon-to-be-ex husband Roger Mathews' 2-year-old son Greyson, their youngest child, still wasn't speaking and could not understand a lot of words. She said he was undergoing therapy.
On Friday, she shared a YouTube video showing her taking the boy to his first visit to her family chiropractor, Dr. Lynn Bauchiero, at Thompson Healthcare & Sports Medicine in Toms River, NJ, to get a pediatric chiropractic adjustment. Some studies have shown chiropractic treatment has the potential to help improve the speech and coordination of a child with developmental delays.
"She is going to try and give Bubby a nice session because I heard that it actually helps with speech, " JWoww said in the video.
"Obviously, having a 2-year-old that doesn't speak and that doesn't understand words, say 'Hey Bubby, we're about to get adjusted,' he thinks it's a game right now," she continued.
The chiropractor examined the boy as he lay on his mother's chest; most children his age squirm and get distracted at times when they have to remain still. She later gently treated his back and neck.
"I'm just trying everything when it comes to his overall health," JWoww said. "Therapies, occupational, behavioral."
The chiropractor noted that Greyson had "great motor control" as he climbed a padded bench to reach an iPhone.
Watch:
JWoww Cried Over Outpouring Support for 2-Year-Old Son
"This is just, I would say, part one of Greyson's journey, getting adjusted," JWoww said. "We'll definitely check back in in a few months after I give Greyson one or two visits a week to really get him going, especially with his early intervention. He's not having no more sugar, no more gluten, a bunch of other things he's not having—that he really hates his mother for, but it is what it is."