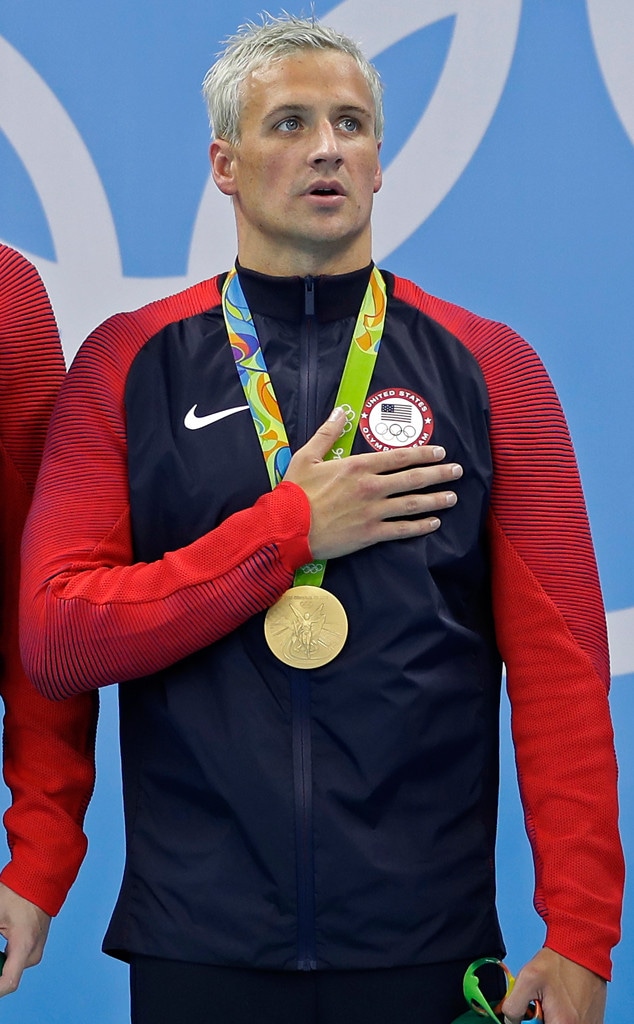 AP Photo/Michael Sohn
Ryan Lochte will be seeking help for alcohol addiction following an incident in Newport Beach this week.
According to TMZ, the 34-year-old Olympic swimmer tried to kick in his own hotel room door at around 3 a.m. on Thursday morning. The outlet reports that hotel security responded and police were called, however, no arrests were made.
"Ryan has been battling from alcohol addiction for many years and unfortunately it has become a destructive pattern for him," Lochte's rep tells E! News in a statement. "He has acknowledged that he needs professional assistance to overcome his problem and will be getting help immediately."
The statement continues, "Ryan knows that conquering this disease now is a must for him to avoid making future poor decisions, to be the best husband and father he can be, and if he wants to achieve his goal to return to dominance in the pool in his 5th Olympics in Tokyo in 2020."
Meanwhile, a source tells E! News the incident in Newport Beach "really embarrassed him now that he's a father."
"Ryan loves being a dad more than anything," the source adds. "He's absolutely obsessed with his son and doesn't want to have any more antics that would embarrass him down the line which is why he's now taking the steps to get sober."
It was just last month that Lochte's rep confirmed to E! News that he and Kayla Rae Reid had tied the knot once again. The couple first exchanged vows in Jan. 2018 at a courthouse in Gainseville, Fla. after getting engaged in Oct. 2016. For their second time saying "I do," Lochte and Reid had a ceremony in Palm Springs, Calif. in front of friends and family, including their son, Caiden Zane Lochte. Reid gave birth to the couple's baby boy in June 2017.
Watch:
Tyler Henry Gives Ryan Lochte a Surprising Reading
Back in July 2018, the USADA announced on Monday that Lochte had accepted a 14-month sanction for using a prohibited method. Lochte's suspension stems from a post he shared on social media back in May which showed him receiving an IV.
Lochte's suspension began on May 24, the day he received the IV. The suspension news came two years after Lochte was involved in the robbery scandal at the 2016 Rio Olympics. Last year, Lochte was cleared of criminal charges in the robbery scandal, however, Brazil's Superior Court overturned that decision in June.