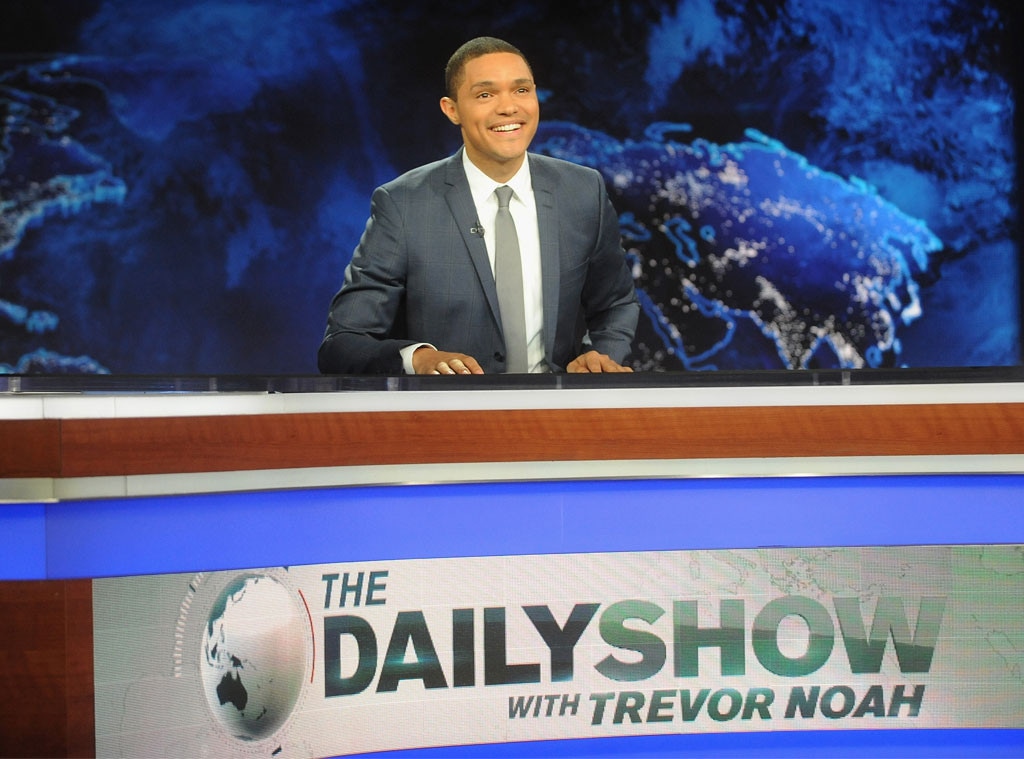 Brad Barket/Comedy Central
Trevor Noah may be known as a comedian, but he is never afraid to go in-depth when it comes to interviewing both Hollywood A-listers and politicians on The Daily Show with Trevor Noah.
This might explain why his hit Comedy Central program is a finalist for the Nighttime Talk Show of 2018 at the E! People's Choice Awards.
On the show, Noah explores topics including poverty, mental health, sexual assault, and of course, politics. He has been joined by the likes of Karlie Kloss, Bill Clinton, Lupita Nyong'o and so many other headline makers, which is not too shabby of a guest list if you ask us!
Check out the clips below to see some of the best interviews from The Daily Show with Trevor Noah in 2018.
Make sure to tell us what you think about the thought-provoking interviews on The Daily Show. Does the series deserve your vote for the Nighttime Talk Show of 2018 at the People's Choice Awards?
Weigh in by voting for your favorite Nighttime Talk Show of 2018 before the PCAs Friday, Oct. 19 deadline.
Bill Gates
Bill Gates may be best known as one of the creators of Microsoft, but on The Daily Show the Co-Chair of the Bill and Melinda Gates Foundation shed light on the issue of global poverty and the importance of United States foreign aid. He also weighed in on how philanthropic organizations can take more risks with their funds than governments but ultimately, everyone needs to come together to create solutions to extreme poverty. 
Kevin Love
The athlete doesn't back down from a challenge on or off the court. The Cleveland Cavaliers player talked with Noah about the pressure to win a championship and his efforts to destigmatize depression and mental health issues in sports during his interview. His bottom line on the topic is that depression can happen to anyone regardless of circumstance. He advocates getting the help you need whether that is medication, therapy or any other forms of treatment that may help you live a fulfilling life. 
Jake Tapper
Jake Tapper defended the media in light of President Donald Trump's fake news accusations during his interview on The Daily Show. He argued that it is not partisan to want to know facts and hear the truth from government officials. According to the CNN anchor, there is no more important task for the media than fighting for honesty in politics and beyond.
Anthony Bourdain
The late Anthony Bourdian visited The Daily Show to talk about his about his experiences traveling the globe and filming Anthony Bourdain: Parts Unknown. He discussed how his travels made him understand various cultures and people through their foods and traditions around meals. He also weighed on how the #MeToo movement and its effect on the restaurant industry. He realized that he had to speak out on the topic after so many people knew including his girlfriend and actress, Asia Argento, told him their stories.
Bill Clinton and James Patterson
President Bill Clinton and James Patterson joined Noah to promote their book, The President Is Missing, but they also delved into cyber warfare, immigration issues in the United States and the #MeToo movement. They then chatted about how to get back to civility in politics and stop the name calling that appeared to be the new normal in Washington D.C. Don't miss their thought-provoking interview above!
Karlie Kloss
Kloss is a supermodel who has made it her goal to teach girls to code through her foundation, Kode with Klossy. Each summer, the foundation has camps across the United States that bring girls to together to learn code and build real apps. Ultimately, the 26-year-old entrepreneur told Noah that she wants to see women become leaders in the tech field and it all starts with understanding the language of code.
Lupita Nyong'o
Nyong'o joined Noah to talk about her smash hit movie, Black Panther, and how the film changed the superhero genre earlier this year. They also chatted about the importance of portraying strong women and positive black culture on screen. Nyong'o then revealed how intensely she prepared to play her role of Nakia in the film and lets just say that she spent many hours at the gym!
Mariska Hargitay
Mariska Hargitay got real about the sexual assault epidemic in America during her chat with the late night host. She explained how her role on Law and Order: Special Victims Unit inspired survivors of sexual assault to reach out to her based on her sympathetic character. In turn, she began to educate herself and created a documentary, I Am Evidence, about the plight of sexual assault victims and the massive backlog of untested rape kits in America. 
Don't miss your opportunity to vote for all your favorites before the 2018 People's Choice Awards airs live on E! on Sunday, Nov. 11.