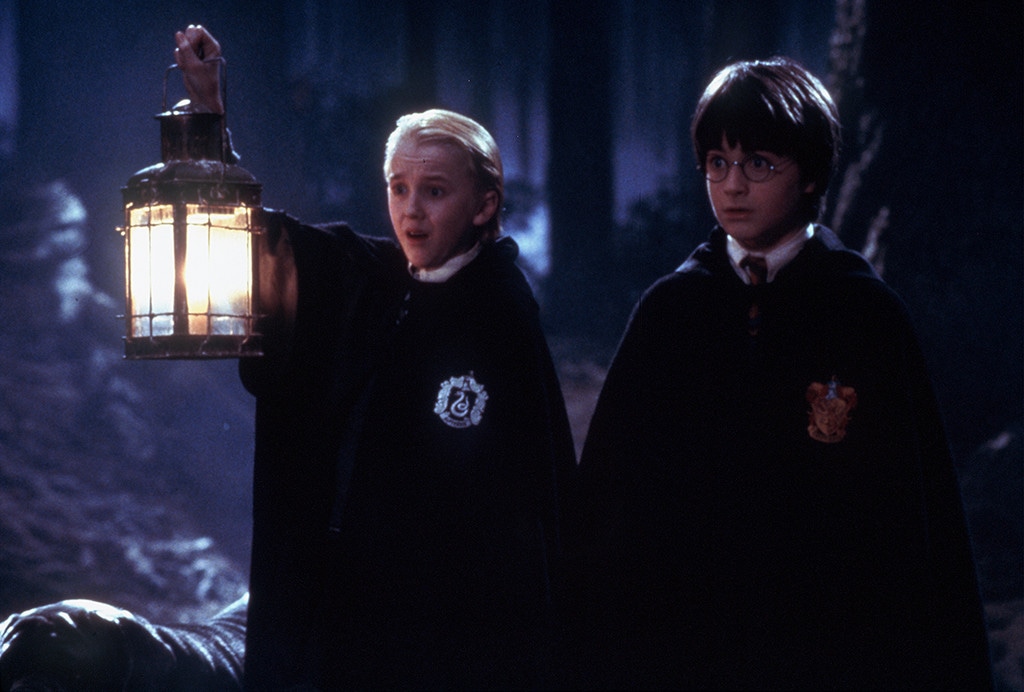 Peter Mountain/Warner Bros.
Harry Potter author J.K. Rowling once said, "Whether you come back by page or by the big screen, Hogwarts will always be there to welcome you home." But perhaps it's time to amend that statement to include "by stage," as two of the film's stars had a magical reunion last night.
Tom Felton, who played Draco Malfoy in eight films between 2001 and 2011, supported his former co-star Daniel Radcliffe on Broadway at the Studio 54 Theatre. Radcliffe is currently in previews for The Lifespan of a Fact with co-stars Bobby Cannavale and Cherry Jones, opening Oct. 18. As it's a limited engagement, the play will run for just 16 weeks, through Jan. 13, 2019. Posing for a picture with Radcliffe in his dressing room, Felton wrote, "Go see it. He's fantastic."
Felton is currently in New York City to promote YouTube's Origin at Comic-Con. The project reunites him with Natalia Tena, who played Nymphadora Tonks in the Harry Potter film series. Perhaps they might go see Broadway's Harry Potter and the Cursed Child while they're in town?
It would seem Felton is feeling nostalgic as of late, considering had a get-together with Matthew Lewis—a.k.a. Neville Longbottom—in August. Four months earlier, they met up with Emma Watson, who played Hermione Granger, treating fans to a "Hogwarts alumni" photo.
While promoting The Lifespan of a Fact, Radcliffe has also taken a few walks down memory lane. In an interview with BuzzFeed, he revealed which props from the set he kept (Harry's glasses, duh) and which character's death was the hardest to swallow. "It was Sirius. Definitely. At the time, I didn't know if I would be working with Gary Oldman again, and that was very sad; I adored Gary and working with him was an incredibly formative experience in my life. And the character's death just comes so out of the blue," the actor explained. "That was a real shocker."