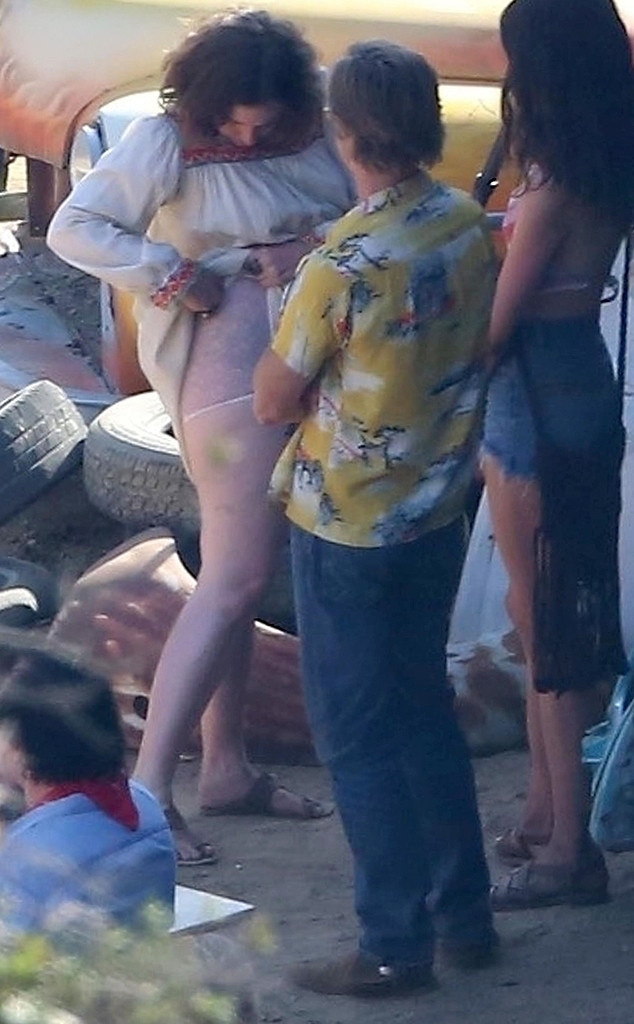 W Blanco / BACKGRID
A few weeks ago, paparazzi surrounded the set of Quentin Tarantino's upcoming movie Once Upon a Time in Hollywood and managed to snap a shot of Lena Dunham lifting her dress and apparently flashing Brad Pitt and Margaret Qualley in the street. When Dunham appeared on Jimmy Kimmel Live! last night, the 32-year-old actress happily offered some important context.
"Was this part of the movie?" Jimmy Kimmel asked.
Shaking her head, Dunham replied, "Certainly no. That was between takes, [with] him trying to sort of chill and brush up on his lines. It made sense in the moment. We were talking about kewpie dolls. Do you guys know what a kewpie doll is? It's like an illustrated character of the 1920s. Someone asked, 'What's a kewpie doll?' And I said, 'Well, I can show you. I've got one right here on my side'...If you've got it illustrated on your body, who are you not to show this?"
Wary of how things can be misconstrued—as the set photos inevitably were—Dunham was advised against recreating that moment with Kimmel. "My publicist actually asked me directly not to do it again on this show. She said, 'No matter what comes up out there..." she said with a devilish grin. Of course, that only made it more appealing: "I want to do it really bad right now!"
Dunham also talked to Kimmel about what it was like to work with another A-lister—in this case, Jennifer Garner—on Camping, the HBO series she created with Jenni Konner. "Seeing Jennifer Garner play a hateful person—she had to work!" Dunham laughed. "She had to work."
To prove what a warm person Garner is—as if the audience didn't know—she added, "She baked a blueberry buckle for the crew in the morning before she came in. Three or four times!" As a producer, she's proud of the show—even if her involvement is "revolting" in comparison. "I wrote it...and then I just kind of sat on set, looking to get into trouble. I did nothing. I did nothing! I didn't realize that part of the reason I do so many jobs is that I'm actually incredibly lazy," Dunham said. "I need to set all of this up to keep myself from descending into total slob."