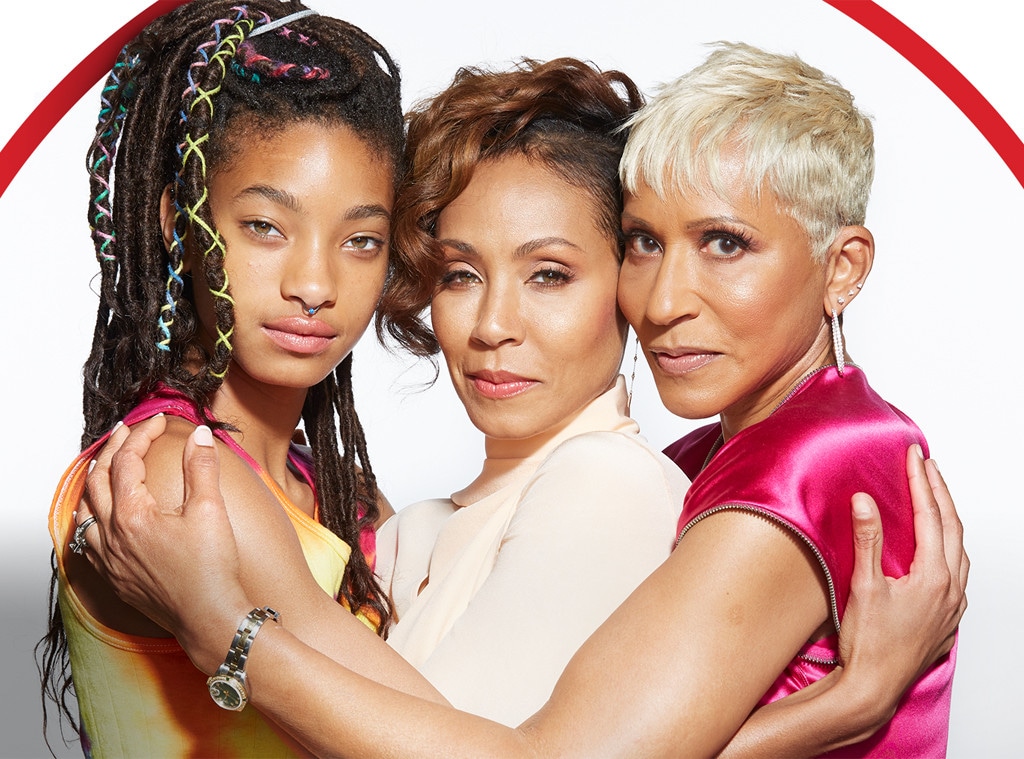 Stan Evans
The Smith ladies have spoken!
Thanks to Jada Pinkett Smith's Facebook talk show, Red Table Talk, topics like sex, loss and family have been blasted wide open and fans are forever grateful.
In May, the actress launched this web series along with the two most important women in her life, her mom Adrienne Banfield-Jones (AKA Gam) and her daughter, Willow Smith. Together these three tackle any topic that comes up and nothing is off the (red) table!
Because of that open and honest conversation, Red Table Talk is a 2018 E! People's Choice Awards finalist for Daytime Talk Show of 2018. This is a pretty big deal, since it is the only talk show in this category that lives on Facebook and consists solely of family members.
In honor of the show's finalist position, we're taking a look back at the best and boldest moments from the three females thus far. Buckle up readers, because with Jada at the helm, there are wild conversations and lots of filter-less banter headed your way.
After you've picked your jaws up off the floor thanks to some of these revelations, make sure to cast your vote for Red Table Talk for Daytime Talk Show of 2018.
People's Choice Awards voting ends on Friday, Oct. 19, so you don't want to miss your chance to show the Smith family some love!
1. Jada Is Losing Her Hair
In one of the most interesting and honest episodes of the talk show, the Girls Trip actress finally opened up about why she's been wearing turbans recently. The biggest reason: she's been having "issues with hair loss."
"I was in the shower one day and had just handfuls of hair in my hands and I was just like, 'Oh my God, am I going bald?'" she said. "It was one of those times in my life where I was literally shaking in fear...That's why I cut my hair, and why I continue to cut it."
"I really had to put it into a spiritual perspective, like the higher power takes so much from people. People are out here with cancer. People have sick children. I watch the higher power take things every day," she continued. "If the higher power wants to take your hair—that's it?...When I looked at it from that perspective, it really did settle me."
2. Willow Self-Harmed as a Child
While talking about loss and changes in life, Willow opened up about an experience she had when she was about nine years old. She admitted that during that time she didn't know what her purpose was after her single, "Whip My Hair" came out and was successful. She started to lose her sanity and it led to her cutting herself. 
"After the tour and the promotion and all of that, they wanted me to finish my album and I was just like, 'I'm not gonna do that,'" Willow recalled during the loss episode. "And after all of that kind of settled down and it was like a kind of lull, I was just listening to a lot of dark music and it was just so crazy."
"I was just plunged into this black hole and I was like cutting myself," she revealed.
Jada was shocked when she heard this and replied, "What? Really? When were you cutting yourself? I didn't see that part."
Willow said it was "a long time ago" and she cut herself on her wrist so no one really noticed.
"Totally lost my sanity for a moment there," Willow shared.
3. Willow Learned About Sex After Catching Her Parents in the Act
During the "Let's Talk About SEX" episode, Willow, Jada, and Gam got down and dirty about all-things related to sex. What Jada didn't see coming was the fact that Willow was first introduced to sex by walking in on her and her husband Will Smith while on vacation. 
"It wasn't like I was seeing everything, the room was still dark. It was silhouetted," Willow recalls about the incident that happened in Colorado. "It was like when I walk into you meditating. It's like, when Mommy's meditating, don't get into her business."
The 17-year-old singer then opened up about how different it was talking with her dad about sex rather than her mom.
"Whenever I talk to Dad about it, it's always an intellectual debate," she explained in the episode. "It's always like, 'Speaking of the degradation of females and the past, how do you believe that trickles in to your experience?' It's very serious, but it's not emotional. ... And I always feel like the stuff of life is meant to be lived, not analyzed."
4. Masturbation was Always a Part of Jada's Life.
When Red Table Talk took on the topic of sex, things got real. In addition to talking about Willow's first experience with sex, Jada opened up about the fact that she actually learned to masturbate from her grandmother. It was a real shocker.
"My grandmother taught me about self-pleasuring because she wanted me to know that that pleasure was from me," Jada shared. "She didn't want me to fall into the hands of a man, and if he gave me pleasure, to think that that was him. And she taught me at nine!"
5. Jada Had a Silent Feud With Gabrielle Union for Years
After having a silent feud with Gabrielle Union for 17 years, the two actresses got together during an episode of Red Table Talk to hash things out and discuss friendship in general. 
"This is a very special show for me, because what I decided to do was make this about creating a new girlfriend," Jada said on the episode. "Gab and I, we had a bit of a break, we don't know how, and she's been open to this healing, she's been open to this conversation."
Jada then turned to Union and said, "It felt so good on the phone with you to even just go, 'Hey, I'm sorry that I didn't even take the time to talk to you, you know?' And then I had to just apologize and just thinking to myself, 'Damn, Jada! That was some petty ass s--t!' But, at the same time going, 'Well, that's where you were then. Thank God you're someplace else now.'"
The Being Mary Jane star admitted that "I could've been like, 'OK, I know this is super uncomfortable but I'm gonna hop in your face and we're gonna talk,'" instead she thought, "It's not gonna affect my life. But it does."
The two then reminisced about the times they could've been better with their friendship and eventually talked it all out and felt great about their therapeutic conversation. 
"I told you on the phone it was like a gorilla hopped off my back that I didn't even know was there and I needed that. I needed you, so thank you," Union sweetly told Jada and it was so sweet.
6. Jaden Wanted to Leave the House at a Really Young Age
According to Jada, one of the most "heartbreaking" moments in her life had to do with her son, Jaden Smith, wanting to leave home.
"I remember this day specifically. It was probably one of the most heartbreaking moments of my life," the mother of two admitted with Jaden across the table. "You got to a point here. You told me straight up—you were like, 'Mom, I have to leave here to live my life.'"
"I remember thinking to myself, as devastated as I was, I was like, 'He's right. The time is now. He's 15. It's time for him to leave the house," Jada continued. 
Jaden added, "It just makes you appreciate being at home, being with your parents, spending quality time with family. You get out into the world and then you kinda just understand things."
7. Her Kids Weren't Exactly Fans of How They Grew Up
During the "Growing Up Smith!" episode of the talk show, Willow, Jaden, Jada, and Adrienne sat down to discuss what it was really like growing up in the Smith household. The kids admitted that they didn't know anything different then what they grew up with, but the Hollywood lifestyle did have its downsides. 
"I only have one terrible experience, which is 'Whip My Hair,'" Willow said when asked if there were any difficulties with being a kid star. "Just that the values of the people around me should have been the opposite. You and daddy should have been like, 'OK, we value her musical growth and knowledge more than her popularity.'"
"Not just so much about a hit record," Jaden adds, adding that he had a similar struggle when starring in 2010's The Karate Kid.
Jada later broke down about her shortcomings as a parent and it was heartbreaking and truthful. "You know what? I think parents have to give themselves much more forgiveness," she says, fighting back tears. "When you become a parent, you have these huge ideals, even for yourself, because we all are coming into parenting with our own childhood traumas. And you're hoping you can fix all that through your own rearing of your children, and you can't. Your kids are gonna have their burdens. And even though I see how it might have hurt you, it's what I knew."
8. Jada Would Have Handled Will's Divorce Differently
In the first episode of the show, the matriarch of the Smith family sat down with her husband's ex-wife, Sheree Zampino. The two discussed the beginning of their relationship and their complicated and intense history for the first time and it was eye opening. 
"The beginning between us was rough," Jada recalled. "Here's the one thing I will say in hindsight, because I did not understand marriage, I didn't understand divorce. I will say that I probably should've fell back."
She continued saying, "I would've fell back because I feel like when Will and I first started dating, you know, I had this thing in my mind, I was like, 'Oh OK, well you did that and that's done.'"
"Oh, you thought it was done?" Zampino retorted to which Jada said, "Right!"
"That part, see that's where I was wrong," she continued. "Now, being a married woman, and if Will and I were to get divorced now, my God!"
Don't forget to vote for Red Table Talk for Daytime Talk Show of 2018 now. You know you want to!