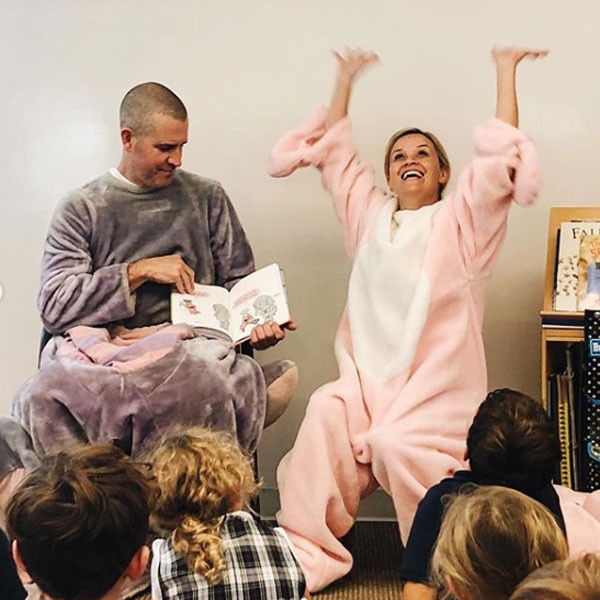 Instagram
Coolest parents ever? Reese Witherspoon and Jim Toth went above and beyond for their son's kindergarten class.
The Oscar winner and her talent agent husband were the mystery readers for six-year-old Tennessee Toth's class this week. The couple, who read Mo Willems' book I Really Like Slop! to the class, decided to really make it a mystery by dressing up in disguise. Witherspoon posted photos and videos from before, after and during the book event, showing her and Toth dressed up as Elephant and Piggie, characters from Willems' books.
"It's a big day, we've got something very exciting that we're heading to do," Witherspoon, who dressed up as Piggie, told her Instagram followers in a video on Wednesday. "In order to disguise my identity, I will be wearing this hat, or head."
"You gotta commit. Hubby & I took Mystery Reader to new levels!" Witherspoon captioned her social media post. "Thank you #MoWillems for the inspiration. #ElephantAndPiggie #KindergartenLife #Wuzzles."
And Witherspoon's fans are loving her and Toth's dedication. In the comments of her post, one Instagram user wrote, "this is awesome!!!!!!!" While another commenter told Witherspoon, "Awesome! Best mom & dad ever— next to mine."
It was just last week that Witherspoon's youngest son celebrated his sixth birthday. "Heyyyy!! It's this little guy's 6th birthday! Happy birthday to my sweet little boy, Tennessee!" Witherspoon wrote on Sept. 26. "He makes me smile & laugh and remember the important things in life everyday!"
The Legally Blonde star also shares kids Ava Phillippe, 19, and Deacon Phillippe, 14, with her ex-husband, Ryan Phillippe.