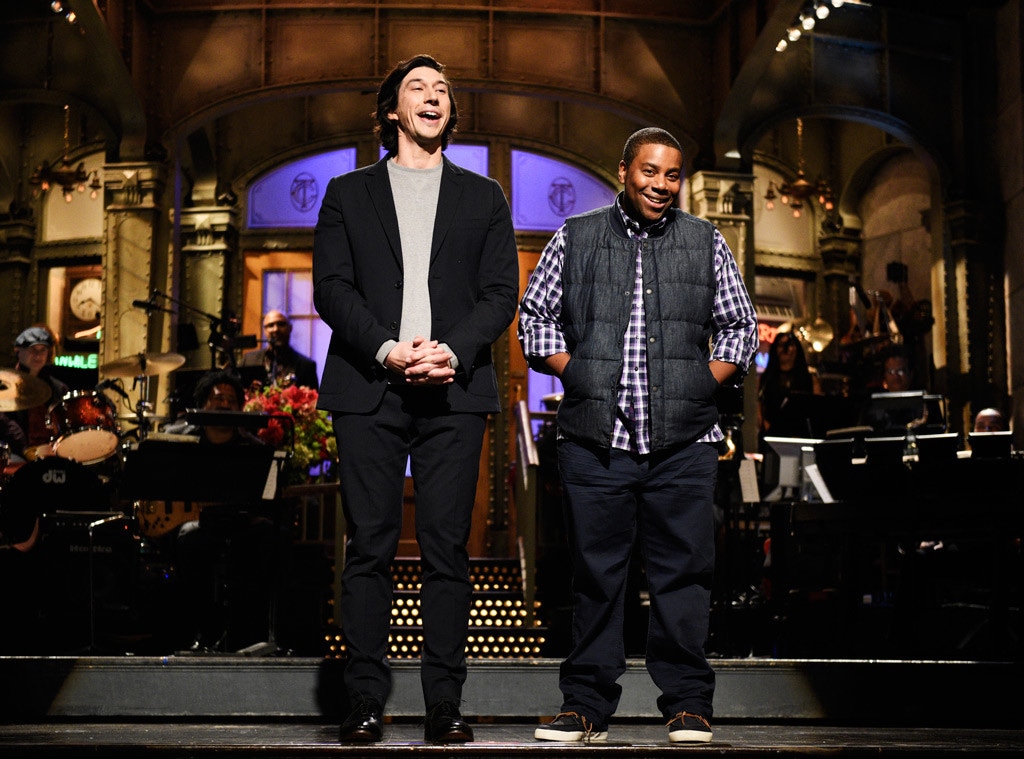 NBC
Live, from New York, it's...a literal marathon of work.
By the time lights go down in Studio 8H in Rockefeller Center every Saturday night at 11:30 p.m. and the cast of Saturday Night Live boards a bullet train of laughs, musical performances, surprise celebrity cameos (hey, Matt Damon as Brett Kavanaugh!), and the occasional political statement (looking at you, Kanye West!), it can look a bit effortless to the audience at home. There are the standard bits: the (political, as of late) cold open, ending with that iconic catchphrase; the monologue; Weekend Update; a digital short or two.
In the 43 years since SNL debuted on NBC on October 11, 1975, creator and overlord Lorne Michaels has taken what began as an anarchic bit of late-night television featuring his Not Ready for Prime Time Players and turned into into a cultural institution. For about 20 episodes every TV season, Saturday Night Live runs like a well-oiled machine; dependable, hilarious, and always clocking in at 90 minutes. But the sheer force of will it takes to mount an entirely new production, from scratch, week after week, is nothing short of miraculous. Here's how they do it.
Each week, the six-day work schedule begins on Monday when the cast, writing staff—all of whom have only had one day off since the last show—and guest host gather in Michaels' office for the pitch meeting. "That's sort of a very loose, casual way to meet the host and have them meet you. You pitch them a couple of joke ideas that you want to write and then everyone goes home," Chris Kelly, who wrote on the show from 2011 to 2017, serving as co-head writer for the 42nd season, explained in a 2015 interview with CreativeScreenwriting.com. "It's a pretty casual day."
Casual for the writers, maybe, but not for Michaels, who immediately goes into a meeting with the guest host to learn what ideas they like and don't like. "The host usually has strong views," he told author Alison Castle in her 2015 tome Saturday Night Live: The Book. "Sometimes, if a host is really attached [to a sketch or a joke], I will make the case as to why I don't think it's going to work, but … you can't explain that we know the room better than they do. If they're emotionally attached, that's what it is, and you still need to get them through the whole show."
While Michaels is tending to the host's feelings as best as he can, the writers are setting out to create something funny that also works with said host's unique flavor. "Each host has such a different voice," writer Bryan Tucker explained in a 2015 interview with Fast Company. "Writing for Kevin Hart is a whole lot different than writing for Blake Shelton, and you have to adjust your style to fit what they do well, which is something unique in terms of late night comedy writing. I don't think there are a lot of other shows that have to do that."
The next day, the madness begins as the bulk of the writing takes places. With sketches due at noon the next day for Wednesday evening's table read, an all-night writing session commences. "Again with ours being much more of a second-shift lifestyle, and maybe I've always assumed like a vestige of years when the show was fueled not just by viewership but also cocaine, we get in around 2," former cast member Jason Sudekis said during a panel at the 2011 New York Television Festival. "Things start much later."
"You write all night with whoever you want and as much as you want," Kelly said of his process. "I usually stay all night and write straight through. I usually get there Tuesday at 1 p.m. and we write to about noon on Wednesday so almost a full 24 hours."
From there, it's on to the read-through, where cast, writers, host, and department heads gather around the table with Michaels and 40 or so sketches are read aloud. The process has been known to take up to three hours. "Everyone is tired and grumpy," Tucker quipped. "You've got to be pretty funny to get everybody going."
After Michaels has had a chance to hear everything, he gathers a few people, including producers, head writers and the guest host, in his office to decide what's making the cut. "Every week there are winners and losers, and so it's a friendly, respectful competition, but nevertheless, it's a competition," Tucker said, "and there's no week that I say, 'Oh, you know what? I'll just kind of phone it in this week, or I'll take it off.' Otherwise, I'm not involved in the show."
If a writer's sketch is deemed worthy enough to advance, they spend Wednesday evening meeting with the heads of the costume, make-up, set design and special effect departments to share their vision for the sketch, hear what will actually work, and get the ball rolling on making all the physical components a reality. 
At 6 a.m. on Thursday morning, with only 65 hours until showtime, Eugene Lee, the show's production designer since day one, and his team get to work on constructing the sets from the Stiegelbauer Associates shop in the Brooklyn Navy Yard. With time limited and upwards of 13 sets to be built, Lee pays no mind to budget constraints. "That's the fun of it, isn't it? Can you do it every time? I don't know anything about the budget," he told the Village Voice in 2017. "You have to spend what you have to spend."
Meanwhile, back at 30 Rock, costumes, wigs and make-up are starting to be designed as director Don Roy King steps in to begin blocking and rehearsals with cast and crew. All the while, the writers are frantically re-writing their sketches, making sure they're as funny as can be. "What we read on Wednesday is not what airs on Saturday night at all," associate producer Janine DeVito remarked in Creating Saturday Night Live: Control Room ,a 2017 BTS featurette released on YouTube. "Like sometimes, it is completely different." 
Thursday also marks the first day that the week's musical guests arrive on set to begin their rehearsals. That afternoon, they'll shoot their promo with the host and various cast members before they and the host pose for those iconic photo cards that lead out of every commercial break.
Blocking and rehearsals continue into Friday. And any pre-taped sketch? It's filmed that day, too, with editing happening overnight.
And then, magically, it's show day. But there's still plenty of work to be done. "Saturday, we come back in and suddenly the studio is filled with full sets that come to life," King explained.
"Ultimately, it all has to come together on Saturday at 1 o'clock with all its elements," supervising producer Ken Aymong said of the run-through that occurs with only 10 hours to go, "because it's the first time we have all the elements."
"For our Saturday run-through, we have one shot," DeVito added. "One shot to get it right. One shot with costumes, one shot with sets, with props, with everything."
After the run-through comes the all-important live dress rehearsal. At 8 p.m., before a live audience, the entire show is performed as if it were the real thing. With 20-30 minutes of extra material still in the mix, Michaels uses the reaction from the fresh set of eyes in Studio 8H to decide what goes as he trims the fat once more. A meeting is held in his office and decisions are made.
"Lorne will throw out two or three sketches entirely, reorder the rest of the show," King explained.
"We finish that meeting by 11, so that the changes that have happened subsequent to dress can be absorbed," Aymong added. "Cue cards, cast."
But just because it's finally showtime doesn't mean the work is over, as Aymong explained: "We come out of that meeting, the show is still five to eight minutes long." And that means that if your sketch is at the tail-end of the show, it might not ever make it to air—and if it does, there's a good chance it won't be as written. With King making cuts on the fly—not just a line here or there, but often gutting sketches of large swaths of material—as the time is watched like a hawk, "there is that sense of potential panic throughout the 90 minutes," he admitted.
But somehow, the train always comes in at time and by 1 a.m., the host has thanked Michaels, his cast, and the crew, everyone has hugged each other, and it's time for the legendary after party. Time to exhale.
"You can never underestimate what a challenge it is to pull this off week after week, that all these things coalesce at the same time in the same place and that it works in front of an audience," Aymong waxed poetic. "And I'll tell ya, when it's firing on all cylinders, it's like music."
And just as the song finishes, it's time to start writing a brand-new one all over again.
Saturday Night Live airs Saturdays at 11:35 p.m. on NBC.
(E! and NBC are both part of the NBCUniversal family.)