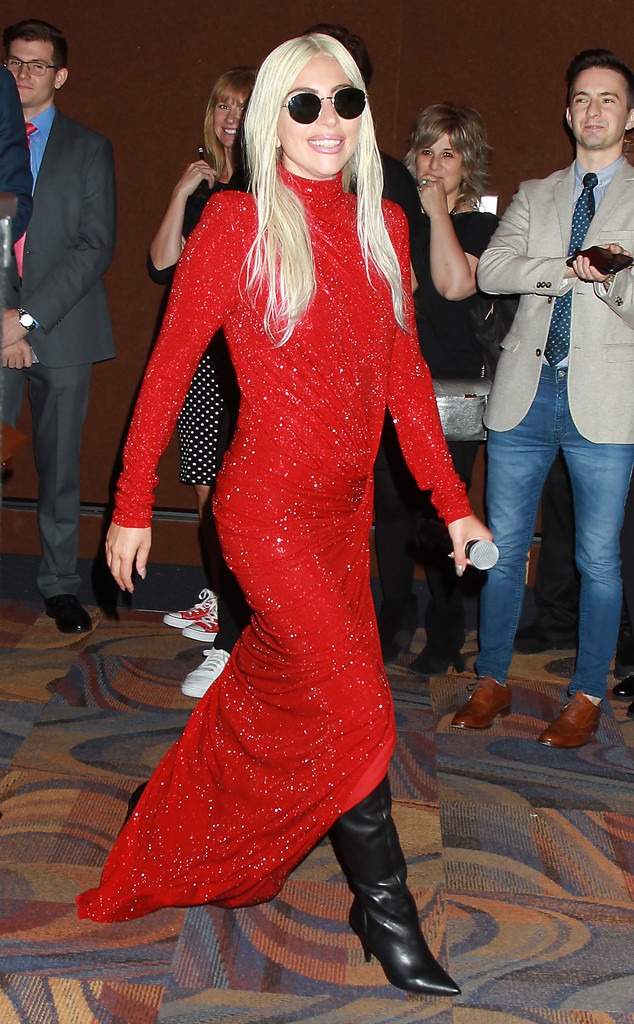 Dave Allocca/Starpix/Shutterstock
Lady Gaga surprised hundreds of her little monsters on Wednesday by attending a screening of A Star Is Born in New York.
The six-time Grammy winner walked onto the stage in a sparkly red turtleneck dress with long sleeves and a thigh-high slit. She accessorized her look with sunglasses and black boots. However, her chic style shouldn't come as a surprise considering she's been slaying the fashion game throughout the entire press tour.
After being greeted onstage by YouTube superstar Tyler Oakley, Gaga thanked her fans for attending her big night.
"I love you so much," she said, per Good Morning America's video. "Thank you so, so much from the bottom of my heart for being here tonight."
She also gave a special shout-out to her co-star and director, Bradley Cooper.
"All you need is just for one person to believe," Gaga told the audience. "So, I have to say thank you to my incredible director, Bradley Cooper. This is the moment that Bradley gives the film over to you and to the world. I am so grateful, and I am so humbled that it is moving people and that's all that matters. So, this our gift to you. We love you."
Of course,  she had to thank her fans, too.
"It would be a lie to not think each and every one of you who has supported me over the years, I would not be here without you," she said, getting a bit choked up.
At one point during her speech, Gaga said she would "never forget when I looked into the eyes of my fans for the first time and I saw myself."
"You are fighters. You are beautiful, and I love you," she said.
Dave Allocca/Starpix/Shutterstock
Gaga stars alongside Cooper in the fourth reboot of the film. The movie is a major milestone for both celebs. Not only does it mark Gaga's first lead role in a film, but it's also Cooper's directorial debut. 
"The thing that I was very aware of from the beginning, and I cherish even to this day, is how much we both had at stake because it was a first for both of us," Cooper told E! News. "We knew that going into it, we were really going to have to rely on each other, because it's scary putting yourself out there to this degree."
While the movie doesn't technically hit theaters until Oct. 5, it's already received rave reviews. It's even generating Oscar buzz. However, Gaga recently told Ellen DeGeneres the work is already a great reward.
"You know, the reward for me is all in the work," the singer said on the TV star's show. "And the reward for me is all in just it being something that moves you. That's what's most important to me."