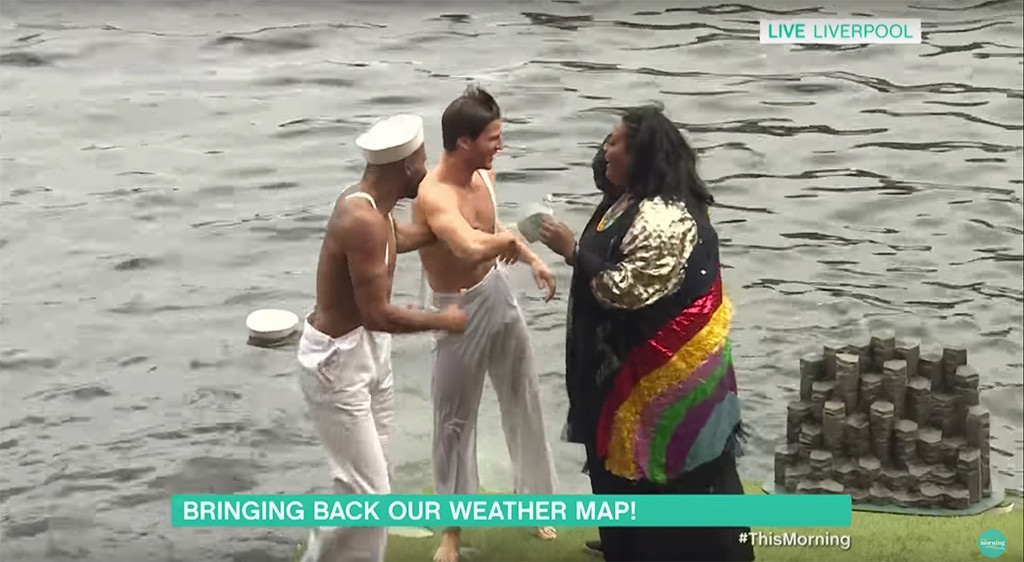 YouTube
Alison Hammond's interview didn't go exactly as planned.
The TV host accidentally pushed a male model into the water while giving Wednesday's weather report from This Morning's floating weather map.  
The map consisted of floating docks that were shaped to represent different parts of the U.K. Unfortunately, the report was rocky from the beginning. Hammond's jacket got caught on a Welsh dragon figure, and the candid moment generated a few laughs from hosts Phillip Schofield and Holly Willoughby in the studio. 
But the true point of hilarity came after Hammond started moving around the weather map. As she hopped over from Scotland to Northern Island, the TV star grabbed onto a model dressed like a sailor and accidentally pushed him into the water. 
"Oh my gosh! Are you all right?" she asked as she helped the other model bring his comrade back onto the floating map.
She then apologized profusely and gave the soaked sailor a hug. Meanwhile, Schofield and Willoughby covered their mouths and laughed in astonishment.
Luckily, both Hammond and the model were able to laugh off the incident. 
"It's going to be a little bit wet in Northern Island. As you can see, he's very wet in Northern Ireland," she quipped.
She then apologized to the model again and yelled, "Get a towel!"
While Hammond continued to carry on like a pro, she admitted she was "so embarrassed" and "flustered."
 After finishing her weather forecast, Hammond went back to check on the model and reported he was OK. She even gave him her jacket.
Watch the video to see the hilarious incident.
While This Morning hadn't used the floating weather map in years, it decided to bring it back for its 30th anniversary. However, after today's incident, it might be a while before it returns.