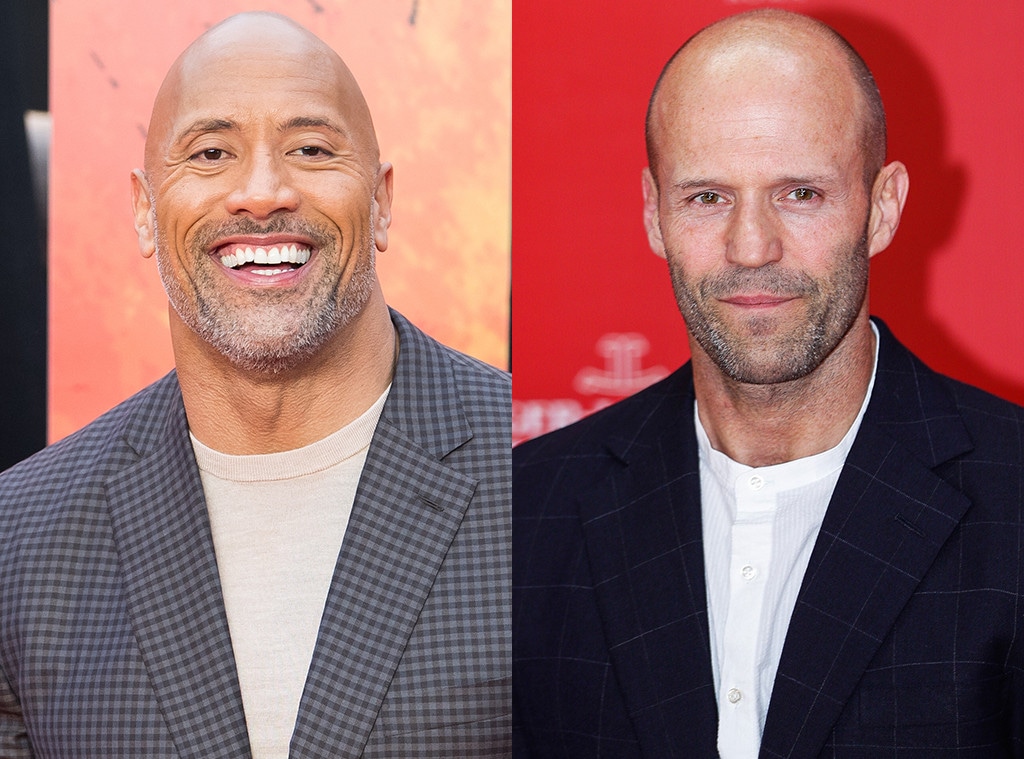 Samir Hussein/Samir Hussein/WireImage, VCG/VCG via Getty Images
Dwayne Johnson took to Instagram on Wednesday to give fans their first sneak peek at his Fast and Furious spinoff, Hobbs and Shaw.
The shared photo showed The Rock facing off against his co-star Jason Statham. Johnson plays Luke Hobbs in the Fast and Furious franchise while Statham portrays Deckard Shaw.
"FIRST LOOK: HOBBS & SHAW. We either gonna get along or we gonna get it on," Johnson captioned the photo. "F--k getting along." 
It looks like the stars are in the early phases of the film and having a ball.
"Great first week of shooting our Fast & Furious spin-off, HOBBS & SHAW with my ace @jasonstatham," he continued. "We're havin' a blast disrupting the norm to deliver something fresh, cool, fun and bad ass for the fans."
While this is the first time Johnson has teased the film, Statham posted a behind-the-scenes snap back in September.
"Day 1 on Hobbs & Shaw movie," the actor wrote, indicating that he started filming before Johson. "Getting the instructions from an old pal and the director of our film @davidmleitch, Massive respect to you Dave for the incredible vision and scope you have planned for this movie. There are big things to come! The other big thing to come will be arriving imminently, that's if he can peel himself away from his stack of pancakes. My partner in crime on this one, the colossal and world wide loved and respected @therock  Just warming things up for you brother! See you on British soil soon. #HobbsAndShaw @universalpictures."
The movie's director also shared his enthusiasm for the film at the time.
"Been waiting to work with @therock and @jasonstatham for far too long!" David Leitch wrote. "THE TIME is NOW! So fired up!"
E! News reported Universal Pictures was looking into the new film back in April 2017. However, not everyone seemed happy about the spinoff. Tyrese Gibson ended up getting into a public social media battle with Johnson over the news.
"If you move forward with that #Hobbs Movie you will have purposely ignored the heart to heart moment we had in my sprinter," Gibson wrote underneath a picture of Jonhson that September. "I don't wanna hear from you until you remember what we talked about. I'm on your timeline cause you're not responding to my text messages – #FastFamily is just that a family…….. We don't fly solo."
In July, Gibson admitted the public feud was "not professional."
Hobbs and Shaw is set to hit theaters in 2019.
(E! and Universal Pictures are both part of NBCUniversal).