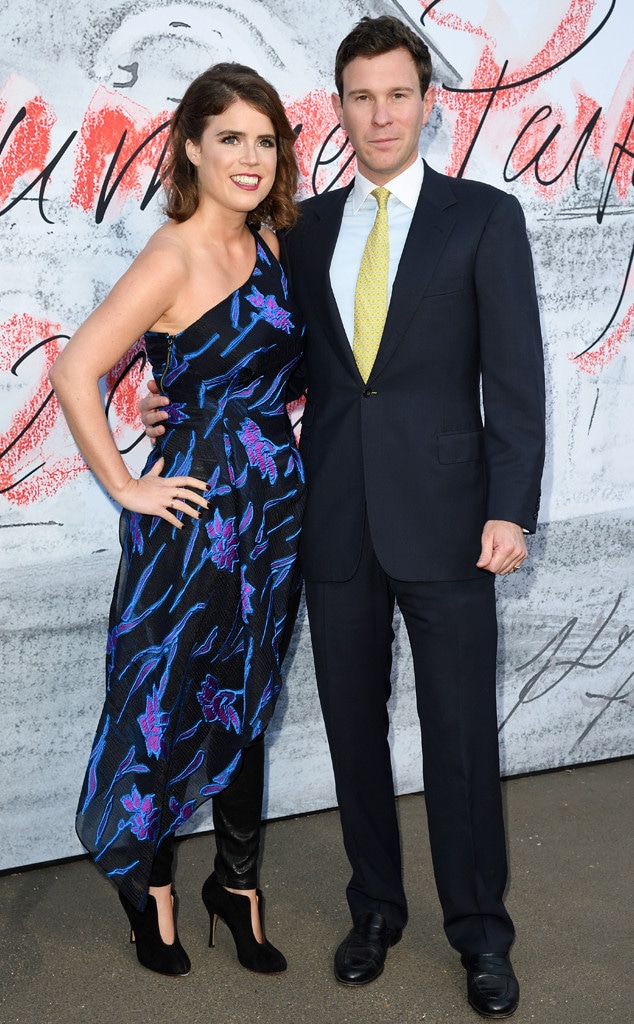 Karwai Tang/WireImage
Princess Eugenie is not just a royal, but she is a millionaire too. 
So when she marries Jack Brooksbank on Oct. 12, 2018, she and her hubby will have an estimated combined net worth of $4.7 million U.S. dollars. And that's just a beginning estimate, since there is no real way to know the extent of Brooksbank's wealth, since he is after all a commoner just like the rest of us. 
As for the Princess, she is royalty, but she is not a "working royal" so the public is not exactly privy to the details surrounding her financial status. What is known, is that she, like the rest of her cousins and her sister, Princess Beatrice, received a healthy sum of money from a trust fund established by the Queen Mother in 1994.
According to The Guardian, the Queen Mother, a.k.a. Queen Elizabeth Bowles-Lyon, placed the remaining two-thirds of her fortune into a trust for her great-grandchildren before she passed. Thanks to the trust, it is believed she was able to pass on nearly £19 million when she died at the age of 101 in 2002. 
The Guardian claims Prince William and Prince Harry split nearly £6 million pounds when they turned 21, with Harry receiving a higher amount than William to "compensate for not becoming a sovereign." They also report the young men will receive an additional £8 million pounds on their 40th birthdays. That leaves millions of dollars each for the remaining royal great-grandchildren to share, including Beatrice and Eugenie. 
Then, there's the money Beatrice and Eugenie received when their parent divorced in 1996. Following the Duke and Duchess of York's divorce in 1996, it is reported by The Telegraph that Eugenie, Beatrice and Sarah Ferguson, a.k.a. Fergie, were given a large sum of money as part of the divorce settlement. Leaked details from the settlement claim that of the £2,250,000, nearly £1.4 million was funneled into a trust fund for the Princesses of York. 
Not to mention Eugenie is technically a private citizen with a full-time job. She is currently an associate director at an art gallery in London, but it is unclear exactly how much she makes annually. 
In summary, she and Jack are basically set for life. 
Considering the aforementioned details, it is no wonder there is a petition swirling around demanding that the Royal Family pays for Eugenie's wedding in full. While much of the festivities are being covered by the family's personal funds, other expenses like security, which is estimated to cost £2 million, are expected to be funded by tax-payer's dollars. Even a writer from The Daily Mail, criticized the grand nature of the Princess' wedding in a disparaging column, however, Fergie was quick to snap back at the critic by sharing a letter in support of her daughter's wedding. 
Either way, Princess Eugenie is going to have a wedding fit for a royal, whether the public likes it or not.