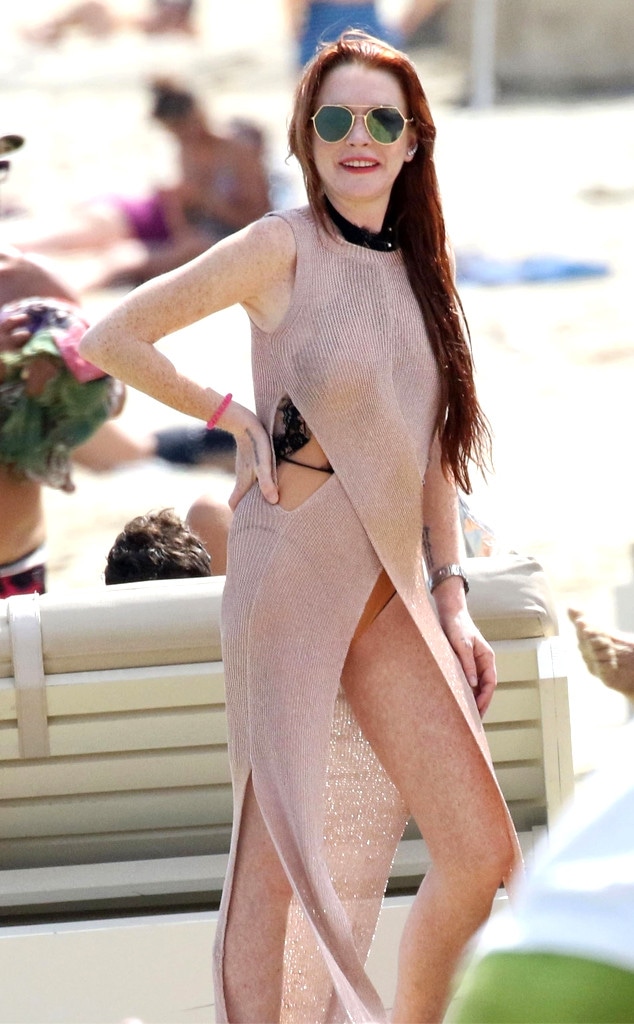 BACKGRID
Lindsay Lohan's family is worried about the star, E! News has learned.
Cause for their concern resurfaced after Lohan shared a video of an encounter she had with a family who she believed to be Syrian refugees. In the video, the Mean Girls actress offered to help the family of four by paying for a a place to stay and said to them, "Tell me your story so that I can help you. What do you need? Do you want me to give you a hotel? So I want you to tell America what you need and I will get it for you."
After minutes go by of her trying to convince the family to go with her and "let me take care of you guys," she then accused the parents of "trafficking children." Although what exactly happened remains unclear, there was lots of tension after Lohan held out her hand for one of the young boys to take it. The mother protested and the actress then dropped her phone. When she picked it up again, she was crying and holding her cheek. It's presumed that some sort of physical altercation occurred.
This incident has caused some unease among Lohan's loved ones. A source told E! News that people "weren't concerned" about her, but that changed once the human trafficking video surfaced. 
Buckner/Variety/REX/Shutterstock
In June, the Sick Note actress told the New York Times that her old party-girl ways are "dead." According to the insider, however, that may not be so true. The source told E! News that she has been clubbing a lot since opening her club in Mykonos. She even plans on starting a new TV show called Lohan Beach Club on MTV.
So, that lifestyle still plays a prevalent part in her day-to-day routine. She already has Lohan Nightclub in Athens, the spot in Mykonos and Lohan Beach House in Rhodes. According to the Times article, she hopes to open a Lohan island in Dubai. 
The insider told E! News that her family is adamant about her getting out of the party scene for a bit or at least returning to the United States where she can be with her family. Lohan, however, doesn't believe she has anything to worry about.
In 2013, Lohan reached a plea deal where she was sentenced to serve 90 days in a rehab facility as well as community service. She's been arrested a number of times, beginning in 2007 when she was busted for a DUI when she crashed her Mercedes and was in the possession of cocaine. She was on and off probation as well as community service.
The Parent Trap star has sparked a few controversial headlines as of late. Right around the time of the New York Times interview, The Times U.K. spoke with Lohan when she gave some polarizing comments about the #MeToo movement. She said, "I don't really have anything to say. I can't speak on something I didn't live, right?"
Lohan explained she believed some women came forward in order to seek attention. She told The Times, "I think by women speaking against all these things, it makes them look weak when they are very strong women. You have these girls who come out, who don't even know who they are, who do it for the attention. That is taking away from the fact that it happened."
She later apologized for these comments in a statement to People. She told the magazine, "I feel very strongly about the #MeToo movement and have the utmost respect and admiration for the women brave enough to come forward and speak out about their experiences. Their testimony has served to protect those who can't speak, and give strength to those who have struggled to have their voices heard."