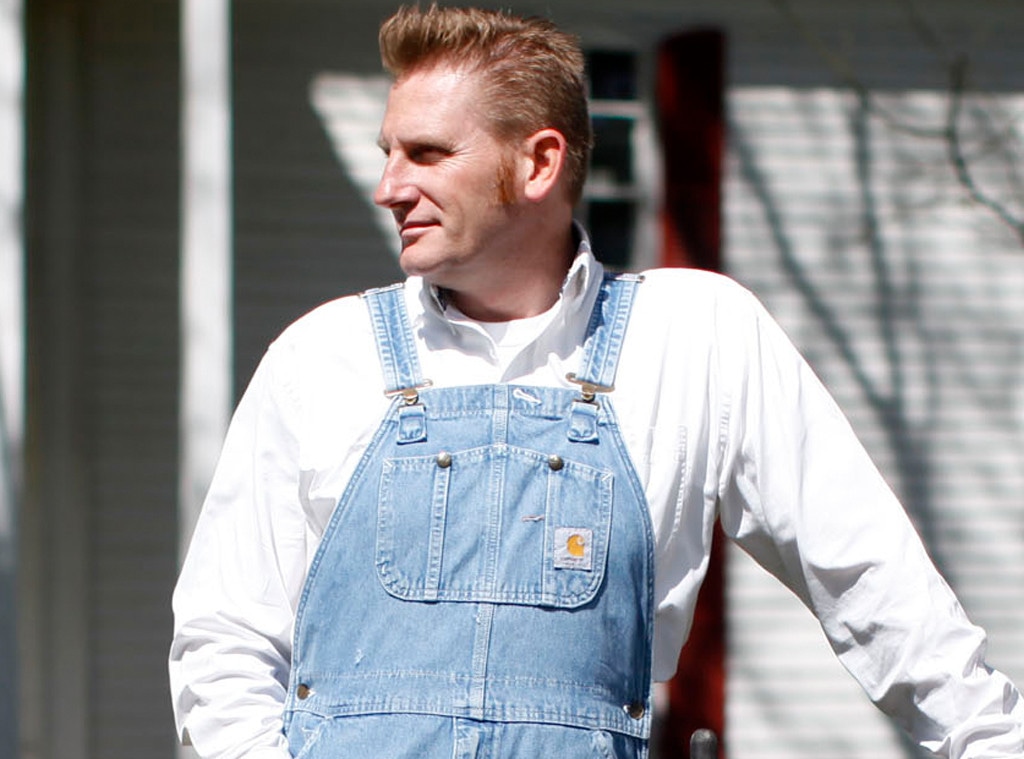 AP Photo/Josh Anderson
Life as Rory Feek knew it changed forever on March 4, 2016.
That's the day, of course, that he, along with the world, was forced to say goodbye to his beloved wife Joey Feek after a years-long battle with cervical cancer.
It was a day that saw the man become a single father, left to raise young daughter Indiana, just two years old at the time, on his own. It was a day that would leave him to habitually wonder to himself, as he told CBS News six months later, "'She's really not here? She's really not coming back?'"
And yet, it was a day that failed to undo the one thing for mattered most for the Grammy-winning singer-songwriter: His eternal love for his forever duet partner.
The widower's love for his missus remained on full display when he spoke with E! News this week, sitting down to promote his new children's book, The Cow Said Neigh! A Farm Story, his wedding ring still on display.
"I really feel just as married as before. It's really not even a choice. I tell you what would be a choice, is if you woke up one day and decided that you weren't going to wear it. That feels like a choice. And there's been no evidence of why in the world I would do that," he told us about the decision to keep the ring on. "She was wearing her ring when she was buried. So I don't know what the future holds, but I always talk about my wife. I don't talk about my deceased wife or my wife from the past. I think about it like we're still married, so it's kind of a non-thing."
Broadimage/REX/Shutterstock
Theirs was a love story written in the stars, it seems. He, a divorced single father to two daughters making a living in Nashville penning No. 1 hits for stars like Blake Shelton and Kenny Chesney; she, an aspiring singer working for a veterinary clinic just to get by. Though her career had yet to take off, their paths managed to cross the way they tend to do 'round those parts: At a songwriters' night at the Bluebird Cafe.
Their first date was on Valentine's Day in 2002, they were engaged two months later, and on June 15, they were married. And while it would take a while, after years of putting music on the back burner as she settled into life on Rory's farmhouse in Pottsville, Tenn. and opened up a restaurant with his sister, it would be their relationship, their unbreakable partnership that would lead her to the music career she'd dreamed of for so long.
In 2008, at the insistence of friend and bandleader of CMT's Nashville Star, John Bohlinger, the Feeks formed a duo, Joey + Rory, and auditioned for the network's new talent competition, Can You Duet. 
"It was like my worst nightmare—imagining being on TV," Rory later recalled in an interview with CMT News. "But I also knew if we were together it would be just like we were singing at our kitchen table. You can't lose doing that. So we decided to try out."
Producers liked what they saw—and the batch of homemade sticky buns sent along with their audition tape probably didn't hurt—and they landed a spot on the series, coming in third and eventually becoming the series' most commercially successful duos to date. 
Charles Sykes/REX/Shutterstock
As they began churning out albums—seven in total over the course of their short time together—and racking up the accolades, so do did their family begin to grow. Little Indiana was born almost 12 years to the day after her parents' first date, on February 17, 2014. As the Feeks were adjusting to life with a newborn who'd been diagnosed with Down syndrome days after her birth, they were faced with their biggest challenge yet. That May, Joey was diagnosed with cervical cancer.
She immediately underwent surgery to remove the growth and was declared cancer-free, only for the disease to come back a year later—and with a vengeance. The cancer had spread to her colon and was now at stage 4. In October 2015, Rory revealed that the cancer had become terminal and they'd decided to stop all treatment and, instead, focus on making the rest of Joey's time on Earth as comfortable as possible. By March, she would be gone.
"Joey and I believed that God would give us a great story," Rory said at his wife's funeral, as she was laid to rest in the family cemetery on the Feek farm, where his mother had been buried two years earlier and where he too will one day wind up. "Not just a great story to tell, but a great story to live, and he has."
"A great story is not just a happy story filled with only joy," he continued. "That's not a story, not really. You must have low points to understand and appreciate the high points you get to experience in life."
With Joey gone, Rory's been left to raise Indiana on his own, though he tells us that the difficulties in being a single dad lie not in the areas one might think.
Charles Sykes/REX Shutterstock
"It's really just one major difficulty and that is to experience such a beautiful time in her life, and ours, without my wife," he told us, his daughter sitting in his lap. "Not because it's hard on me, but because she's missing out on an incredible opportunity...And that the passing of someone is so final. You don't know what happens in the future, but you know that that doesn't get to happen again. And so that's really the hard part. Is it potty training and bath time? No, those are all easy, easy things. It's really just the disappointment. That's really the main thing."
Rory points to a story about the letters Joey prepared for those in her life—her mother and father, her sister, their daughters—as her time to say goodbye was drawing near—and the fact that she didn't craft one for her husband—as way of explaining that, in a way, he always feels her with him.
"We never had a conversation about 'Do you have a letter for me? Do you want to write something for me?' It just wasn't there and I never thought about it and I guess she didn't think about it," he explained. "But I think the reason is is that Indy is just an amazing love letter from her mama that talks to me all the time, that wakes me up with kisses and brings so much light to my day and all of our days. And I think that she is how Joey is here. This is her flesh and blood right here. And her smile and her light, I feel that."
And just as Indiana is his way of keeping Joey alive, his shared career with his wife is his way of keeping the little girl's mama a part of hers. "Unusually, we had a music career where we filmed every music video at home, television specials. Everything that we've ever done, for some reason, we captured our lives—and so her mama lives on in a million ways," Rory told us. "Her music, a lot of people know, so we could be riding down the road and hear mama come on the radio and Indiana knows exactly who that is. Or we'll see pictures or videos, so I don't have to talk about her a lot. I talk about her as if she's kind of here. Even this morning, I'll say she's having avocado for breakfast and I'll say 'Mama loved avocados too.' But she's just a part of our life and I think Indy's used to it, so we don't think anything about it. She's probably still too young to understand. She knows there's a swing by the cross in the cemetery in the back field, and she knows that's where Mama is, but I don't think she understands what that means and, honestly, I can't tell you I understand what that means either."
While there remain so many mysteries about life and loss and moving on, one thing remains certain in Rory's mind. And it's that he has no plans to make music with anyone else any time soon.
"I mean, I'm not a normal part of a duet where I sing with this person for a while and then there's someone else I want to sing with," he told us. "I'm part of a marriage that I still feel I'm still part of a duet. So no, I don't think that there's someone I wish I could perform with other than my wife."
So the ring stays on, the love stays alive, and the music will have to wait until the next life, when Joey + Rory can find their way to one another once more.