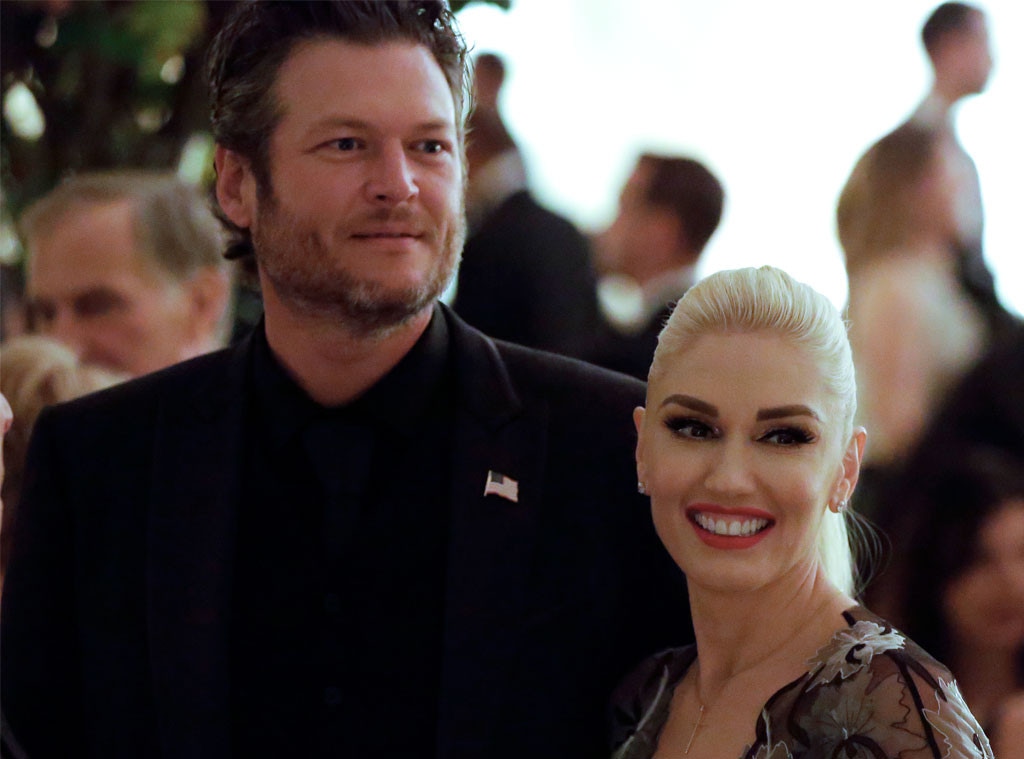 YURI GRIPAS/AFP/Getty Images
There was a time when a somewhat speedy betrothal seemed all but inevitable for Gwen Stefani and Blake Shelton. 
Though they'd made an effort to remain quiet through the early months of their surprise courtship—"I never said nothin' about being in a new relationship," Stefani protested during a November 2015 radio interview, mere days after his rep confirmed they were dating—soon enough the rocker was mock complaining of her Voice cohort, "Why'd you have to go and make me like you?"
She'd already begun popping up at his Oklahoma ranch by then and he was making guest appearances on her Instagram feed. And they pretty much couldn't stop talking about how lucky they felt to receive another shot at love after enduring simultaneous divorces. So by mid-2016, right around the time Shelton was proclaiming to Billboard that the No Doubt front woman had "saved my life" following his high-profile split from fellow country star Miranda Lambert, reports began surfacing that their vows were all put planned. As one insider told Us Weekly, "They want to get married before the end of the year."
Fast-forward two years and their left hands are still comfortably bare. And all signs indicate that fans are pushing harder for an engagement than the birthday girl herself, who celebrates her 49th year today, presumably with her boyfriend at her side. 
It's not that they haven't talked about doing the whole matrimony thing. Succumbing to Ellen DeGeneres' prying, Stefani admitted she thinks about marrying Shelton "all the time," a notion the 42-year-old seconded in an interview with CMT's Cody Alan ahead of April's ACM Awards. But since they already have the true prize—a solid partnership and the knowledge that they're in it for good—they don't feel the urge to officially upgrade their relationship status just because that's what everyone's been expecting since their first shared selfie. "I don't think it's anytime soon or anything," Shelton noted to Alan. "The more time that goes by, I guess, the closer you'd be getting to that."
Not quite three years in, the "You're My Favorite" rocker and her straight-talking country guy see no need to subscribe to the Hollywood fast track. They'll leave that to Ariana Grande, Nick Jonas and the other millennials. "There is no reason for them to rush into a marriage so they aren't," a source explained to ET. "Both of them are happy and content with where their relationship is right now." 
Trae Patton/NBC/NBCU Photo Bank via Getty Images
It's not that they're gun-shy, just a bit more pragmatic than their contemporaries with Stefani marrying Gavin Rossdale seven years after their initial meeting, a year longer than it would take Shelton to wed Lambert. But it would be more than understandable if they were. After all, neither of them had what you would call easy divorces. The mom to Kingston, 12, Zuma, 10, and Apollo, 4, more or less confirmed rumors that her husband of 13 years cheated, telling Cosmopolitan, "Nobody would believe it if I could really say what happened. I went through months and months of torture." She hinted Shelton's split was equally traumatic, telling The New York Times he "had been going through literally the exact same thing in literally the exact same time frame."
But despite their whole misery loves company situation, the initial coupling was met with a general head scratching from fans and pals alike. "When we first started seeing each other, friends of mine would be like, 'What the hell is that all about?'" the owner of Old Red Nashville told People of the struggle to reconcile her glam, platinum style and ska sound with his flannel-wearing country boy roots. "But if you ever had a chance to be around us together, it does make sense." 
It goes beyond the shared heartbreak that initially bonded them as they transitioned from commiserating pals ("Checking in on each other once a week through email—'This s--t happened to me, what happened to you?'" he told Billboard) to texting buddies to "Next thing I know, I wake up and she's all I care about, and I'm wondering if she feels the same about me." The pair share an equal devotion to one another and to their families, an insider tells E! News, "Some people don 't think they have a lot in common, but they do." 
Stefani's pin-up good looks and trademark red pout belie a tomboy at heart who feels she lives her best life at Shelton's 1,200-acre waterside ranch. "We love to go out on the lake," Shelton told People. "My family, Gwen and her family, we all get together and go out and float around. The kids swim and tube and all that stuff. We have a blast." 
Courtesy Getty Images for iHeartMedia
And beyond that, they simply just work together. 
"I think if Gwen and I were being honest right now, talking about this, I think in the back of our mind, that we both kind of thought, this is a rebound deal because we're both coming out of a low spot in our lives and we're kind of clinging to each other to get through this," the five-time Country Music Association Male Vocalist of the Year admitted on NBC's Sunday TODAY with Willie Geist in June. "But now, here we are, going on three years later and every day that goes by, it just feels like a stronger bond between the two of us and it constantly feels like it's going to the next level. That's the only way I think either one of us would probably describe it." 
Aside from being the undoubted love of her life, "He's my homeboy. He's my homey," Stefani told Good Morning America. "He's just really an amazing all-around human so I feel so grateful for that."
Which is why he's earned a place of tribute in her Las Vegas Just a Girl residency with the rocker donning what she called "a cowgirl costume" to sing "Make Me Like You," the hit she penned as they were falling in love. "He's inspired me so much," she noted to GMA. "He's changed my life. I was like, 'You changed my show, you changed my life.' Such an inspiration."
And naturally he was there to see it for himself, claiming a seat in Planet Hollywood's Zappos Theater for the first three of her June and July shows. (The final 13 resume in December.) It wasn't just that he was repaying a favor, Stefani having joined him on the road for parts of his Country Music Freaks Tour, they're just that into celebrating each other's successes. "She is very supportive of his career and vice versa," a source told ET. "They support each other in all that they do." 
Including a potential collaboration they've been kicking around for quite some time. 
Since the early months of their relationship, Shelton's proven such a good father figure, gamely playing the role of Shaggy to Stefani's Daphne at Apollo's Scooby Doo-themed fourth birthday party, brining Zuma as his plus-one to the Kids' Choice Awards, that they've flirted with the idea of having a baby of their own. "Blake has always wanted children," an unnamed friend told Us Weekly earlier this year. "And he's great with Gwen's kids, which prompted them wanting their own." 
Before Stefani, he'd begun to believe that his long-held dream just may not happen for him. "I kind of had put [having kids] as like, 'Well, that wasn't meant to be,'" he noted on Today. But stepping into his father figure role, "all of a sudden it happens—one way or another—and it's like, 'Wow, I really missed out on a lot.'" 
He's since made up for lost time, fully leaning into his unofficial step-dad gig. 
"There's days where you go, 'Oh my God, when does school start?'" he admitted to People. "An hour later you're going, 'God, I can't wait 'til they get home.'" No matter the parenting struggle, Stefani's boys are "so damn funny," the man known for his own quick wit explained. "It's just my first time being around it, and it's easy to fall in love with those kids. They're pretty special." 
And while it would be incredibly special if they could add another offspring of their own, for now they're happy to take a wait and see approach. "Their feeling is if it happens naturally, great. But they've decided not to focus on it for the time being," a source told Us Weekly. "He is completely at peace with the prospect of not having any biological children of his own." 
As for a big, vow-exchanging extravaganza, well, they're cool to take their time with that as well. "The need to get married and have kids isn't the priority it once was," says the Us Weekly source.
Disney Channel/Image Group LA
Legally binding document and shared last names aside, their relationship is rock solid. So why mess with a good situation?  "I wouldn't change one thing about my life right now. I'm happy," Shelton told People in June. "Sometimes happiness can seem like fleeting moments, but this one has been staying in the same lane for a long time. It's just amazing."
So now he's learned to stop questioning it and pretty much go with the flow. "I would like to ride this wave till I die," he said. "The personal side of my life has been chaotic at times over the last few years, but it's kinda settled down now and just feels good."