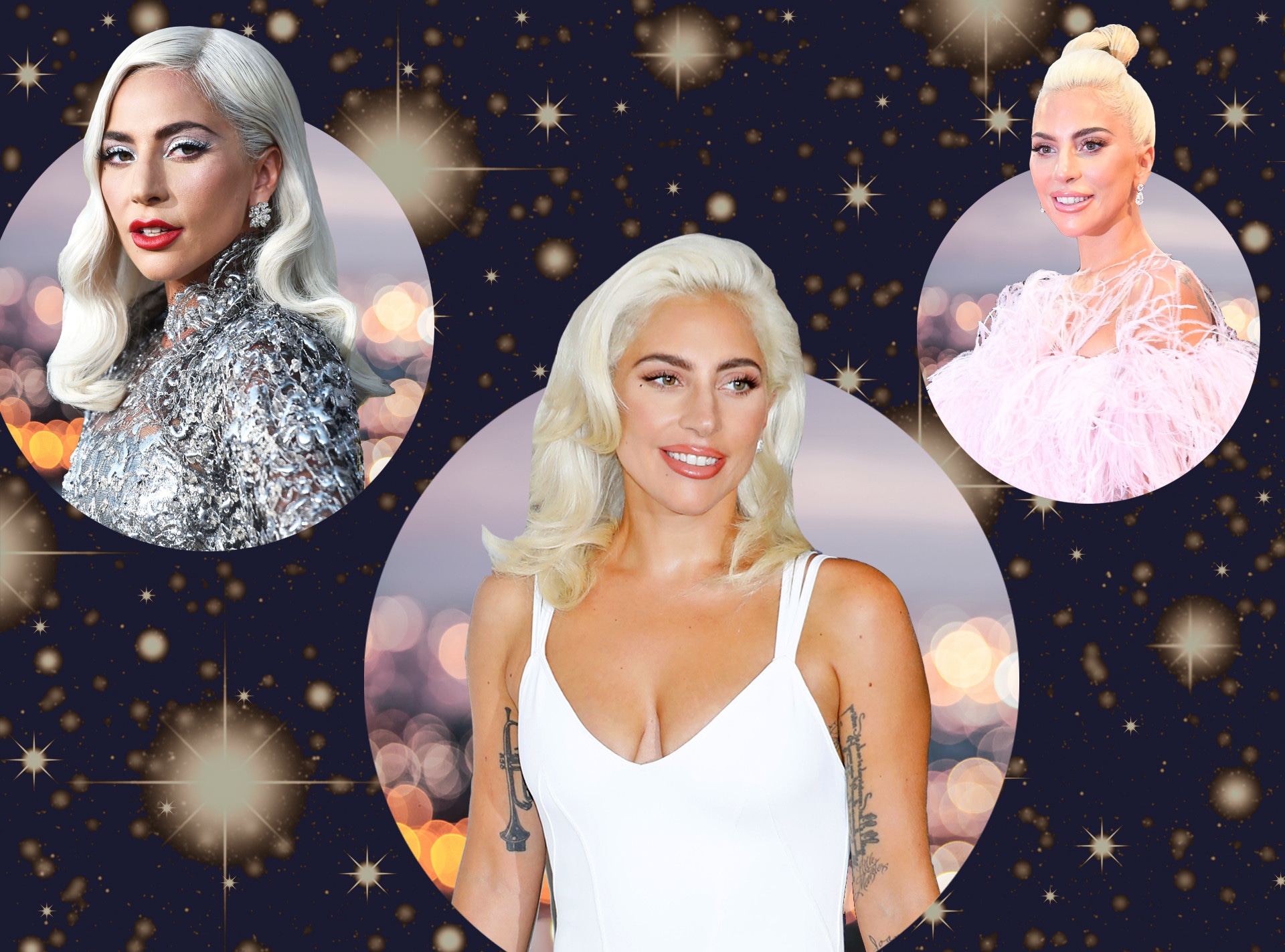 Getty Images; Melissa Herwitt/E! Illustration
When it came time for Lady Gaga to embark on her first film press tour, she did so with her trusted team in tow. 
That crew—dubbed the Haus of Gaga—consists of the artists, stylists and creatives that have helped bring her looks to fruition for the past decade.  Among the members of the team is hairstylist Frederic Aspiras, who first connected with the triple threat 10 years ago just as her career skyrocketed. 
"She was looking for a hairdresser that knew how to do wigs and worked in music and did fashion...The Fame was just out..she wasn't really huge like she is now. I think the 'Bad Romance' song was just about to come out," Aspiras recalled to E! News. "She wanted to start this whole new look and tour, so she needed someone to be on the road with her."
As he remembered, "It was kind of just a chance meeting that we happened to just click and become partners in this journey." 
Now, just days away from the release of A Star Is Born—Gaga's silver screen debut—that artistic journey has reached a new Hollywood height. In stark contrast with her barefaced character, Ally, an aspiring singer with dwindling hope, the singer has been commanding red carpets as the modern star of her character's dreams.
Whether dripping in couture Valentino feathers at the Venice Film Festival or shimmering in a custom silver Givenchy cape at the Los Angeles premiere, Gaga has transformed into her own version of a movie star. That physical transformation from Ally back to Lady Gaga began with her hair color. As she recalled to Ellen DeGeneres, "I literally dyed my hair blond the night that we stopped shooting because I wanted to get out of it as soon as possible because...there is some tremendous emotion and tragedy [in the movie]."
As Aspiras explained to E! News, the process involved a few steps to avoid the damage that often comes from trying to go platinum blond too quickly. Since the switch, Gaga and Aspiras have been consistently focused on hair care. "We always do conditioning treatments on her hair after a long day of work. We are on it. She is so on top of always taking care of her hair," he said. "When you have bleached hair like that, you have to be very careful. You can have a lot of damage from all the styling." To combat that damage, he relies on heat protectant sprays when using hot tools and uses cream hair masks on Gaga. For a budget-friendly version, he mentioned L'Oreal's hair sheet steam treatment masks, which can be used in the shower.  
Emma McIntyre/Getty Images
With Gaga's hair prepped and ready, the press tour fun could begin. From full blowouts and elegant waves to intricate updos, Aspiras has been hard at work crafting Gaga's hairstyles with a modern version of old Hollywood in mind.  
"With the whole press tour, I wanted to really show a different side of her look that is more of a very modern old Hollywood...I call it futuristic Hollywood," he explained to E! News. When she arrived for her first day at the Venice Film Festival a month ago to kick off this whirlwind press tour, she did so sporting a soft and romantic look with her blond hair down framing her face and shoulders. "We wanted something really natural, really soft that was like as if she were to walk out of a slow-motion movie."
To achieve that classic voluminous look, Aspiras relied on some old-school tools for that volume: velcro rollers. After blowing her hair out with two boar bristle round brushes—a smaller one for around her face and a larger one for the ends—he used a light mist of hairspray and set her hair in the rollers. As for any other product, he kept it very minimal aside from some hair oil for shine. 
When it came time for Gaga to don Clare Waight Keller's haute couture silver Givenchy gown and matching cape coat, Aspiras gave her the subtly metallic hair to match. He began with a pin curl set—another vintage technique—in the front of the face by curling the pieces with a curling iron and then pinning them flat on her head. After taking the clips out, he combed it through softly and then pinned along the shape of the wave to preserve the S-curl framing her face while keeping the rest of the hair mostly straight.  
For a 2018 twist, Aspiras mixed a metallic silver shimmer powder into a dry pomade wax and laid her hair down with it to achieve that chrome-esque shine. For brunettes, he suggested trying a gold or bronze powder for a similar effect. 
James Gourley/Shutterstock
At the U.K. premiere in London, Aspiras crafted an updo and sealed it with another old-fashioned tool: a hairnet. "It's like an underrated product that I don't think anyone really uses," he said. As Aspiras explained, he used a fine French hairnet to keep everything in place without it being obvious. For those at home looking to perfect their own updos, Aspiras suggested building a "good foundation" with texture spray or dry shampoo powder that will give the hair grip and make it easier to put up. To avoid breaking the hair with too many bobby pins, the hairstylist also explained there are a variety of pins available to use in different sizes depending on what you're trying to achieve. If fullness is the goal, there are always hair extension pieces you can add in to create more volume.  
Clearly, after 10 years of bringing bold, unique and often unforgettable hair visions to life, Aspiras knows exactly what to use and do to make Gaga's styles work perfectly. 
As Aspiras said. "It was a long journey, but it's 10 years of creating all these great looks."