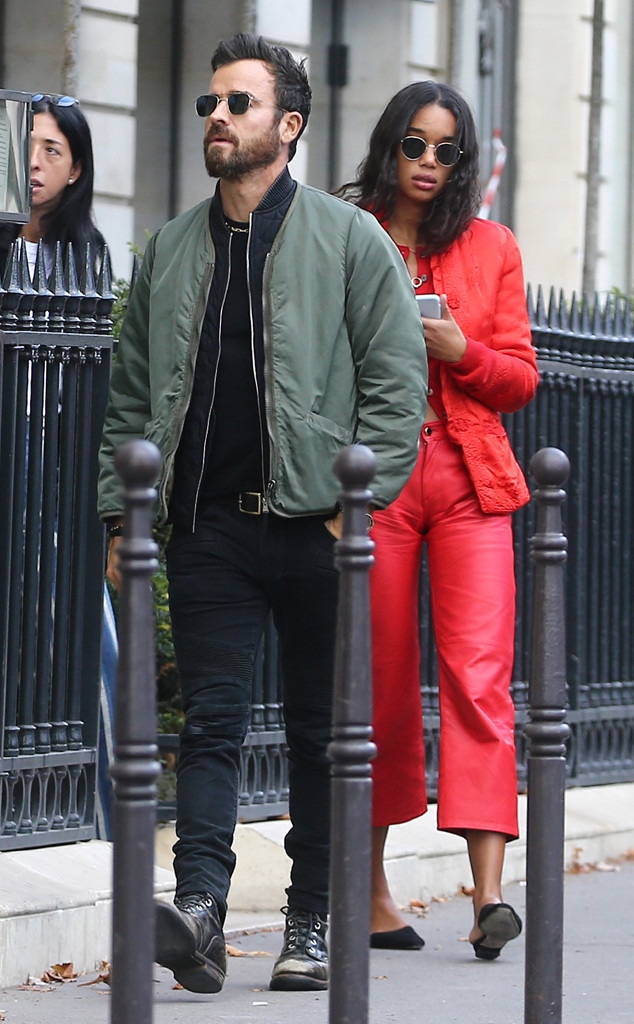 Splash News
Justin Theroux and Laura Harrier were just spotted hanging out together in Paris.
The 47-year-old Spy Who Dumped Me and the 28-year-old Spider-Man: Homecoming actress stepped out with friends on Monday afternoon. Photos show Theroux donning sunglasses, a bomber jacket, jeans and boots, while Harrier rocked sunglasses paired with a red ensemble for the outing.
Theroux and Harrier were first spotted spending time together in the South of France in late May, while in town for the Louis Vuitton Cruise fashion show. The duo hung out with Emma Stone, Sienna Miller and journalist Derek Blasberg at Hotel du Cap-Eden Rock, just as a source told E! News that Theroux was "casually dating."
"Justin is hanging out and having the time of his life. He's casually dating, but it's nothing more," the insider told E! News at the time. "He's in a great place and very happy. He's enjoying being social and meeting people from all walks of life. He is excited about doing new things and traveling. He's looking forward to a great summer of fun and just seeing where it leads."
"He is letting loose for the first time in several years. He doesn't have anyone else to be responsible for or to report back to and he's taking advantage of that and having fun," the source added, "Justin seems single and very much moved on from his marriage. He seems to really be enjoying himself. 
Watch:
Justin Theroux Breaks Silence on Split From Jennifer Aniston
But just as quickly as romance rumors surfaced, Harrier shut them down during an interview with Elle. When asked about the South of France vacation, Harrier told the outlet in June, "Well, we all work together for the brand and have become friends. So it's fun."
Just weeks ago, Theroux broke his silence on his split with ex Jennifer Aniston. "The good news is that was probably the most—I'm choosing my words really carefully—it was kind of the most gentle separation, in that there was no animosity," Theroux told the New York Times. He later added that the split was "heartbreaking" but "only in the sense that the friendship would not be the same, as far as just the day to day."