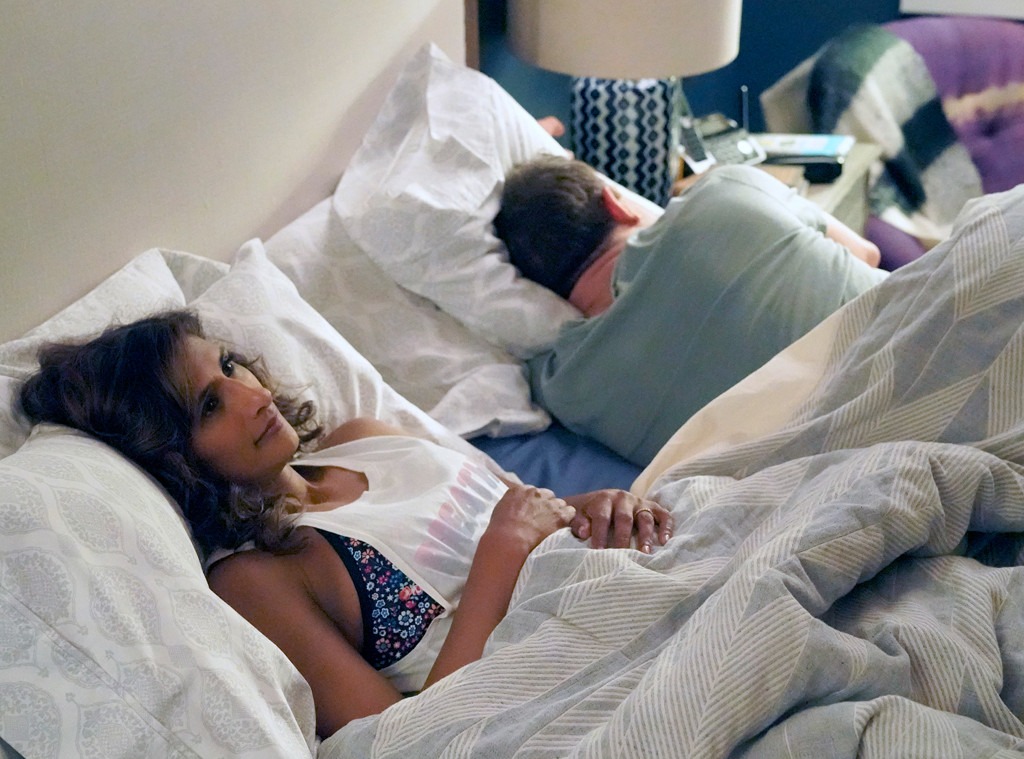 NBC
Emet is doing her best on I Feel Bad. She's main character on the NBC comedy, played by Sarayu Blue, and the working mom character is trying. She feels bad about her shortcomings, hence the show's name, but she's still doing her best. It's a feeling almost everyone can relate to—even the stars.
"I just every day feel bad that I don't have enough time with my parents. I just don't. I should spend way more time with my mom," Blue told press at the 2018 Television Critics Association Press Tour.
"I should spend more time with your parents too," Paul Adelstein, who plays Emet's husband David on the series, joked.
"You should. Take the onus off me," Blue said.
And the rest of the I Feel Bad cast?
"Weight," Brian George, who plays Emet's father on I Feel Bad, joked at TCA. "I don't know. I'm making up stuff. I feel pretty good."
"Don't you feel bad you feel good?" Adelstein joked.
"Yeah, that's right. I feel bad because I don't feel bad," George joked.
Madhur Jaffrey, Emet's mother on the NBC comedy, she said her guilt has accumulated over time. "And I sort of learned to accept them, but as accumulated piles of different things. And one of the piles will certainly be I'm short. I'll never be tall. In fact, I'm shrinking. There are so many others in the same category that started off long ago, and history has just sort of piled them on," she said.
"I feel bad that I think I've wasted too much time feeling bad at this point in my life. I feel bad about how much time I've wasted doing that," Adelstein joked.
Creator and executive producer Aseem Batra said she feels bad that she loves doing the job, but she misses out on seeing her child a lot. "And then sometimes I feel bad that I don't miss him as much as I should. The night that we saw Sarayu audition for this, my kid lost his first tooth. I didn't tell you that. I texted [series executive producer Amy Poehler]. You were there. I said, 'Amy, the nanny just sent me a video of him losing his first tooth.' And do you remember what you said?"
Poehler said she pointed out that "any working woman is constantly being asked about how she balances it all."
"It's a question we're asked all the time, and we're always asked how we balance it all. It's a question that we always have to give an answer to. And I think — so the balance of a working woman's life, there's always something that feels like it's getting short shrift. And men, as well, absolutely, too. There's something very specific about being a mom these days and being expected to kind of be handling everything really, really well that is still unexplored territory on television," Poehler told press. "There was a lot of working women on television who just kind of figured out how to raise their kids off screen without us watching, and it will be really interesting to see those two things mesh in the show."
I Feel Bad airs Thursdays, 9:30 p.m. on NBC.
(E! and NBC are both part of the NBCUniversal family.)