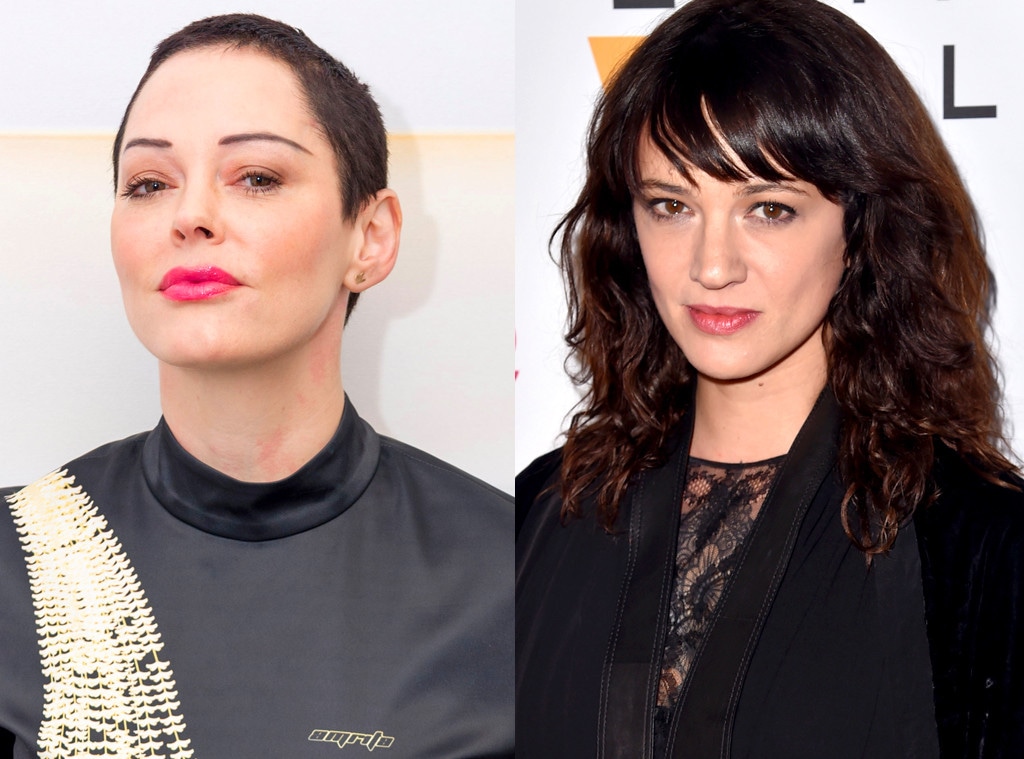 Ken McKay/ITV/REX/Shutterstock; Stephen Lovekin/REX/Shutterstock
It seems Asia Argento wanted something more permanent to send a message to Rose McGowan. 
Over the weekend, the Italian actress shared images of a new tattoo she got by Marco Manzo, seemingly tied to her new foe. 
The ink in question is a bloody dagger piercing her ankle. In posting the work on social media, Argento wrote on one of the shots, "Bye bye @rosemcgowan."
According to Us Weekly, Argento further noted on her Instagram Story, "Significato: vendetta consumata," which translates from Italian to possibly mean "consumed revenge" or "revenge complete."
The women have been at odds publicly since The New York Times published a report in August about a settlement between Argento and former child star Jimmy Bennett, who accused her of sexual battery when he was 17 years old and she was 37 years old.  
In a statement at the time, Argento denied having a sexual relationship with Bennett and claimed the news was false. 
As Bennett explained in part of his own statement issued at the time, "I was underage when the event took place, and I tried to seek justice in a way that made sense to me at the time because I was not ready to deal with the ramifications of my story becoming public. At the time I believed there was still a stigma to being in the situation as a male in our society. I didn't think that people would understand the event that took place from the eyes of a teenage boy."
A few days after the report emerged, McGowan, who had become friends with Argento amid the #MeToo movement, spoke out against her in a statement and revealed that her partner Rain Dove had gone to the police with her support after Dove and Argento texted about Bennett and the allegations against her.
In mid-September, Argento demanded McGowan retract comments she made in that public statement. 
"Dear @RoseMcGowan. It is with genuine regret that I am giving you 24 hours to retract and apologise for the horrendous lies made against me in your statement of August 27th. If you fail to address this libel I will have no option other than to take immediate legal action," she tweeted at the time. 
An apology from McGowan came last Thursday in a Twitter statement. 
"On 27 August I released a statement about Asia Argento, which I now realized contained a number of facts that were not correct. The most serious of these was that I said the unsolicited nude text messages Asia received from Jimmy Bennett had been sent since Jimmy was 12 year old," she explained in the lengthy statement. "In fact, I had misunderstood the messages that Asia exchanged with my partner Rain Dove, which made clear that Jimmy had sent Asia inappropriate text messages only after they met up again when he was 17 (still legally a minor in California, but notably different from a 12 year old)."
"I deeply regret not correcting my mistake sooner and apologize to Asia for not doing so," the statement concluded. 
Argento responded, tweeting, "Although I am grateful to @rosemcgowan for her full apology following her groundless allegations about me, if she had issued it earlier, I may have kept my job on X-Factor and avoided the constant accusations of paedophilia which I have been subjected to in real-life and online."
As the Italian actress added, "Now go on, live your life and stop hurting other people, will you Rose? Best wishes."