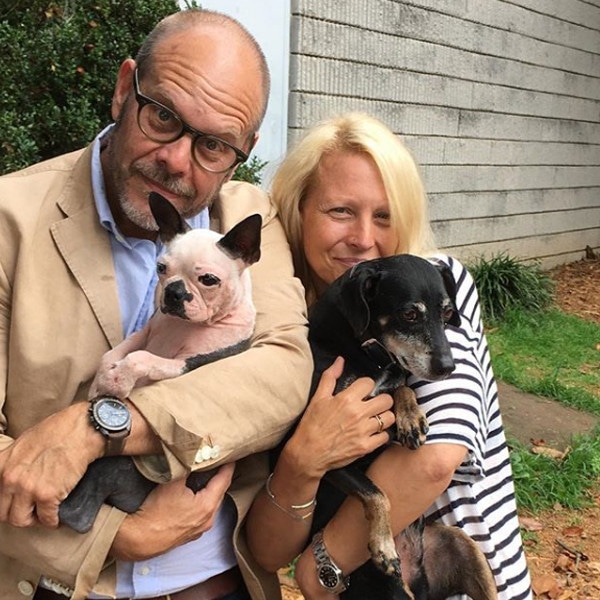 Instagram
Alton Brown is serving up some serious romance!
The Food Network star and best-selling author announced on Instagram this Sunday that he is a married man!
"Mom and dad got married on a boat and all I got was a glass of weird fizzy stuff," he shared on social media with a photo of his dog presumably at the reception. "@elizabethingramstudio @call_me_scabigail."
Singer Liz Phair also confirmed the news on Twitter when congratulating the couple. "Wedding bells in the family yesterday!" she wrote. "Congratulations to my beautiful cousin Beth and her love, @altonbrown xoxo I wish I could have been there!"
While the ceremony was sure to be special, the couple couldn't help but gush about the good food they enjoyed during the celebrations. Alton revealed that brunch was on the itinerary at Chubby Fish in Charleston. And no, it didn't disappoint.
"The food, based on local by-catch, was one of the best meals I can remember," he shared with his followers. "The shrimp and rice was my favorite, though I obviously didn't get a clear shot of it. @elizabethingramstudio."
The couple first met in 2016 at a book signing for Alton's popular book EveryDayCook. A relationship soon followed and before you knew it, wedding planning was on the agenda.
"We are caviar fanatics," Alton shared with Food & Wine when discussing the must-have food at his wedding. "We're gonna have lots of it, good stuff. My fiancé and I are both pretty crazy about fish eggs, that's the one thing we're really splurging on."
Food Network fans will recognize Alton from a variety of shows including Good Eats, Ridiculous Cakes, Cutthroat Kitchen and Chopped.  As for Elizabeth, she's an Atlanta-based restaurant and residential designer.
Congratulations to the couple on their big news!