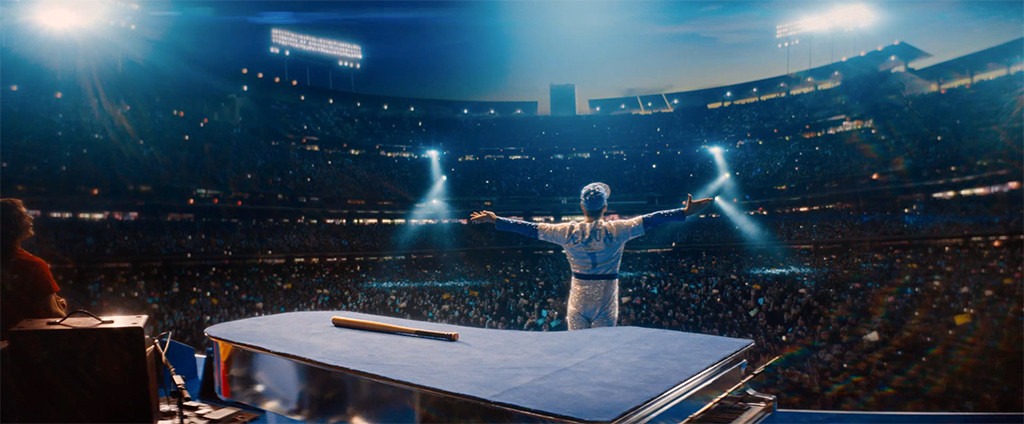 Paramount Pictures
Are you ready to rock?
Earlier this morning, Paramount Pictures released the first trailer for the Elton John biopic Rocketman, in theaters May 31, 2019. Starring Taron Egerton as the living legend himself, the upcoming movie co-stars Jamie Bell, Bryce Dallas Howard, Gemma Jones and Richard Madden. Set in the '70s, the opening shot shows Egerton's character knocking it out of the park at one of two sold-out shows at L.A.'s Dodger Stadium—set to the tune of "Benny and the Jets."
The movie is "based on a true fantasy," according to the studio. "There are moments in a rock star's life that define who he is," says Madden, who plays John Reid, the musician's manager and first real love. "Where there was darkness, there is no you. And it's going to be a wild ride."
The one-minute teaser trailer is as bold as John's flamboyant costumes (of which there are plenty), and it highlights the glamour and the tragedy of sex, drugs and rock 'n' roll in that era. Dexter Fletcher directed the film, from Lee Hall's screenplay; John and his husband, David Furnish, produced it with Lawrence Bender, Adam Bohling, David Reid and Matthew Vaughn.
Meanwhile, fellow glam rocker Freddie Mercury is also getting the biopic treatment, with Bryan Singer's Bohemian Rhapsody hitting theaters Nov. 2. Starring Rami Malek in the lead role, the buzzy 20th Century Fox production also includes actors Lucy Boynton, Aidan Gillen, Ben Hardy, Tom Hollander, Gwilym Lee, Allen Leech, Joseph Mazzello and Mike Myers.