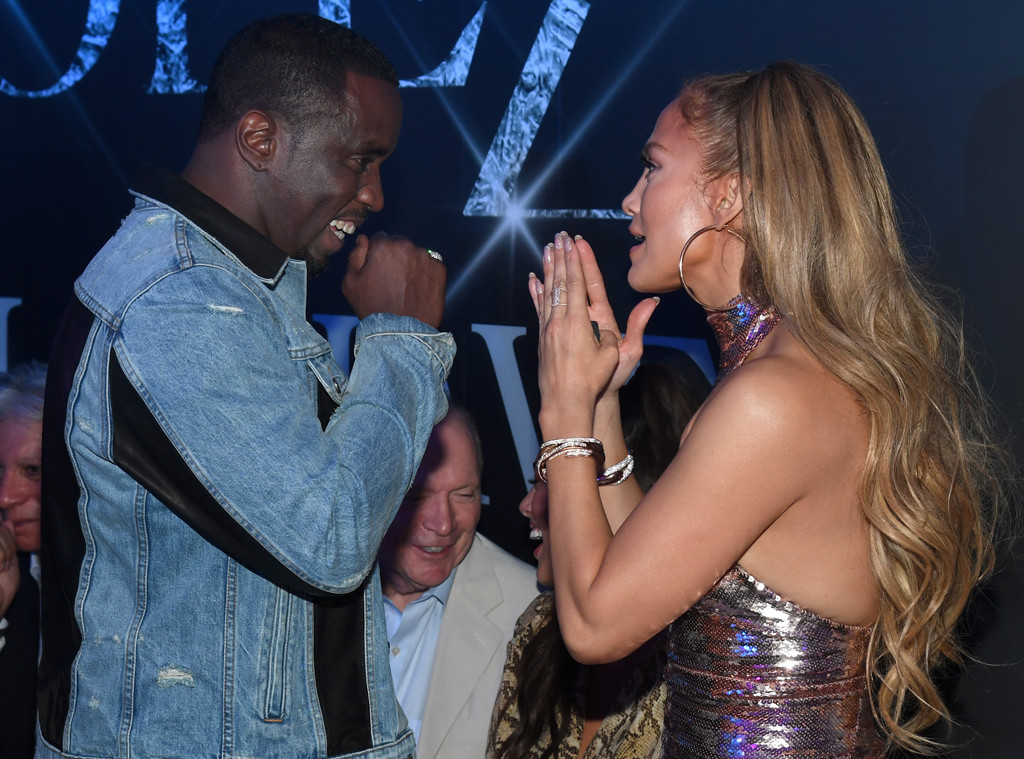 Ethan Miller/Getty Images for Caesars Entertainment
Love didn't cost a thing at Jennifer Lopez's final performance of her Las Vegas residency on Saturday night. Well, except for the price of a ticket.
J.Lo ended her 3-year All I Have residency at Planet Hollywood and her last show was as star-studded as ever. Her boyfriend, Alex Rodriguez, supported her nonstop (we'll get to that later), but an additional former significant other made an appearance at her performance. Sean "Diddy" Combs and the singer dated from 1999-2001, but there's no bad blood between the exes now.
Diddy arrived at J.Lo's show and was greeting by screaming fans who waved and took photos of the rapper as he entered. Fans, understandably, went wild at his presence. The exes hugged it out and caught up at her All I Have after party.
An audience member told E! News, "J.Lo shouted out various celebrities during a portion of the show." According to this eyewitness, she usually asks the audience where they're from, and this time, "specifically asked for a New Yorker" and then mentioned Diddy was in the house.
At the afterparty, J.Lo flawlessly rocked a rose gold sequined halter-top bodysuit with gold stilettos. At some moments, she wore a leopard print jacket over it. The glamorous one-piece had a reflective quality, too, so even A.Rod's fully pink outfit was reflected in her attire.
Former Yankee baseball player A.Rod praised his girlfriend like a World Series-winning home run. On Saturday afternoon, he shared a video of her working out as she prepared for the "epic finale." He wrote on Instagram, "#AllIHave isn't just the name of the show, it's what she has given to her audiences every single night. That's what makes her great. When she hits the stage, the audience gets her best effort. That was true on her first performance, will be true tonight and it has been that way every show in between. She is working as hard today as she does every day and it's amazing to watch."
J.Lo made sure his support didn't go unsung at her show. The concertgoer told E! News, "Towards the end she gave A.Rod a special address where she thanked him for being supportive throughout her residency. She made a joke referring to how he seen the show more than anyone she knows."
At one of her final shows, J.Lo was flanked at an afterparty by a plethora of powerful women. Sofia Vergara, Selena Gomez, Dua Lipa, Sarah Michelle Gellar and others partied backstage together. Selena praised J.Lo on Instagram, calling her "absolutely incredible". She wrote, "I wanted to tell you how much you inspired me tonight!!!! I haven't felt that free in my entire life! Lol THANK YOU!! I just wanted to tell you how amazing god thinks you are!!!!"
Congratulations on your achievement, J.Lo!