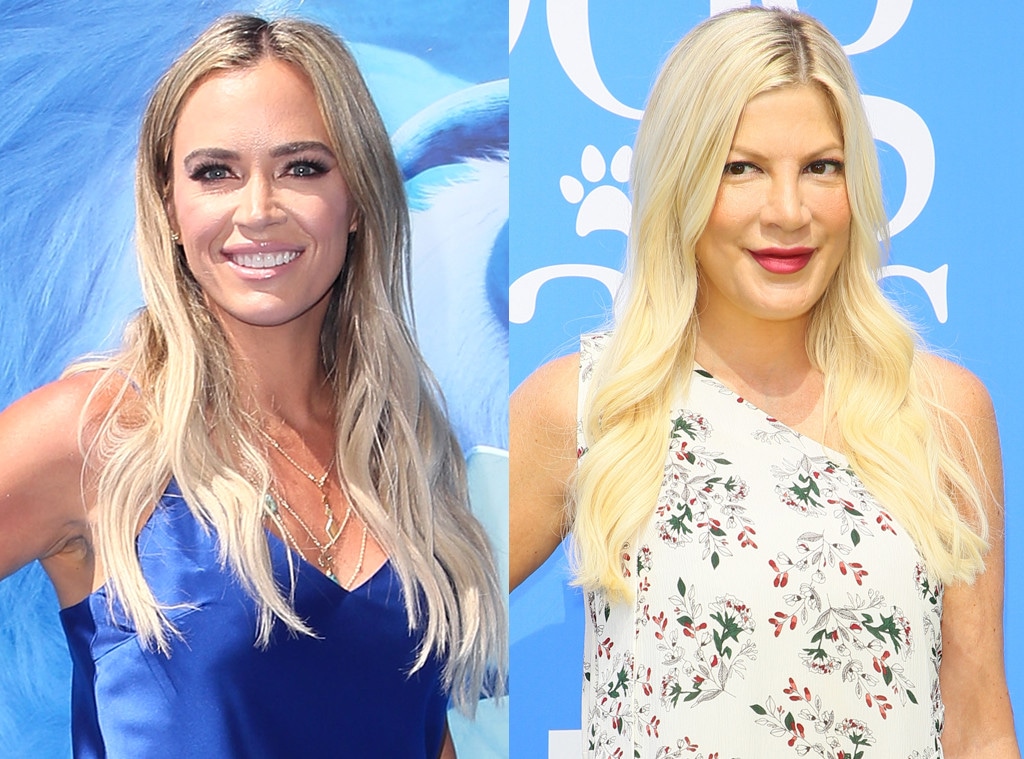 Getty Images
Teddi Mellencamp is the real deal, according to one famous client.
Just a couple of months after hiring The Real Housewives of Beverly Hills star as her accountability coach, Tori Spelling has nothing but positive reviews.
"Teddi and I met through a mutual friend. With my other four kids, the weight came off—I worked at it but it came off relatively easy.  The weight after my fifth child, after Beau, didn't happen," she explained to E! News exclusively at this weekend's UniCon 2018—The Unicorn Mom's Convention. "I felt kind of stuck in the weight world."
She continued, "I started working with Teddi and it's been life changing. My confidence is like through the roof. "
So could this mean Tori will be on The Real Housewives of Beverly Hills sooner rather than later? Not so fast!
"I mean, I am the O.G. Beverly Hills girl. No for real, I grew up in Beverly Hills," Tori joked to us. "They've never asked me."
Instead, Tori is focused on a variety of projects including Beauty With Tori. The busy mom is also hopeful for a Beverly Hills, 90210 reboot at some point in the future.
"There's definitely been talk about it. We're definitely all still friends. We love each other and would love to work together," she teased to us. "At this point, we feel like we were the O.G. and there's been a lot of reboots of other shows and we want to take our time and really do it right and not just give you the plain ole, 'Hey it's the reboot. Now we're in our 40s. Here's life.' We want to do a different version of a reboot and it's definitely going to be something that's going to wow people and we're all talking about it right now. "
Before anything is officially announced, Tori remains focused on her five children who continue to keep mom busy with their activities.
Her oldest four recently started a new school year. And despite some not-so-nice comments from critics on a recent Instagram post, Tori assures fans she will continue to document important milestones with her family.
"I'm not going to stop putting my kids out there. I'm proud of my kids. I'm just like any mother out there. It was their first day of school and I was taking a picture and I was proud," she explained to E! News. "I think it's beyond disappointing. In a world where we talk about evolving yet we spend so much of our time shaming others. I think the most disappointing thing was seeing other moms shaming another mom."
Don't mess with a proud mama bear!