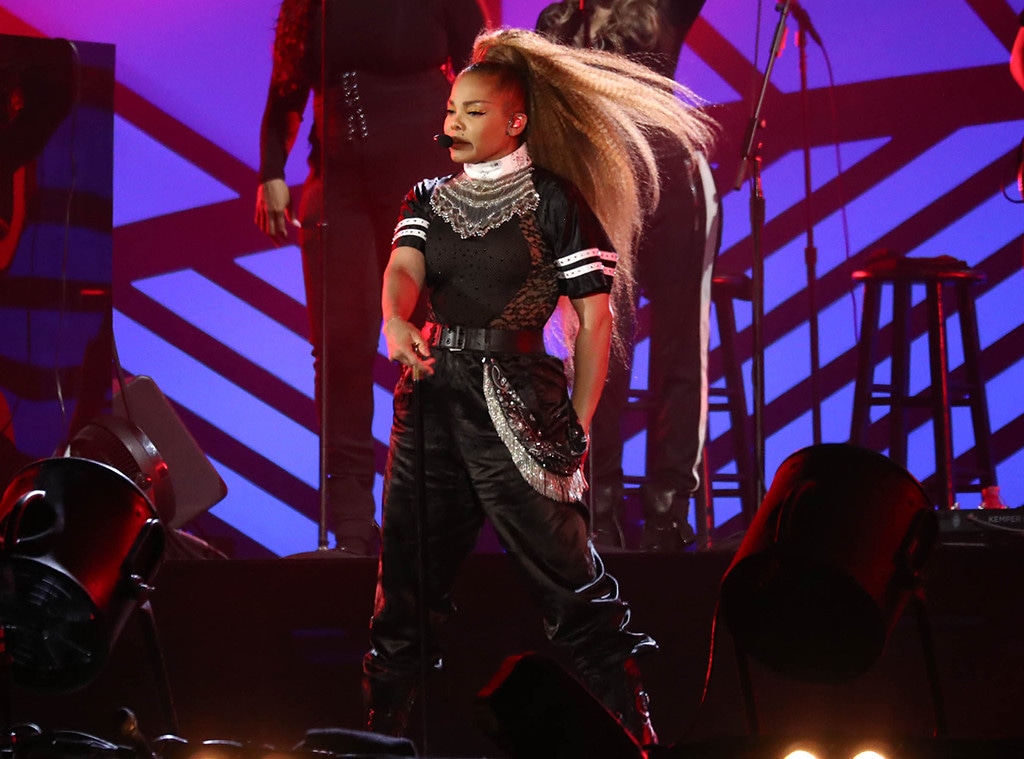 JOHN NACION/startraksphoto.com
Janet Jackson's performance at the 2018 Global Citizen Festival was a real tour de force.
Janet was the first performer to take the stage after a barrier fell down, causing a thunderous noise that made the crowd panic. Thousands of fans ran away from the stage on the Great Lawn, fearing the possibility of gunfire. Moments later, Coldplay singer Chris Martin appeared onstage to calm everyone down, saying, "Nobody is trying to hurt anybody. You're all safe, OK?"
Naomi Campbell introduced Janet onstage.
Eventually, Janet took the stage and opened her set with a deep cut: "Skin Game." She continued to captivate the audience as she performed most of her top hits, including, "All for You," "Alright," "Control," "Feedback," "If," "Miss You Much," "Nasty," "That's the Way Love Goes," "The Pleasure Principle," "What Have You Done for Me Lately" and "When I Think of You." She brought Q-Tip out for "Got 'til It's Gone" and Mos Def for "Got 'Til It's Gone." 
Janet's performance was also tinged with emotional moments. First, she wept while singing "What About," in which she reclaims her power after dealing with years of abuse. She ended the song by yelling, "I am done with you!" Next, she gave her late brother Michael Jackson a shout-out while singing their hit "Scream," looking to the heavens and yelling, "Let's go, Mike!"
During "Together Again," images of Janet and their late dad Joe Jackson appeared onscreen. In the middle of the song, she looked to the sky again, saying, "I miss you. I love you. Both of you." She then flashed her famous smile, singing, "What I'd give just to hold you close as on earth / In heaven we will be together, baby (together) / Together again, my baby (together again, baby)."
Before launching into "Rhythm Nation," Janet took a moment to speak about issues that are near and dear to her. "Like millions of other women out there, I know about bullying. I know about verbal abuse. I know about physical abuse. I know about abuse of authority. I'm sick, I'm repulsed, I'm infuriated by the double standards that continue to treat women as second-class citizens. Enough, you guys! Enough injustice. Enough bigotry. Mistreatment and mindless prejudice have to stop—and stop now. Equality is our demand. Action is our answer. Let's go!"
Janet closed the show with her current single, "Made for Now."
Other performers included Cardi B, John Legend, Shawn Mendes, Janelle Monáe and The Weeknd, while celebrities including Cynthia Erivo, Danai Gurira, Dakota Johnson and Forest Whitaker highlighted the Global Citizen Festival's initiatives. Before Janet hit the stage—and shortly before panic ensued—hosts Deborra-lee Furness and Hugh Jackman announced the Verizon Innovative Learning Program's mission to raise 2 million voices for education equality.
—Reporting by Taylor Bryant
(E! and MSNBC are both members of the NBCUniversal family.)