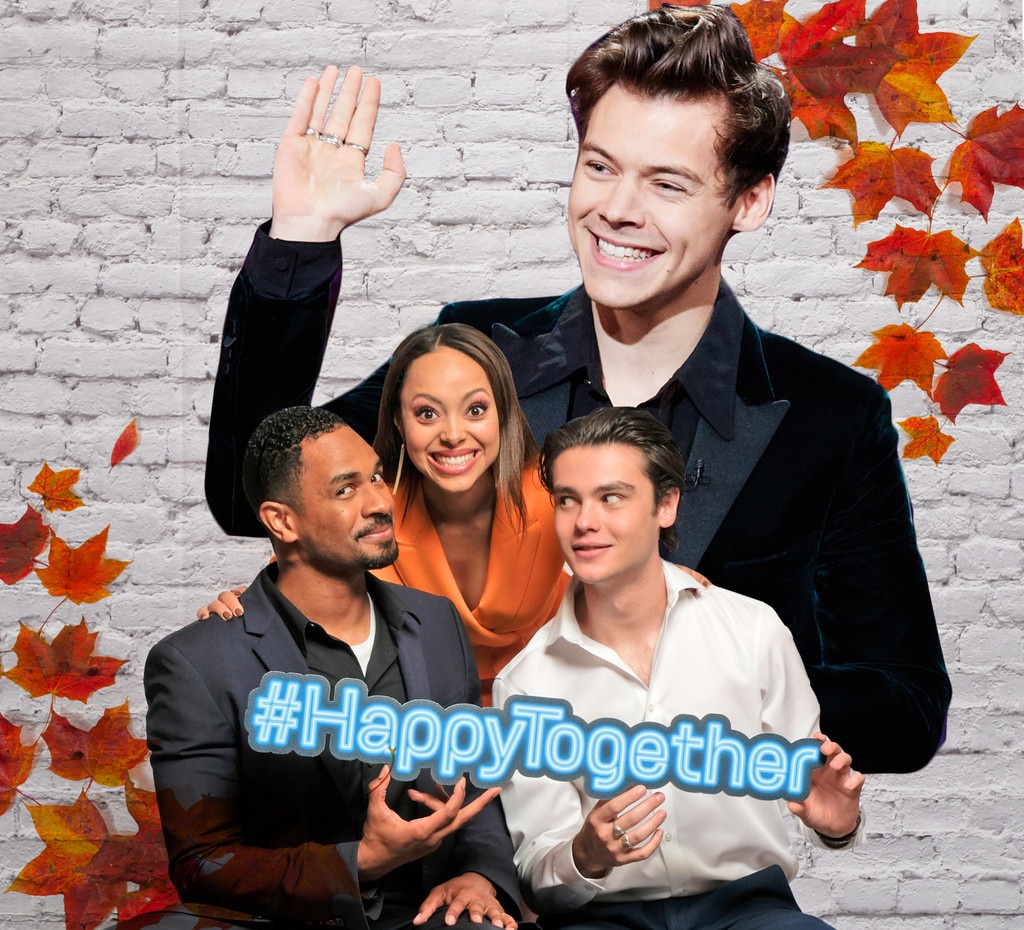 CBS/Getty Images
This fall, Harry Styles is adding a new gig to his repertoire: Executive producer.
Specifically, he's an executive producer on the new CBS sitcom Happy Together, which stars Damon Wayans Jr. and Amber Stevens West as a happily content couple whose lives are upended by a super famous popstar coming to live with them. Styles is involved in the show because it's loosely based on a time in his life when he went to live in producer Ben Winston's attic for nearly two years.
During the CBS portion of the Summer 2018 TCA press tour in August, Winston, who is also an EP on The Late Late Show with James Corden, shared the full story of Harry Styles living in his house.
"A few years ago, maybe seven or eight years ago, I was making a film with One Direction, directing a few of their music videos," Winston told reporters. "I had just moved into my very modest, quiet house in London, in the most suburban area of London you could possibly imagine, and a young man who I was working with at the time with the name of Harry Styles, who is one of the EPs on this show, asked me if he could live in our attic for what would only be a couple of weeks."
"I went home and I said to my wife, Meredith, 'It's a bit of an odd request. Harry, this guy from the band, would like to stay in our attic for a couple weeks. How would you feel about that?' She said, 'As long as it's only for two weeks, I'm fine with it.' 18 months later, Harry moved out of our attic, and nobody ever knew that he was living there. It was the most, like I said, suburban quiet street you could ever imagine. And the fact is, no one ever knew."
"A few years later, he did an interview in Rolling Stone magazine and spoke about that time, how living with a very normal, slightly boring family, which was me and my wife, helped him while he was living quite an abnormal life, and it gave Harry and I, and with our EPs Jonathan Berry and Michael Rotenberg, the idea that actually this could be quite a fun sitcom and quite a cool TV show."
If you're thinking it was thrilling to have a rockstar living upstairs for a year and a half, you are not correct.
"Unfortunately, our lives really were very boring. He would come in. He'd go to sleep. We would do a few chorse, and there wouldn't be anything very funny about it," Winston explained. "SO when we say [the show] is 'loosely inspired by,' that's because if we actually put what happened on the television, it wouldn't be that exciting."
Naturally, reporters had many questions. First, how did two weeks turn into 18 months?
"The truth of it is Harry became a huge part of our family. We never wanted him to move out. He had been living with the other boys from the band. They'd all bought houses. It was that stage where they finished living with each other in each other's flats and what have you, and apartments. He had bought a house. The house wasn't going through for a couple of weeks. Then that two weeks came and went, and the house still hadn't gone through. Then he wanted to renovate it, and before you knew it, it was a time where, ultimately, his family were living four hours up the road, and he would prefer to live in this sort of modern suburban family unit rather than living on his own in a mansion. And I think everybody can relate to that, regardless of how famous you are."
Three years later, Styles returned the favor when Winston needed a temporary place to live in Los Angeles.
Second, how did no one know that Styles was living there?
"He would sometimes have to lose paparazzi on a night out because they would chase him home or whatever, and he would have to lose them before he would come home. So sometimes he would call and say, 'I'll be home in 30 minutes,' and then three hours later he would show up. THat's because he never wanted to drag any photographers back home. I think it would have complicated a very nice situation had people known he lived there, so it was very discreet."
Third, was he neat?
"Sure," Winston said.
As Winston and the cast and creative team made very, very clear, Happy Together is not actually about Harry Styles living in an attic, but it's quite honestly close enough. It's also not the only new show this fall with some very real-life inspiration.
Happy Together premieres Monday at 8:30 p.m. 
All American
The new CW series was inspired by the life of Spencer Paysinger, a pro football player who grew up in South Central LA but commuted every day to Beverly Hills High School, where he became the captain of the football team. The show stars Daniel Ezra as Spencer James, a kid in South Central LA who gets recruited to play football at Beverly Hills High School. The show's pilot came from a treatment written by Paysinger, with help from Warner Bros. executive Peter Roth and EP April Blair based on his real experiences navigating the two worlds. 
During the panel for the show at the summer TCA press tour, executive producer April Blair said the creative team was "leaning heavily" on Paysinger, who serves as an executive consultant, to paint an accurate picture of Crenshaw. Unlike The OC, this show will split its time between Beverly Hill and South LA to reflect Paysinger's actual time in high school. 
Premieres Wednesday, October 10 at 8 p.m. on the CW. 
A Million Little Things 
ABC's tearjerker was inspired by a loss suffered by creator D.J. Nash.
"One day I was walking and I ran into a buddy of mine, and we both lit up. It was like, 'Dude!' 'Dude!' 'We should have lunch!'" Nash explains in one of the show's promos. "Then he said I'm really busy this week, how about next week? I'm like yes, next week, we're doing it. Then he committed suicide." 
"At his funeral, I promised myself I'd live differently," he continued. "I think that's what you do when someone goes too soon. You use their death to remind yourself to keep living." 
Nash also took inspiration from the movie The Big Chill, which was about a group of friends reuniting after their friend's suicide. 
Airs Tuesdays at 10 p.m. on ABC. 
New Amsterdam 
The new NBC medical drama was based on the book Twelve Patients: Life and Death at Bellevue Hospital, a memoir by Dr. Eric Manheimer, who actually did work at America's oldest public hospital and who actually did have cancer. The book uses the context of Bellevue's long history and reputation for medical innovations to tell stories of all kinds of patients, diseases, medical errors, healthcare horror stories, and how they fit into the history of New York City. 
Airs Tuesdays at 10 p.m. on NBC. 
Rel
The Fox comedy not only stars comedian Lil Rel Howery, but it's based on actual events from his life, like his 2016 divorce. While his real ex-wife did not actually cheat on him with his barber, the rest of the show mirrors his real life fairly closely in terms of both co-parenting and learning to be a single father, while also highlighting social and economic issues in its setting of Chicago. 
Airs Sundays at 9:30 p.m. on Fox.