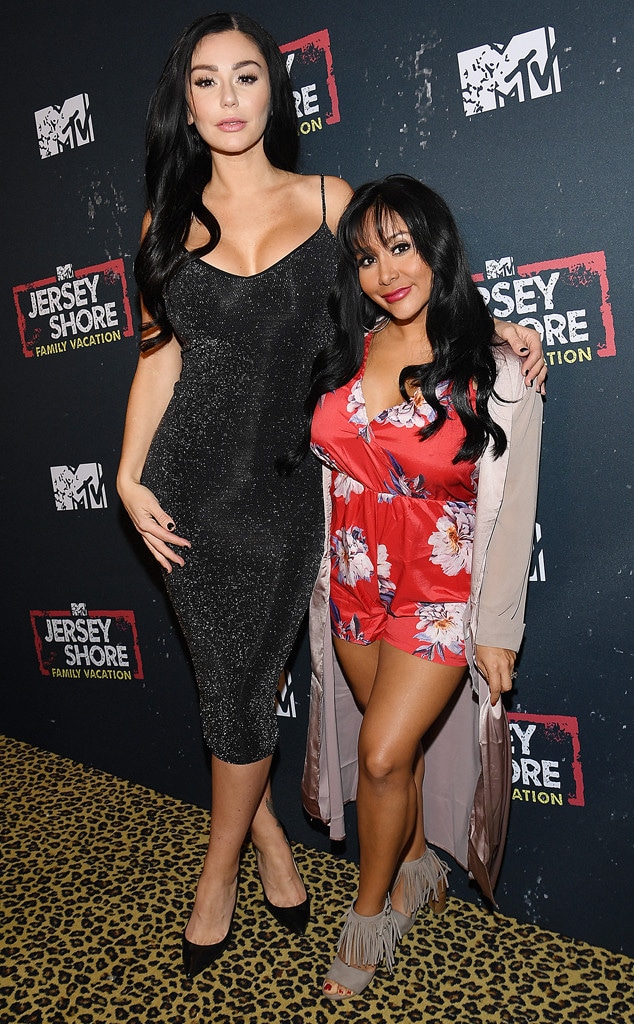 Dave Kotinsky/Getty Images for MTV
Life as a Jersey Shore cast member has afforded Jennifer "JWoww" Farley and Nicole "Snooki" Polizzi many things since luck brought them together as roommates on the hit MTV reality series in 2009.
There's the fame, of course. And then the money and comfortable lifestyle that comes along with it. But perhaps the greatest gift they've been given is that of their undying friendship. Because, to borrow a phrase from another famous New Jersey-native reality star, these two are thick as thieves.
And as Jenni embarks on this new uncertain phase in her life, having filed for divorce earlier this month from husband and father of her two children Roger Mathews after three years of marriage, citing irreconcilable differences, it's a good thing she's got Nicole in her corner because as we've seen time and time again with these two besties, there is nothing they won't do for one another.
"It took Nicole getting punched in the face for me to realize how much I adored her," Jenni told E! News last year about the moment, early in their very first summer as roommates, that she knew fell for her self-described meatball BFF. "But seriously, I knew I needed to protect her like a little sister."
She wasn't lying. Aside from springing to action after school teacher Brad Ferro punched poor Nicole in the face over shots at a bar, Jenni acted as her pal's protector during much of their original run on the cable network. Remember that season one moment when she slapped Mike "The Situation" Sorrentino in the face during a trip to Atlantic City? It was in response to him lobbing a rude fat joke his roomie's way.
Over the course of six seasons, they became an inseparable duo. They hid in bushes. They peed behind empty bars together. They bailed each other out of jail. (OK, so that was a one-way street when Nicole got nabbed by Seaside Heights police for drunken and disorderly conduct in season two.) They became the Lucy and Ethel of Jersey Shore and it didn't go unnoticed.
As the original series began to wind down, MTV gave them their own spinoff, and in 2012, Snooki & JWoww was born. "Ever since Jersey Shore's third season, me and Jenni have been begging MTV to give us our own show," Nicole told the Vancouver Sun at the time. "We're so fun together and we just wanted to show the fans our relationship as friends."
What began as a show that would follow the pair around as they knocked thing off their bucket list quickly morphed into something else when Nicole revealed she was pregnant with her first child and engaged to baby daddy Jionni LaValle. With attention shifting more in Nicole's favor rather than an even split on the duo, the chance for discord between the besties was obvious. But it never happened.
Rather, they were quick to point out that it only brought them closer together. "I think (my pregnancy) made our dynamic better, because if I wasn't than I'd be going crazy drinking and stuff like that," Nicole said. "That just causes fights for me and Jenni, so I think that worked out pretty good."
And Jenni, she was there, cheering her friend on as she began to grow up. Telling RedEye Chicago that Nicole would "be one of the best mothers I do know," she added, "The day she found out she was pregnant is the day she cut everything bad out of her life," JWoww said. "I just know she's beyond excited to have this child. No criticism is going to stop her and she's going to prove everybody wrong."
When Nicole landed a spot in the cast of Dancing With the Stars a year later, there Jenni was, cheering her on in the audience. "I cried like a baby," she gushed in an interview with NJ.com. "I'm super proud of her." (Nicole eventually came in eighth place overall.)
Though Nicole was the first to become a mom, welcoming son Lorenzo in August of 2012, Jenni and Roger weren't far behind on the family-building train, with their daughter Meilani arriving in July 2014. They'd go on to welcome another child each and eventually tie the knot to their respective beaus—with the other standing right by their side at every turn. They were in each other's weddings. They were known as Aunt Nicole and Aunt Jenni to each other's children. Their connection transcended reality TV, as they proved during the years when the cameras stopped rolling.
Snooki & JWoww ended in 2015, and, in the three years before Jersey Shore came back with a vengeance as this year's wildly popular Family Vacation revival, they stood by each other, embarking on joint business ventures—they took their antics to the internet with web series Moms With Attitude for Awesomeness—and raised their families together—all while still propping the other up.
"She's the best mother I know. I admire her in so many ways, but when it comes to being a mother, she is 100 percent hands-down the best," Jenni told us in 2017. "We are best friends raising best friends. It doesn't get better than that."
"I love the fact that our kids will be best friends just like us," Nicole added. "There's nothing cuter than seeing our daughters play and be besties."
And there's no end in sight. "I know eventually we will be in a nursing home together drinking wine and causing chaos," Nicole said. Jenni added, "I don't see it being much different. Unless one of our kids start dating each other then we will be drinking heavily."
While 2018 has been a banner year, professionally, for the two, Jenni's faced her share of struggles. First came the admission that her two-year-old son Greyson has been struggling with a speech delay. And now, her divorce. But through it all, she's had Nicole in her corner—despite the squabbling on display between the besties while in Vegas.
As fans began taking sides in what they perceived to be a major rift between the two in the last two weeks, the besties have taken to Twitter to let everyone know that things aren't quite as they seem. "YOU GIVE ME LIFE," Jenni tweeted at Nicole, laughing off a now-deleted tweet from a fan. "If they only knew."
And as news of Jenni's divorce filing broke ahead of the September 27 episode, Nicole shared a photo of the two friends, writing, "WE WILL ALWAYS BE IN LOVE."
"We just hate when people talk bad about our friendship because we are literally in love with each other and we would die for each other," Nicole told Us Weekly the same day.
While it hopefully never comes to that, it's nice to know that, whatever life throws their way, they'll always have each other. Because if the last decade has proven anything, they're going to need each other.