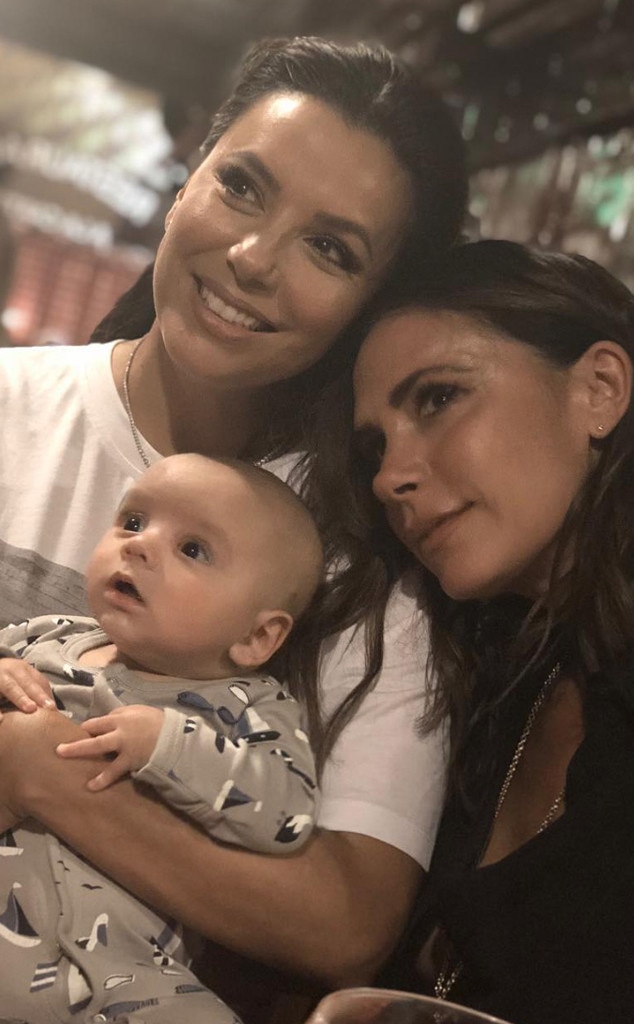 Instagram
Victoria Beckham made a very special friend this week.
The fashion designer took to Instagram on Thursday to post a picture of her meeting Eva Longoria's son, Santiago Enrique Bastón. The adorable photo showed the former Spice Girls member resting her head on the shoulder of the first-time mama. Longoria smiled as she nuzzled up to Beckham and held the baby boy close. Meanwhile, the little man rocked a precious pair of PJs. 
"Finally meeting Santi!!" Beckham wrote alongside the picture. "I'm in Love!! X so many kisses @evalongoria and Pepe!!! xxx Love u so much and could not be happier for u both!!! Xxxx."
The Desperate Housewives star also shared the picture and captioned it, "Nice to meet you, Tiá Victoria!" 
There's no denying the two stars are close. They've been friends for years, and Longoria frequently wears Beckham's designs. She even wore one of her gowns when she married José Antonio Bastón in 2016.
"We're best friends and have shares lots of life lessons together," Longoria previously told The Daily Mail.
Longoria and Bastón welcomed their little bundle of joy in June, and it looks like the actress is already loving her life as a new mom. She even told E! News her favorite part of motherhood while attending the Los Angeles premiere of Dog Days in August.
"Other than this little beautiful creature that came into this world, just going on a new journey with him and being a witness to his life is pretty exciting," she said.
Of course, Santiago has lots of famous "aunts" and "uncles." Several celebrities attended Longoria's baby shower back in May, including Elizabeth Banks, Melanie Griffith, Sophia Bush and more.