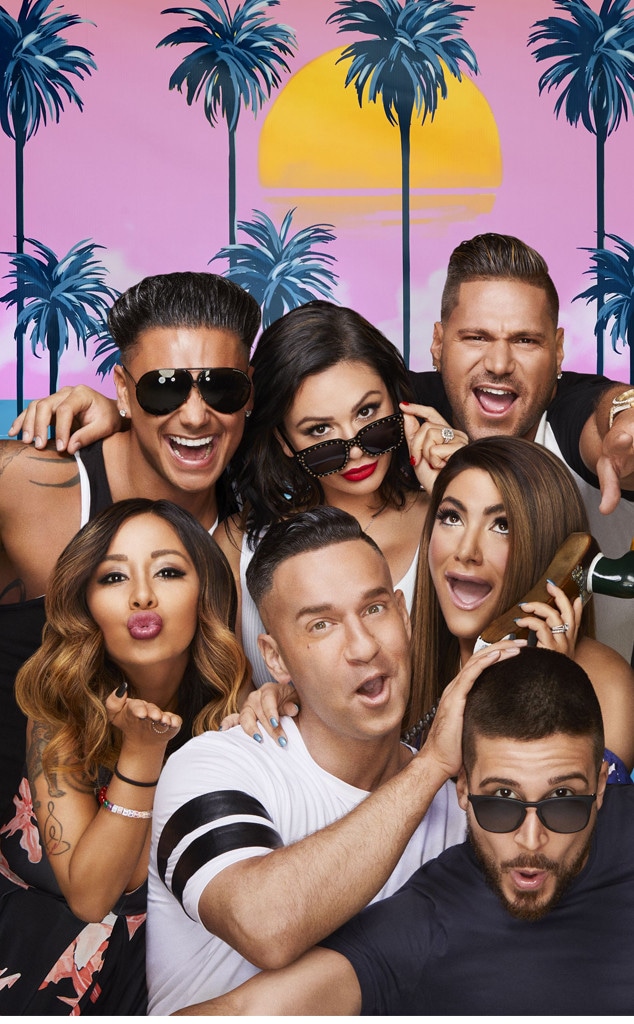 MTV
The stars of the Jersey Shore have come a long way from fist-pumping and poofs—and this past year has been the ultimate proof. 
Eight years after the cast members of the original MTV hit reality show first packed their bags and headed to Seaside Heights, the network announced that the group was getting back together (with the exception of "Sammi Sweetheart" Giancola) for a new version of the franchise, Jersey Shore: Family Vacation. 
By April, fans had welcomed the housemates back into their hearts as their shenanigans inside a Miami mansion from earlier in the year unfolded on the small screen. Of course, the group was already a bit removed from the young adult versions of themselves we first met back in 2009. They were now in their 30s, many of them married or with children and naturally, the developments in their personal lives only fueled renewed interest in the stars—and that interest showed in the lead ratings the premiere episode garnered.
The group did not disappoint as we watched them return to their old ways—partying, bonding, occasionally fighting...repeat. Meanwhile, Mike "The Situation" Sorrentino's legal troubles loomed in the close background while Ronnie Ortiz-Magro brought another woman to the house after a night out while his pregnant girlfriend was back home in Las Vegas. To the hilarious surprise of almost everyone, Angelina Pivarnick dropped back into their lives thanks to some prank war planning from "DJ Pauly D" DelVecchio and Sorrentino capped off the season with a proposal to his longtime girlfriend that brought out the absolute best in the dysfunctional TV family. 
While the season was a busy one—and one that immediately launched a second one—it was no match for all that was to come a few short months later. With Sin City as their setting for season two, it should have been a warning of the drama that was about to ensue. The season kicked off with a spotlight on Ronnie, officially a father after welcoming daughter Ariana Sky. However, darkness soon fell on the new dad as his turbulent drama with Ariana's mother, Jen Harley, turned vicious behind the scenes. The couple's concerning fights played out on social media, the police were called for their domestic dispute and Harley was arrested for domestic battery, though the case was dropped due to insufficient evidence. Naturally, the show chronicled some of their fighting in the second season as his castmates tried to offer Ronnie advice and he ultimately sought out an attorney. In real time, the couple has since put on a united front. 
Larry Marano/Shutterstock
As can sometimes be a problem for reality shows, reality continues on in between seasons. Such has been the case for this crew, who have faced some major developments in the interim. To start, Jenni "JWoww" Farley unexpectedly filed for divorce from husband Roger Mathews in early September, a month shy of their third wedding anniversary. "There's no cheating or any dumb s--t or an juicy details," Matthews explained on social media after the news broke. "It's just she grew tired of the repetitive pattern we fell into. Again, I am not going to get into detail but it was a repetitive pattern and not a good one."
"I am going to win my wife back," he continued. "I'm going to win her affection back, I am going to win her love back. I have no intentions on being a single dad. We're in counseling so there is hope. It ain't over 'till the fat lady sings."
The family tugged at fans' heartstrings earlier in the season when the mother of two spoke publicly for the first time about her son Greyson's developmental struggle. As she explained in the season premiere episode, he had turned 2 years old and still wasn't speaking. She said he was undergoing therapy three times a week.
With Sorrentino's sentencing looming for his tax evasion guilty plea and the death of Vinny Guadagnino's uncle, cast member Deena Cortese's pregnancy has been an uplifting plot point amid the group's personal struggles. 
"We are truly blessed and our hearts are filled with so much joy and happiness," the expectant star shared with fans while announcing her pregnancy. As she noted, her and husband Christopher Buckner's son is due to arrive at the end of the year. "December can't come soon enough!"
And should they all return for a third season, neither can the cameras.