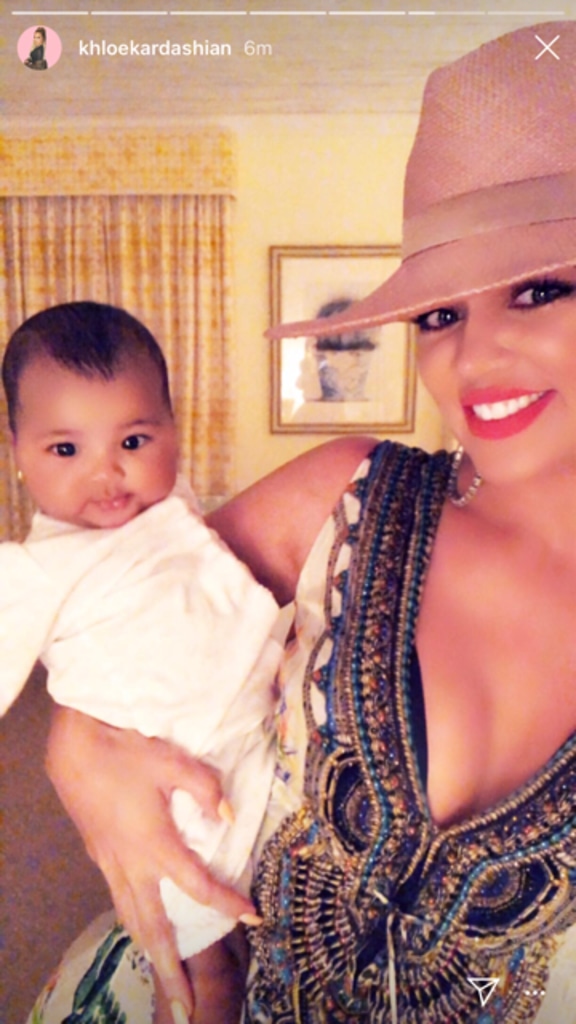 Instagram
Khloe Kardashian doesn't have time for social media trolls, especially those coming after her daughter, True Thompson. 
The Keeping Up With the Kardashians star took to Twitter on Thursday to vent about a follower who deleted a racist remark after she replied to it. 
"I dislike the fact that people are allowed to comment on my daughter's skin color but as soon as I comment kindly back and praise her for all that she is, the comment gets erased," she tweeted. "If you have the courage to post your nasty criticism, please allow one to defend or comment back." 
While the Good American head acknowledged "everyone is entitled to their [opinions]," she also pointed out that she's entitled to hers, as well. She also explained she tried to come from a place of empathy rather than a place of hate. 
"I truly love educating others and hopefully opening up their minds to a beautiful collective world," she continued. "But some people are not willing to [accept] anything else then what they know."
"I try to put myself in their shoes & maybe they were brought up in a different type of household then I was," she added. "So instead of shaming I try to educate. In our household, we do not see color. We see emotion and action. We see love. We feed off of energy."
However, the aforementioned comment spurred a bit of an uproar.
The reality star admitted she also felt "really annoyed" because she replied "so calmly and eloquently" when she would normally be "rash and f--king aggressive." Still, she acknowledged not everyone shares the same beliefs and that "it takes time for us to understand and to be that calm and compassionate."
"We all, as humans, needs to grow and evolve," she wrote. "Life lessons teach us that. I'm proud of us."
While she may have been prone to clap back at the user in the past, she claimed "True has changed me likely crazy!!!" But don't get it twisted. The new mom said users still shouldn't "push me." 
In the end, Khloe reminded her followers "we will not be defined by social media." And while she insisted she doesn't "mind the critics," she urged them to "stick with what you have to say."
"We need to learn to praise all skin tones/ethnicities!" she later wrote. "Our beauty is in our differences. We can learn so much! So proud of every human who is confident in who they are. I'm in my 30s I think I'm just finding this confidence. So I am patient with others. But allow me to voice mine."
Don't mess with this mama.