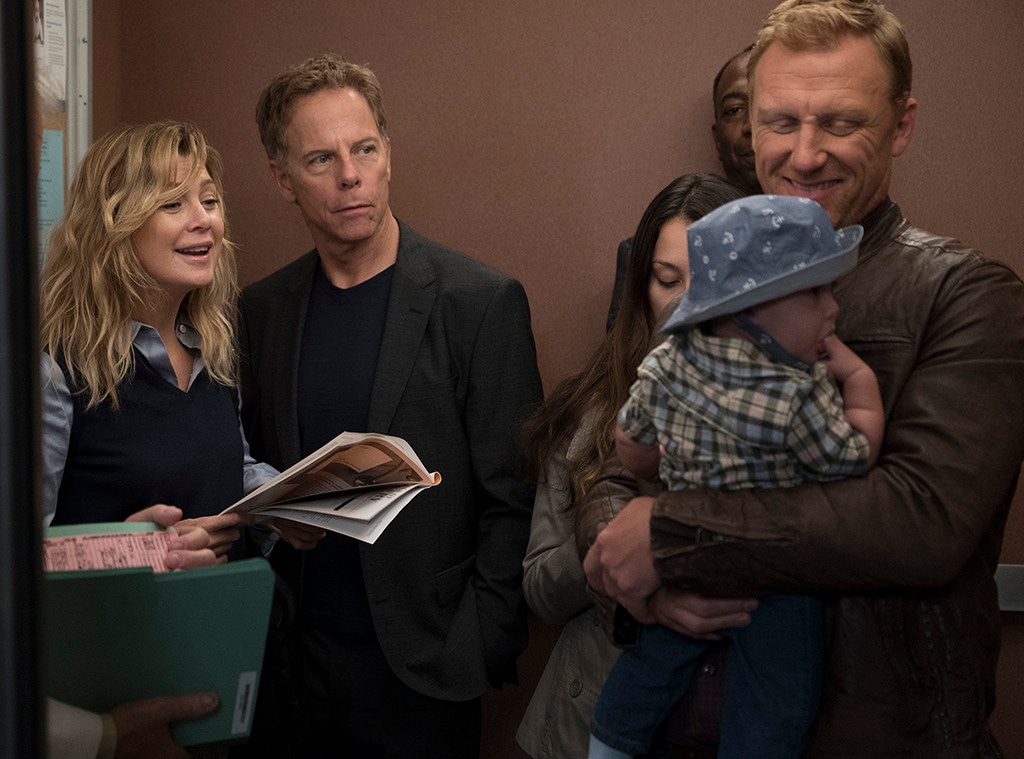 ABC
Let's all breathe at least one big sigh of relief: Grey's Anatomy is finally back. 
We got a full two hours of premiere on Thursday, and there were a lot of changes afoot at Grey Sloan Memorial, even if it felt like the same old show. There was some trauma to be found, but boy did we also do some giggling. 
First of all, Meredith (Ellen Pompeo) and DeLuca's (Giacomo Gianniotti) hookup was, as suspected, just Meredith's very sexy dream. It also featured Avery (Jesse Williams) and Koracick (Greg Germann), and the dreams eventually featured new ortho god Link (Chris Carmack) as well. 
To be totally honest with you, we wouldn't totally hate it if Meredith did give things a try with DeLuca. They don't have to date, exactly, but everybody deserves a hot hook up every once in a while. However, it sounds like Meredith might be into something more serious based on her very quickly deleted google search of her matchmaking patient.
Elsewhere, in a surprising turn of events, Teddy (Kim Raver) did not end up taking Bailey's (Chandra Wilson) job offer. We know she'll be back since she's now a series regular, but for now, she's gone, scared off by seeing Owen (Kevin McKidd) and Amelia (Caterina Scorsone) with a baby without any explanation as to who that baby actually is. 
Only Maggie (Kelly McCreary) and an intern know that she's pregnant with Owen's baby, and while briefly glimpsing Teddy in the hallway did surprise Owen, he and Amelia seem to be happily if cautiously back together, for the moment. 
In news that will shock no one, Alex (Justin Chambers) and Jo (Camilla Luddington) are staying in Seattle. Jo came up with some absolutely magical cure for everything, and after Meredith tried to get her as a fellow, Bailey wrote a check with her own money to make Jo her fellow. She also made Alex the new interim chief, which isn't the weirdest decision but was somehow still a surprise. 
Jackson (Jesse Williams) was in a bit of a panic mode over April getting married, and over whether or not he's now into religion after his prayers for April appeared to work last season. Maggie was a bit offended by this, since she was April's doctor, but somewhat understood what he was going through...until he surprised her with an accidental sorta marriage proposal. In the end, they just exchanged I love yous, and acknowledged that Jackson has been through a lot. 
A few other things: 
Tonight, on Grey's Anatomy, a can of hairspray exploded in a man's butt and set a doctor on fire. That is all. 
The two new hot docs made quite an entrance, and yes we are here for Dr. Kim (Alex Landi) getting his flirt on. 
Where do we get that cool bra Meredith was sleeping in? Why Meredith was bothering with such a complicated bra for sleep we don't know, but we want one anyway. (If a hot doc comes with it...we will not complain.) 
Grey's Anatomy airs Thursdays at 8 p.m. on ABC.