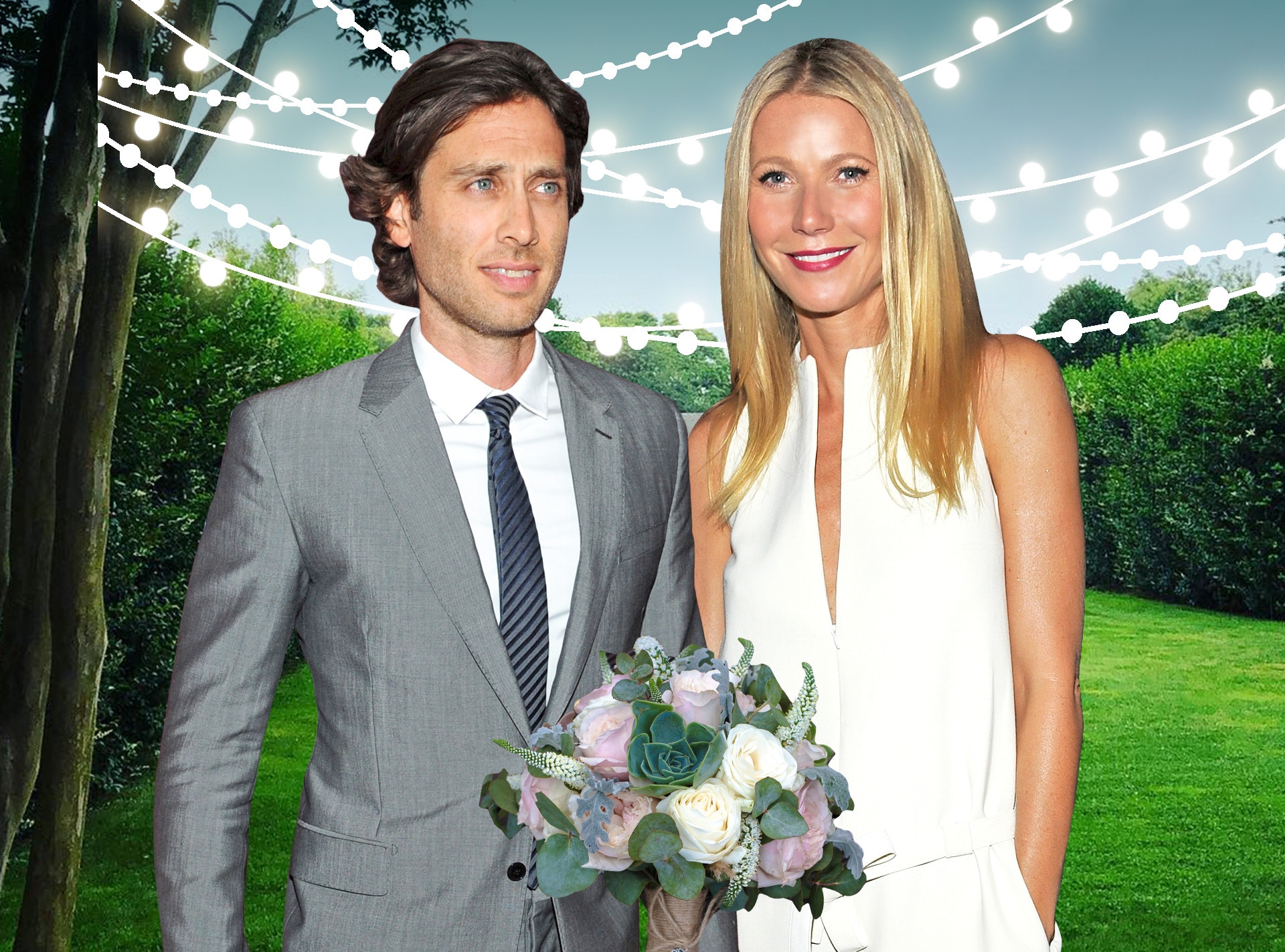 FOX/Getty; Melissa Herwitt/E! Illustration
Gwyneth Paltrow is consciously re-coupling! 
Multiple sources tell E! News the Oscar winner turned lifestyle guru is marrying fiancé Brad Falchuk in the very near future. Paltrow, who just so happens to celebrate her 46th birthday today, is counting down the hours until she gets to walk down the aisle in what's sure to be one Goop-infused ceremony. 
Paltrow and Falchuk, an accomplished Hollywood producer who first met his future bride on the set of Glee in 2014, confirmed their engagement last January after more than four years together. They gushed in a joint statement at the time, "We feel incredibly lucky to have come together at this juncture in our lives, when our collective successes and failures can serve as building blocks for a healthy and happy relationship."
As these soulmates embark on their next great adventure, E! News has all the inside scoop ahead of the big day.
Have You RSVP'd?: 
Insiders say the festivities (starting with a birthday celebration for Gwyneth) are well underway. A source close to Paltrow says the ceremony will take place this Saturday in the Hamptons, where she owns a home. Reports indicate the couple even has a hashtag—#TheFaltrows—and guests will enjoy an entire weekend of activities that include cocktail parties and golf. 
Who's Invited?:
With an inner circle as star-studded as Gwyneth and Brad's, expect several familiar faces to raise a glass of champagne in honor of the newlyweds. A source tells E! News that some "A-list celebs" are going, including close pal Cameron Diaz, her Iron Man co-star Robert Downey Jr. and even Reese Witherspoon. Bestie-to-the-stars Derek Blasberg is also expected to take part in the wedding extravaganza, another source says. Of course, it would come as no surprise if ex-husband Chris Martin attended, who is the father to Gwyneth's young children and an integral part of her modern family. 
Watch:
Gwyneth Paltrow Talks Wedding Planning, Goop and More
All the Finishing Touches:
Paltrow is the first to admit she's been pretty hands-off in wedding planning, telling E! News exclusively in June that she's "not that involved" in the nitty-gritty of the nuptials. "I have so much going on and I'm sort of outsourcing that," she shared. "I'm probably the least bridezilla person probably to a fault that has ever come across my wedding planner's office doors." That said, the 46-year-old did treat herself to a little retail therapy this week. Gwyneth was recently spotted picking up a few things at Journelle, a New York City lingerie boutique that specialize in bridal looks. Ooh la la! 
Photographer Group / Splash News
In April 2018, Gwyneth and Brad celebrated their love during an intimate, black tie-inspired engagement party in Los Angeles. 
Celebs such as Jennifer Aniston, Cameron Diaz and husband Benji Madden, Demi Moore, Lake Bell, James Corden, Julia Roberts, her husband Danny Moder, Liv Tyler, Reese Witherspoon, Steven Spielberg, Chelsea Handler, Kate Hudson, and Paltrow's mom, actress' mother Blythe Danner, were among the guests. That month, the Shakespeare In Love star jetted off to Mexico for her bachelorette bash. 
An early congratulations to the bride and groom! Check back into E! News for even more updates surrounding Gwyneth and Brad's wedding.