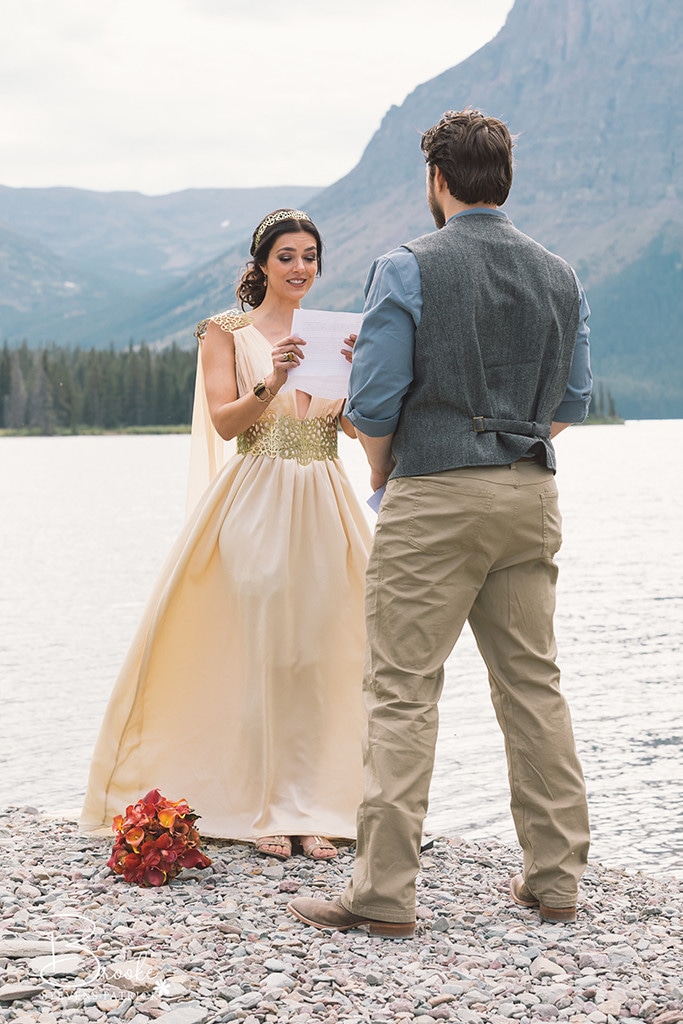 www.brooke-photography.com
Adrianne Curry wed her longtime boyfriend in a Game of Thrones themed elopement that would put even Tyrion Lannister and Sansa Stark's wedding to shame.
The America's Next Top Model season one winner revealed on her blog that she and Matthew 'Ducksauce' Rhode eloped on Sept. 15 in Logans Pass of Glacier National Park. The bride said the landscape had the "hint of Rivendell in the middle of Winterfell" that she desired for her wedding. "I had never seen anything so beautiful," she wrote.
And in photos shared of the romantic nuptials, the model can be seen wearing a white and gold gown and gold accessories, which were inspired by Daenerys' Qarth gown. Her husband, Matthew, however, went for a more casual look with khakis, a blue long-sleeved button up and a vest. 
The fantasy theme carried into their vows as well, after both unknowingly "quoted The Lord Of The Rings in our vows." Adrianne even "tossed in some Watchmen, Harry Potter and loads of Game Of Thrones quotes."
www.brooke-photography.com
After the fantasy-fueled nuptials, the duo hiked their way back into town, where they slow danced together in their hotel room before indulging on a Game of Thrones themed cake. Not to mention their use of Lord Of The Rings champagne flutes. 
Their elopement came after their wedding plans came "crashing down." The impediments to their big day included a burned hand, a fire in the national park and a ring one size too small. 
"We wanted an intimate and meaningful wedding. People opposed our career changes, our life changes, etc.," she explained. "It made sense to just do the thing in a personal way and save for our future."
www.brooke-photography.com
Curry also touched on her previous marriage to former Brady Bunch star, Christopher Knight, who she married on their reality show, My Fair Brady. "It took this meaningful union to realize just how absolutely fucking fake that first wedding was. It was a TV show, only I wasn't privy to the fact that I was the only one that thought it was real. Everything about it wasn't genuine and I was a young and stupid fool that truly believed I was loved," she revealed.
Adrianne continued, "When you get married, if you are almost vomiting from "cold feet" right before walking down the aisle…if your Mom hands you an abuse hotline the night before explaining verbal abuse is just as bad as physical…R U N."
Since she divorced Knight and began dating Matthew, she says she has "finally learned what real love is."
www.brooke-photography.com
After all the drama leading up to the big day, Adrianne said it was one of "the best weekends of  my life."
Congratulations to the happy couple!