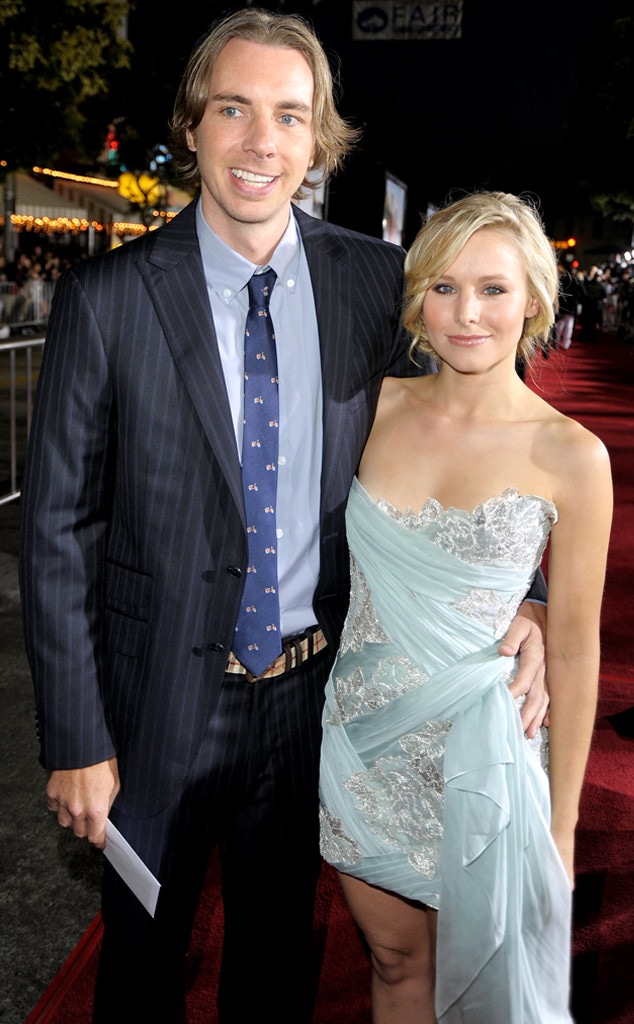 Kevin Winter/Getty Images
Vacationing with Dax Shepard and Kristen Bell is probably non-stop entertainment.
The Veronica Mars and Frozen actress and comedy film star, who have been married since 2013 and share two daughters, opened up on his Armchair Expert podcast on Thursday about some things he's done during trips that have annoyed her.
Problem No. 1: Dealing with the TSA: Shepard is not a fan of being told what to do in general, so it's no wonder that having to obey the often bizarre commands of TSA agents makes his blood boil.
"You go in there like you're in Braveheart, ready for battle," Bell said.
"I went through one of those things where it circles around you and you gotta put your hands over your head, but you've taken your belt off to put it through the machine," Shepard said. "[The TSA agent] said, 'Put your hands over your head.' I did that. My pants, they fell down just below my hips. It's not like I had pubes exposed or a shaft or anything like that, and she said, 'Pull up your pants.' So I pulled up my pants. She said, 'Put your hands over your head.'"
"After we cycled through that three times, and it became abundantly clear there was no way I could put my hands above my head and also have my pants being held up, I said, 'I'm not gonna play this game anymore. This could go on indefinitely. This is a Laurel and Hardy sketch,'" Shepard continued, asking Bell, "How would you have handled that situation? Clearly me yelling was not the answer."
His wife said she believes all situations have alternate solutions.
"I would be able to quickly assess—'cause this is my skill-set—that this person was simply following rules," she said. "If I was in that position, I would say, look at them, make direct eye contact, acknowledging that we're both human beings in this position and say, 'I'm so sorry, I'm having trouble holding my pants up and my hands at the same time. What would you recommend I do?' and put it back in their hand."
She also pointed out that he could have squatted to help keep his pants up.
"Now is anyone at the TSA just f--king with people because they are disgruntled in their job and they enjoy the authority and like to be able to tell people what to do, and they have a sadistic bend?" Shepard said. "Are any of them that way?"
Jason Merritt/Getty Images
Shepard and Bell both acknowledged that the actor's behavior at airports has improved. He said he has learned to manage his expectations, adding, "And I can roll with it, I go, 'Oh right, this is exactly as I expected. Cool. Yeah, I'll stand there and do this thing that makes no sense."
"You also, you don't like to be told what to do," Bell said. "You really don't like to be told what to do. You don't even like anyone to suggest it."
"Now, that's 70 percent of it," Shepard said. "But 30 percent of it is I don't like carrying a couch through a doorway sideways. A lot of people are fine being a part of a couch-carrying exercise, where they just approach the door sideways and they just slam into it to see. I find that very, very discomforting."
Problem No. 2: "Auditory Tourette's":
"You have a bit of an impulse control issue, especially with songs that you want to sing at inopportune times," Bell said.
"It's like a Tourette's, kind of Auditory Tourette's," Shepard said.
"We would get in very small confined spaces like elevators in Italy," she began.
"With Italians," Shepard deadpanned.
"Presumably. And you would start singing, at the top of your lungs, a racial song," Bell said.
The song he sang was Dean Martin's "That's Amore."
"It's not that we would get in the elevator, I'd see some Italians and think, 'Ooh, time to sing that song.' I was just, most of the days, those songs were caught in my head," Shepard explained.
"Oddly, when we were strolling down the street together, without any Italians near who could be offended, I don't remember it coming to the surface," Bell pointed out.
Shepard pointed out that if he got into an elevator in the U.S. with a group of German tourists who started to sing the U.S. national anthem, he "would be thrilled."