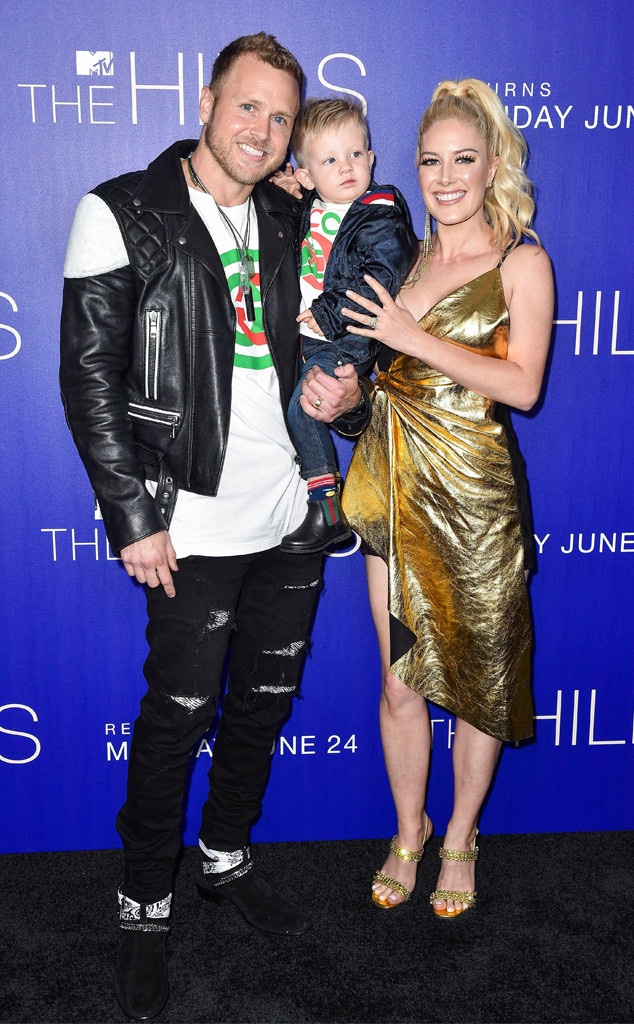 Variety/Shutterstock
With all due respect to the likes of Paris Hilton and Cardi B, few celebrities have ever been as extra as Heidi Montag and Spencer Pratt. 
The sweet natured fashion student from Crested Butte, Colo. and the budding L.A. producer she fell for on the second season of The Hills in 2007 turned themselves into household names by fully embracing their roles on MTV's runaway hit. Immediately cognizant they would never be the show's protagonists—that part would go to relatable California girl Lauren Conrad, and then, following her mid-series exit, her Laguna Beach rival Kristin Cavallari—they accepted the part of Los Angeles' resident villains.
Eager to keep the show on the air—and pocket ratings-induced bonuses—they leaned in hard. Like, start a rumor your castmate has a sex tape, undergo 10 plastic surgery procedures in one day, alienate all your of friends and family hard. 
And it just about destroyed them. 
"I got caught up trying to be someone I'm not—someone that the audience and the producers wanted," Pratt summed up to Vice in 2017. "I was just being more and more unnatural."
Following the show's 2010 cancellation—a moment Pratt infamously likened to "our 9/11"—the pair began grasping at straws. Convinced their only chance at reality TV relevancy was to maintain the characters they created, they accepted gigs on I'm a Celebrity...Get Me Out of Here, Celebrity Big Brother and Marriage Boot Camp: Reality Stars, the outsiders everywhere they went. "Mercenaries is pretty much what we are," a resigned Pratt told Complex in 2015. "Call us in when you are ready for some action. That keeps the bills paid."
But just barely. Their egos not allowing them to envision a time when they wouldn't be reality stars, the pair more or less threw their Hills-era millions away, dropping thousands on bottles of Screaming Eagle wine, Hermes purses and vacations for their pals. "I was giving people $15,000 checks, my friends that, like, we're struggling," he told Bethenny Frankel on her short-lived eponymous talk show in 2014. "We thought we were Robin Hood with not Robin Hood money." 
And, frankly, that could have been the end of the story. Speidi could have become one of those flash-in-a-pan reality stars that occasionally turn up as Jeopardy questions or cast members on The Surreal Life. Instead, as Heidi told no less than Vogue in a recent profile, "Reality TV is kind of a career for Spencer and I at this point."
Donato Sardella/WireImage.com
Currently, they're enjoying their second act as one of the steadiest forces in the recently wrapped Hills reboot. On the first season of The Hills: New Beginnings, they were Mom and Dad, Heidi cutting nights out short to put son Gunner Stone Pratt to bed and Spencer focusing more on marking their tenth wedding anniversary with an elaborate vow renewal than masterminding faux fights. (Though they're not completely removed from the dramatic fodder what with their continuously shifting feud with his sister Stephanie Pratt and his controversial takes on Brody Jenner's union with ex Kaitlynn Carter. A puppet master rarely puts down their strings for good, after all.) 
The chance to have their next chapter very much be written could simply be chalked up to the current state of TV where everything old is new again. But there's also a large swath of fans who legitimately wanted to know what's going on in their lives. Credit Pratt's Snapchat prowess, that's gained him millions of devoted followers, the duo's shared podcast and his MTV YouTube series, but arguably nothing has been more integral in the plot to Make Speidi Famous Again than their decision to become parents.
It was the classic happy ending that fans always wanted for their favorite love-to-hate-them couple. And since welcoming Gunner exactly two years ago today, the reformed reality villains seem softer, increasingly self-aware and eager not to revisit the mistakes of their past.
"Fatherhood has absolutely changed me," Pratt told Flare mere weeks after his son's arrival. "It's the best thing that ever happened to me. I think I finally found my calling. Now all I'm thinking about, always, is how will this or that affect Gunner's life. I think, how can I set up this or that so that Gunner can do this. And, oh I can't wait to learn and teach Gunner this. Just everything now is about looking toward the future and making it good for him. It's not about me anymore. I've retired my motivations and I'm on the Gunner Team."
Looking back, it's hard to pinpoint the moment the couple truly hit rock bottom, but it was certainly a long fall. At the height of their fame, circa 2008, they were pocketing six figures an episode and earning a million more a year by tipping off paparazzi that they'd be going for, say, a casual walk on the beach decked out in their Fourth of July best. 
Visions of pop stardom in her mind, Montag, 33, teamed up with none other than David Foster to produce her first single "Higher" and then sank $2 million into a music career that never materialized. 
That disappointment aside, it was good to be Speidi. Montag was just as likely as Angelina Jolie or Jennifer Aniston to grace the cover of a weekly mag and she and her husband (they made it official with a Mexican elopement in late 2008) were able to laugh off any hatred of their Hills personalities all the way to the bank. 
"We were more famous and [making] more money than Kim Kardashian," Pratt, 36, bragged to Money last year. (Kim, of course, barely a season into a little project called Keeping Up With the Kardashians.) 
Then the wheels started to come off. Shortly after their filmed-for-TV wedding in April 2009, they decamped to Costa Rica to shoot I'm a Celebrity...Get Me Out of Here with Pratt stomping off screaming, "If you give me a script, I'll do what you want. I'm not a reality star—I'm on The Hills!" He'd come back, then quit again a week later when Montag began suffering stomach issues. 
James Breeden/PacificCoastNews.com
"That's where we lost the plot in the jungle," he admitted to AskMen.com in 2017. 
Returning for the sixth and final season of the MTV juggernaut, they had fully disappeared into their characters, Montag quite literally, thanks to her decision to get 10 plastic surgery procedures at once, a move that nearly killed her. "My security guards called Spencer and told him, 'Heidi's heart stopped. She's not going to make it,'" she told Paper in April 2018.
As for Pratt, when he wasn't lashing out at her family, at one point calling her mom Darlene Egelhoff "just the vagina that made Heidi come onto earth!" he was dropping millions on crystals, blocking his wife from using the TV or computer and, at one point, puzzlingly spray painting graffiti onto one of the walls in their home.
By the time the finale aired on July 13, 2010, he had been booted from the show thanks to his threat to kill a producer and had to crash the screening, dressed as an old man, to get inside. (He was forced out by security.) 
But the couple were already hard at work cooking up their next scheme. Eager to keep their unbelievable storylines going—or perhaps provide a conclusion to the (fictional) on-air fighting that began in the final season—Montag filed for a legal separation that June, hand delivering the paperwork herself and instructing an attorney to release a statement to People. 
The back-and-forth that followed played out on Twitter and, in an appropriate twist, included Pratt threatening to release a sex tape. And just as fans were questioning what to believe—was the breakup fake or had the entire relationship been made for TV?—the pair suddenly flew back to Costa Rica that August and announced they were working things out. 
"Clearly I care for her, but the divorce is a superficial title 'cause I didn't cheat on her," he told MTV News. "And then she divorces me to clean her image. That doesn't fly with me. As much as I was like, 'Do it,' I never thought it would work. You can't be Speidi and then all of a sudden get a divorce. She's still serious about it because she's trying to divorce what is Spencer Pratt. She still loves me."
Will Ragozzino/Getty Images
Back in the states that September, he issued an apology via People. "Divorce can be a trying, draining, and emotionally devastating experience for all involved. Despite these hardships, most individuals manage to conduct themselves with dignity and maturity. I did not—I failed spectacularly," he said. "I horribly embarrassed the one person that meant the world to me. For my outrageous and infantile behavior, I offer Heidi my most sincere apologies. Over the years, her love, support, and friendship were always given, but never properly cherished. I let her down. She never deserved the pain and anguish I put her through, and although I don't expect it, I hope in time she'll be able to forgive me."
Naturally, she did. Responding, again through People, she revealed, "We are back together trying to make things work. Costa Rica really put things in perspective. We do love each other and realized we do want to spend the rest of our lives together."
So their marriage was in tact, but bank accounts...not so much. "It's really easy to spend millions of dollars if you're not careful and you think it's easy to keep making millions of dollars," Pratt explained to Money. "The money was just coming so fast and so easy that my ego led me to believe that, 'Oh, this is my life forever.'"
His biggest regret, he told E! News, wasn't necessarily being the bad guy, but not stowing away the millions it had afforded him. "'Cause I would be laughing all the way to the bank being hated, you know, a multimillionaire right now, but I didn't see The Jersey Shore coming out of left field taking reality TV to a whole other level that I wasn't prepared to go to at the time."
With few options they moved into a beach home belonging to Pratt's parents in Carpinteria, Calif just outside Santa Barbara. Some 80 miles removed from Hollywood, the spinoff they were expecting never materialized and the paparazzi grew less interested in their antics. 
"Reacclimating off that high of that fame and lifestyle was really hard," Montag admitted to Complex in 2015. "We had these expectations of, 'Oh, we're going to have our own show.' My expectation of life and where I thought we were going to be is so different from our reality." 
Their unassuming ocean-side spread was a literal shrine to their celebrity with walls of their magazine covers and a replica of their 2009 book How to Be Famous built out of Legos, but Pratt was living his personal nightmare: irrelevancy.
Sinking into a deep depression, he self-medicated by consuming two pies a night. "I was 250 pounds I have a photo of the scale," he lamented to People. "That was more of like a depression eating because I was like f--k, I live in Santa Barbara. I'm not famous in Hollywood."
Then he found salvation in the form of Snapchat.  
Pratt was an early adopter to the social media platform that allows users to upload vignettes of their daily lives. He'd churn out some 30 to 50 stories a day from the mundane (eating breakfast burritos) to the somewhat surreal (using a pair of glasses to feed his beloved hummingbirds) and his legion of followers would tune in, some 11 million more than watched The Hills 2010 finale. 
"Everyone was just responding to every video like, 'I love this,' 'thank you,' and it just made me feel so good," he told Money. "I was depressed—but then all of a sudden in my Snap DMs, I'm having so much more positivity and love. It was just like, 'Wow, this is the greatest fricking thing ever.'" 
That he was getting praised for this unedited, somewhat unfiltered version of himself blew his mind. "I feel like the reason why people hated me so much is because they only saw a manufactured couple minutes of me," he said. "It was very empowering to be able to produce myself finally and be able to show who I am and break out of the mold." 
Better yet when he found a way to monetize it. The platform became a way for him to hype his side hustle as a crystal purveyor. Hand-carved by a man he calls "the Picasso of the crystal game," they go for anywhere from $120 to $300 a pop and each new batch sells out within an hour of him announcing it online. Followers also clamor to snap up his Pratt Daddy Coffee bags, wine, tie-dye- and rhinestone-covered T-shirts and Hum Daddy feeders. 
An influencer once more—he was named Snapchatter of the Year at the Shorty Awards last year—he spends two hours a day responding to followers ("People write me essays, like longer things than I've written in college. I'm like, 'God, this is incredible. You just spent this much time to write me?'") and has branched out to podcasts (Make Speidi Famous Again debuted in 2018) and an MTV series on YouTube called Spencer Pratt Will Heal You. 
"I have the hottest show on," he told Money of the snaps that started it all. "It's right in my hand, and I don't have to listen to anyone." 
Well, except for his accountant. Having spent and learned, the duo have made good on their promise to, as Montag told Frankel, "be more responsible and learn and figure out, okay, where do we go from here and what do we really want?"
With Montag running the books, they've tightened the reins a bit. "I love to spend money and she loves to not spend money," explained Pratt. "If we had her as the accountant back in the day, we would have $20 million in the bank account right now." 
Not that they've dropped all of their quirks. When Montag gave birth to Gunnar in 2017, $27,000 worth of crystals adorned the delivery room and a makeup artist (now the baby's godmother) was on hand applying concealer between contractions. "I was like, 'Just get it on as fast as you can,'" she recalled to Us Weekly. 
Their new life at their own Pacific Palisades, Calif. spread isn't always picture perfect—in an April 2018 interview with Paper Montag copped to getting at most three hours of sleep—but she wouldn't edit a thing. Between her reticence to hire a nanny and tendency toward what Spencer dubbed intense attachment parenting, days can be frantic. "Gunner's given me a while new strength that I didn't know," she told the mag. "I feel like I am stronger than I've ever been emotionally. At the end of the day, I'm his mom, and that's my main priority." 
Rather than get pumped about a night out at Les Deux (may it rest in peace) she now excitedly gushes about Gunner's milestones. While Pratt is already envisioning a future for his progeny that includes social media relevancy ("I'm gonna teach this kid how to Snap when they're born," he told People pre-delivery, "like, 'Put your finger here,'") or sports superstardom ("You're not a good parent if you're not trying to get your son set up to potentially get a $250 million gig," he explained to Us Weekly of his goal to make him a professional baseball pitcher), Montag is just hoping for happiness. "I just want him to enjoy his life," she told Paper, "and not live in his parents; mistakes or shadows."
Matt Baron/REX/Shutterstock
Not that they're faulting themselves for how dramatically their story has played out. "We were fame whores, getting literally a million plus a year in photos and being hated for it," Pratt proudly reflected to Vice's Broadly in 2016. "It's frustrating for me that people don't recognize that this was genius. This was innovating!" 
And they still managed to capture that oft-elusive happy ending. "Here we are with our son, and we've been together for 12 years," Heidi told E! News' Justin Sylvester at The Hills: New Beginnings premiere in June. "And it's been a great ride, it's been such a fun adventure."
Still, if Pratt could offer up a pointer or two, he'd probably suggest his son avoid some of his gnarlier antics. Asked to name the most important wisdom he intends to pass down to Gunner, Pratt's response was genuine and self-reflective. "Well, the first thing I would teach him is to not burn bridges," he told Flare. "That's a hard lesson I learned thinking I could do everything myself without, you know, teammates, or support from friends and family. In business and in life I've learned you really need that support system—yes, you, little baby, no you can't do everything by yourself. So yeah, definitely, no burning bridges, only building olive branches."