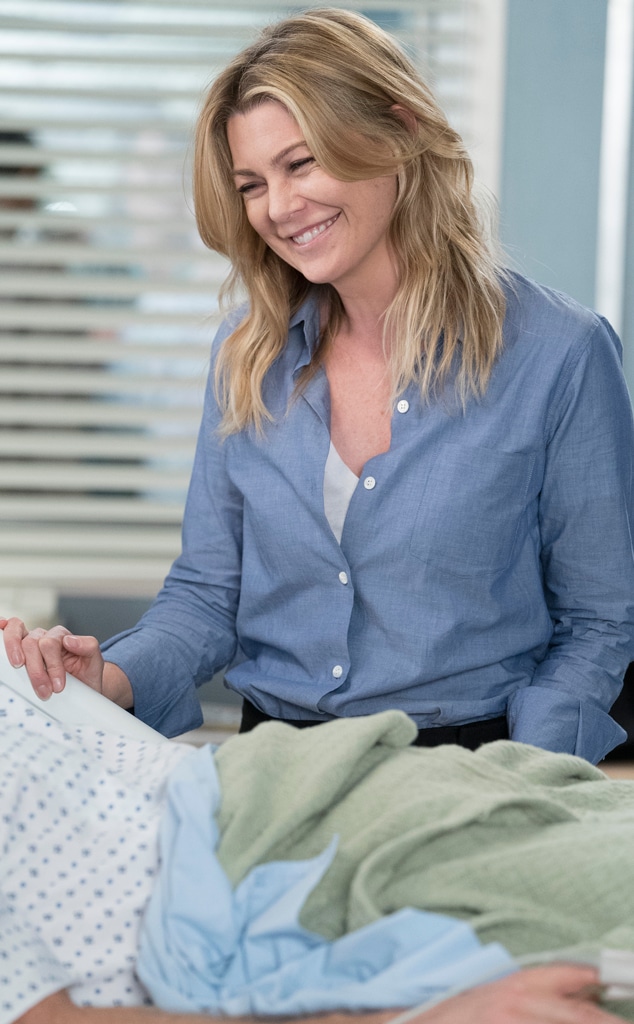 ABC
15 seasons is a lot of television.
By the time Grey's Anatomy embarks on its landmark season with a two-hour premiere on Thursday, Sept. 27, it will have already aired 317 hours of television. It will have weathered the departure of 17 different series regulars, spawned two successful spinoffs, given rise to a powerhouse production company, launched countless careers, pulled itself through fallow storytelling periods (ghost sex, anyone?), found a new legion of fans via Netflix, aired under the backdrop of three different American presidencies, and become an institution that just might be responsible for keeping ABC afloat.
It is the longest-running scripted primetime series currently airing on its network, the second longest-running scripted primetime series to ever air on the network, and, when it inevitably enters into its 16th season a year from now, will surpass ER to become the longest-running medical drama in the history of the medium.
And unlike the iconic NBC series it's on pace to replace in the history books, it's entering into its 15th season with a zeitgiest-y potency, a cultural cache rarely afforded to shows its age.
Watch:
Camilla Luddington Missed Her "Grey's Anatomy" Audition
In the history of television, there has never been a show quite like Grey's Anatomy. And there likely never will be again.
"I just think that Grey's has been able to keep things fresh for 15 seasons which is absolutely remarkable," Camilla Luddington, who joined the franchise back in season nine, tells E! News. "I call us a unicorn because I don't know if I'll ever have this experience ever again."
To be honest, she probably won't.
But what is it about this show that has been able to not just survive, but thrive for a decade and a half?
It can't be understated just how much of a risk Grey's Anatomy was for ABC when it debuted at midseason during what would prove to be a game-changing 2004-05 season—one that had just ushered Desperate Housewives and Lost into our lives in the fall. It was created by Shonda Rhimes, an unproven writer best known for her work on Crossroads (yes, the Britney Spears film) and The Princess Diaries 2. It was starring a bunch of unknowns. And yet...
"I was a little nervous. I had actually just come off of a series not too long before that and I was glad to have a job at this point. You know us actors. But there was an excitement in the air. There was something different about this one. I said, 'This may have something here,'" James Pickens Jr., who's starred as Richard Webber since day one, told us about those early days on set. "Most of us were quote-unquote relative newcomers to the business or had been journeymen and had been working and plying their trade. But we had no idea this thing was going to take us to another stratosphere here."
Watch:
T.R. Knight Sounds Off on "Grey's" Inclusive Nature
But as audiences met Meredith Grey, played by newcomer Ellen Pompeo, fell in love with her McDreamy (Patrick Dempsey, reviving a career that had been stalled since the late '80s) and became obsessed with the other characters that made up her surgical intern class at Seattle Grace Hospital, a hit was born and stars were made.
"I was just hanging out with Ellen actually yesterday and we were talking about this, about how for a lot of us, it was our first go at television as a series regular in any real sort of way. For Shonda, for Ellen, for me," T.R. Knight, who starred as lovable George O'Malley for five seasons, some fraught with behind-the-scenes drama, reminisced to E! News. "I know a few people had done stuff before, but she created this world that was, and these characters that were, fascinating and, I feel, very complex. A lot of times characters like George end up being one dimensional, two dimensional at best, and the idea that this guy who could have been just painted as a bumbling tool, there was a lot more there. And I think it was a combination of her writing and, you know, this eclectic weird group of actors. 'Cause we're all weird."
Watch:
"Grey's Anatomy": Why Fans Keep Coming Back
As ratings skyrocketed and the show landed the plum post-Super Bowl slot in it second season, naturally, things began to occur behind the scenes. There was the highly-publicized Isaiah Washington departure, followed by Katherine Heigl's ego, inflated by her newfound movie success, driving her off the show, that head-scratching musical episode, and then the shocking decision to kill off Dempsey when he asked out of his contract early. But through each and every knock, the show found a way to pull through, to come out the other side not only still standing, but just a little bit taller at that.
"Something that I always come back to, especially when it started, it was one of few, if not two or three shows, that featured really strong women all being the leads of it. You know, strong, independent women," Giacomo Gianniotto, who only joined the show as hunky Andrew DeLuca in season 11, told us. "That's since grown and we're seeing a big change in the industry, but at the time it started, it was a pretty big trailblazing show and I think for a lot of young women, growing up seeing these really successful, powerful women is really inspiring."
Proof of the show's power? Look no further than this story from Caterina Scorsone, whose Amelia Shepard, sister to Dempsey's Derek, joined the show in season 10 after three seasons spent on off-shoot Private Practice. "I think [my] first day was with Patrick and Ellen by the board. And it was pretty surreal because the truth is, when I was an undergrad, I watched the first season of Grey's Anatomy and loved it. To the point that at the end of my undergrad, I almost applied to medical school because I was like, 'I think I want to be a doctor,'" she admitted to E! News. "And then I did like a lecture series with real surgeons and I was like, 'I do not want to be a doctor. I just want to be on Grey's Anatomy.'"
Of course, there's also the titillating way the show has managed to keep those fans, female or otherwise, hooked for 15 seasons. From the jump, Rhimes made sure to infuse the show with enough sex, danger and relationship drama to keep anyone from ever being bored. Who among us will ever forget the introduction to Eric Dane's Mark Sloan, aptly nicknamed McSteamy, walking into our lives wearing barely a towel and not a single thing else? There has been more sex in the break rooms of Seattle Grace (now Grey Sloan Memorial) Hospital than one could reasonably tally.
This was a show that introduced its heroine as she was waking up from a one-night stand with the man who would go on to be her boss and eventually husband, after all. Sex has always been a part of the equation, and that's a point of pride for Rhimes, who admitted that she had to fight for that initial bit of sexiness back when the show was fighting to get picked up.
"I remember having an early discussion at ABC with people who no longer work at the network before Grey's was picked up, where I was sort of brought into a room and a bunch of older guys told me that nobody was going to watch a show about a woman who had casual sex and threw a guy out the night before her first day of work, that that was completely unrealistic and nobody wanted to know that woman," she said in a 2013 interview with NPR's Morning Edition. "And I remember sort of sitting in that meeting and thinking, 'Wow, they don't know anything that's going on in the world right now.'"
This is also a show that's been known to tear out its fans' hearts and stomp on them with almost reckless abandon. We've watched beloved patients die (RIP Denny Duquette. We'll never forget!), beloved doctors die (season eight's plane crash is forever seared into our memory), beloved couples split up (we're still pining for the good ol' Calzona days). We've watched as ferries have crashed, bombs have exploded, patients have become attackers, patients have become lovers, and, in one harrowing 2010 episode, as patients and doctors alike were hunted down by a grieving and armed father.
"That was so exciting to me, to be under that bed watching the feet go by, watching Robert as Charlie get dragged away," Chandra Wilson, whose starred as Miranda Bailey since day one, reminisced to Entertainment Weekly about her part in that episode's most terrifying scene. "I just loved the terror of that and wanting the audience to have a good time with the fact that Bailey was scared to death."
Watch:
"Grey's Anatomy" Stars Describe Their First Day on Set
Key to the show's success, no doubt, has to be its steadfast commitment to diversity in casting—however loathe Rhimes may be to repeatedly answer questions about it. "I think what sets it apart mostly is that the cast, it looked like real life. Sure, there's the love triangles and the crazy amount of sex going on. I think it is Shonda's voice and the way she cast and the politics behind that. I think people want to see real life on television," Knight said. "I know Shonda's talked about hating the diversity question, but it just looks like the world. You see this more and more when people want to see themselves. There are all different colors and all different sizes and all different shapes. If you grow up and you don't see yourself represented it really does immeasurable harm. I think that one of the things that Grey's really has excelled at and has kind of changed not only television, but the ripple effect changes much more than that, is this showing the real world and including people who have been ignored and stories that have not been told before. And that's remarkable for television and remarkable for society."
Of course, there's also the fact that it's just really great writing performed by a remarkably talented ensemble, fronted by a Pompeo, who, over the course of 15 seasons, has grown into a Hollywood powerhouse in her own right. And though Rhimes has handed the reins over to current showrunner Krista Vernoff as she's taken her Shondland outfit to Netflix in a multi-million dollar exclusivity deal that would've never been possible without Grey's, it's clear that she's created a vehicle whose wheels will likely never fall off.
"Ultimately, Shonda Rhimes wrote this idea 15 years ago that she just knocked out of the park," Kevin McKidd, whose starred as Owen Hunt since season five, told us. "And when an idea's that good, it has longevity."
"The short answer would be that I think Shonda Rhimes and all of the writers create really dynamic characters who are flawed and lovable and broken and resilent," Scorsone added. "I think through 15 seasons, we have seen them go through so much that we as audience members, and I'm including myself, we feel like they're our friends. We don't go, 'Well, I've been friends with this person for three seasons, so I'm done.' We're invested."
You can say that again.
For more memories and secrets of Grey's Anatomy's first 15 years, directly from the players themselves, be sure to tune in to E! News at 7 and 11 p.m.!
Grey's Anatomy returns for season 15 on Thursday, Sept. 27 at 8 p.m. on ABC.