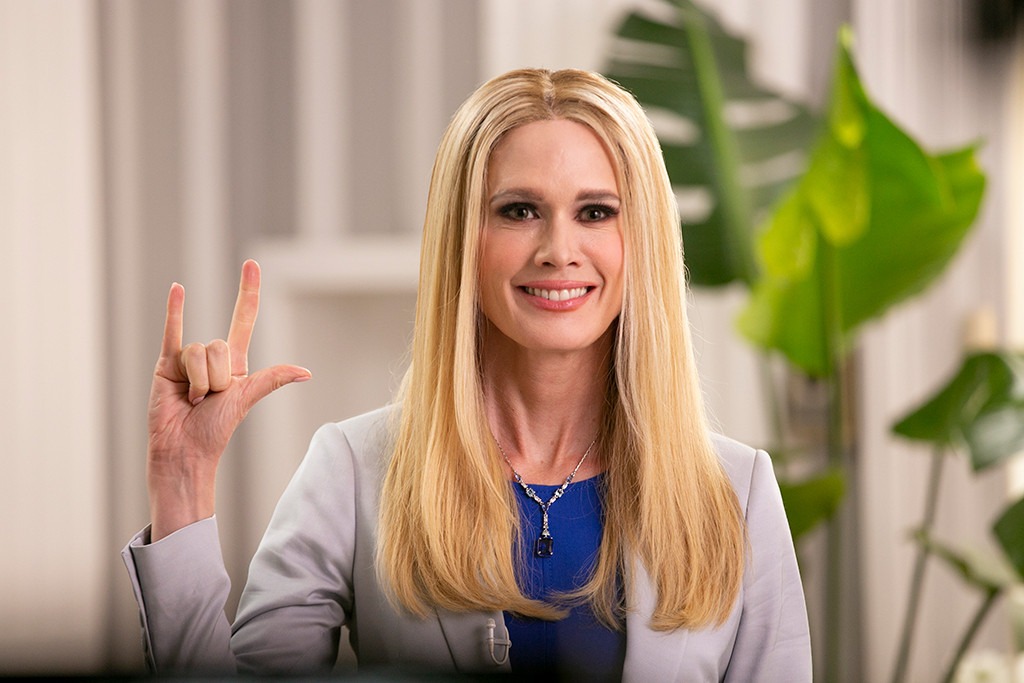 Comedy Central
Stephanie March is back on TV and she's getting political. March, who recently returned to the world of Law & Order: SVU as the fan-favorite character Alexandra Cabot, can next be seen playing a very famous face: Ivanka Trump. E! News has your exclusive first look at March as Ivanka Trump in Comedy Central's upcoming A President Show Documentary: The Fall of Donald Trump.
The half-hour mockumentary special hails from the people behind The President Show. Anthony Atamanuik is returning as President Donald Trump alongside Peter Grosz as Vice President Mike Pence, Kathy Griffin as Kellyanne Conway, Mario Cantone as Anthony Scaramucci, Adam Pally as Donald Trump Jr., and John Gemberling as Steve Bannon. This will be March's debut as Ivanka Trump.
The special is set in the year 2030 and looks back at the fictional last days of Trump's time as president through the eyes of key members of the administration. This is different than previous incarnations of The President Show, it will be a fully scripted half-hour installment.
"If the studio show was a fever dream, this mockumentary is the thing you see right before the fever kills you. But in a silly, fun way!" Atamanuik said in a statement.
March shot to fame playing ADA Alexandra Cabot on Law & Order: SVU. She began playing the role in 2000 and returned to the series off and on since. She last appeared in the season 19 episode "Sunk Cost Fallacy." The 2018 episode was her first appearance since 2012. Her other roles include Odd Mom Out, 30 Rock and Neon Joe, Werewolf Hunter.
A President Show Documentary: The Fall of Donald Trump premieres Monday, Oct. 22 at 11:00 p.m. on Comedy Central.