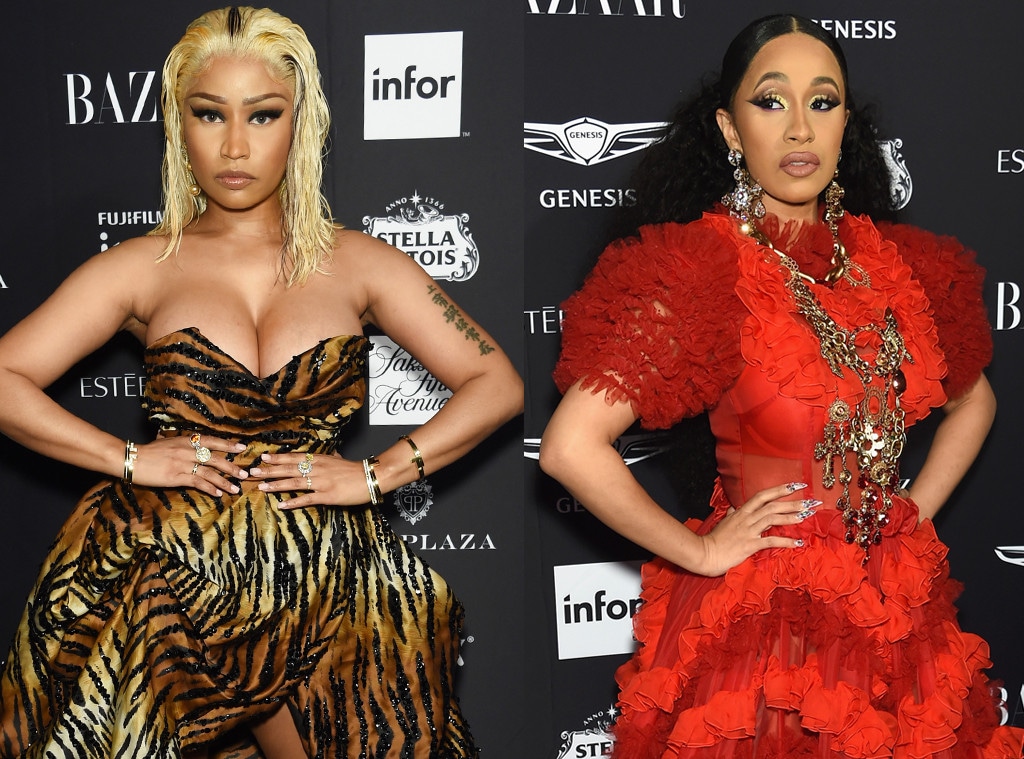 Dimitrios Kambouris/Getty Images for Harper's Bazaar
Time heals everything, but pop culture fans are still waiting for this feud to simmer down.
It's been almost two months since Cardi B and Nicki Minaj got into a fight during New York Fashion Week, and all signs point to two rappers not forgetting about the drama.
In fact, the bad blood between the two appears to still be brewing. This time, however, it's a little less obvious than a full-blown argument near a red carpet.
Last month, the "I Like It" rapper received news that her track with Maroon 5 hit No. 1 making her the first female rapper to score three No. 1 singles. In other words, the New York Fashion Week fight didn't slow Cardi B's success.
"Why can't they just stop making rumors, trying to make me look like I'm over and everything," she shared in an Instagram Live. "When my time is over, y'all see when my time is over….God is saying it's not my time. Just relax and enjoy the show."
Following the fight, Nicki had been teasing a big episode of her Queen radio show. And yes, she couldn't help but humble brag about the success of recent episodes.
"Chile people crack me up. (I forgot to say this after I saw more lies the other day). #QueenRadio has broken Apple's records on EVERY. SINGLE. EPISODE. Every. Single. Episode," she wrote to her Twitter followers. "So thankful to you guys for tuning in. I have so much fun. The next episode will be VITAL. trust."
If the past is any indication, Nicki isn't one to hold back. She chose her radio show on Apple Music's Beats 1 to break her silence on the New York Fashion Week fight. Spoiler alert: She kept it very real.
Kevin Mazur/MG18/Getty Images for The Met Museum/Vogue
"The other night, I was a part of something so mortifying and so humiliating to go through," she explained. "The way they passed by looking at this disgusting commotion, I will never forget. I was mortified."
At that same time, a topic titled #NickiStoppedMyBag started trending on Twitter, which partly related to Cardi B's initial response to the Fashion Week fight where she explained the anger towards Nicki.
"I let you sneak diss me, I let you lie on me, I let you attempt to stop my bags, f--k up the way I eat!" Cardi wrote in part. "Bitches talk all that s--t in they raps but in real life they pussy! This s--t really is for entertainment!!"
And October has not been a great month for their feud either.
At the beginning of the month, Nicki debuted her new merch line, which seemingly mocked Cardi. Among the new merchandise included backpacks, T-shirts and jackets with "Nicki stopped my bag" and "Queen Security Administration" written on them. Days later, Cardi's interview for W magazine's Art Issue was published, in which she talked about the catalyst for the fashion week altercation with Nicki.
"For a while now she's been taking a lot of shots at me," Cardi told the publication. "I spoke to her twice before, and we came to an understanding. But she kept it going."
The real spark of the fight came when Cardi saw that Nicki had allegedly liked and then unliked a tweet about Cardi's parenting skills, which Nicki has denied. "I was going to make millions off my Bruno Mars tour, and I sacrificed that to stay with my daughter," Cardi continued. "I love my daughter. I'm a good-ass f--king mom. So for somebody that don't have a child to like that comment? So many people want to say that party wasn't the time or the place, but I'm not going to catch another artist in the grocery store or down the block."
On a new episode of her Queen Radio show on Monday, Nicki addressed the fight once again, stating that the knot on Cardi's head was caused by Love and Hip Hop star Rah Ali hitting her, not security.
"There is no way I can lie about this because there is surveillance footage from the building where the assault took place. Ra really beat Cardi's ass really bad, like really bad," Nicki shared on the radio show. "Ra held her head and punched her like 8-9 times, and I could hear it, I'm talking like the hardest punch you've ever heard in your life."
"Anyone that want to put up the surveillance footage, I will give you $100,000," Nicki said. "Pull up that surveillance footage."
"For the slow ones in the back on the blogs, I offered money for the footage from the venue," Nicki later tweeted. "I have footage on my own camera but I was asking for the overhead footage that the venue may have. #QueenRadio."
Over the weekend, Cardi's sister Hennessy Carolina claimed that Nicki leaked Cardi's phone number, but Nicki has denied the allegation.
"Leaking numbers? What type of bird s--t you talking about bitch? Stop lying on me? You wanted my attention sister, you been saying f--ked up shit about me. Now you know the truth, your big sister came home and lied to you, now what?" Nicki said of the claim on her radio show. "The sister was saying some more really rude things about me, lies. So should I not say anything to defend myself ever?"
On top of that, Nicki has just released a new song with Tyga called "Dip," which includes the lyrics, "All that rah-rah never was the iconic issue/Harper's Bazaar I'm covering the icon issue/I got issues, yeah bitch, I got issues/W, Vogue, Cosmo (I got issues."
This story was originally published on Wed, Sep. 26 at 12:39 p.m.