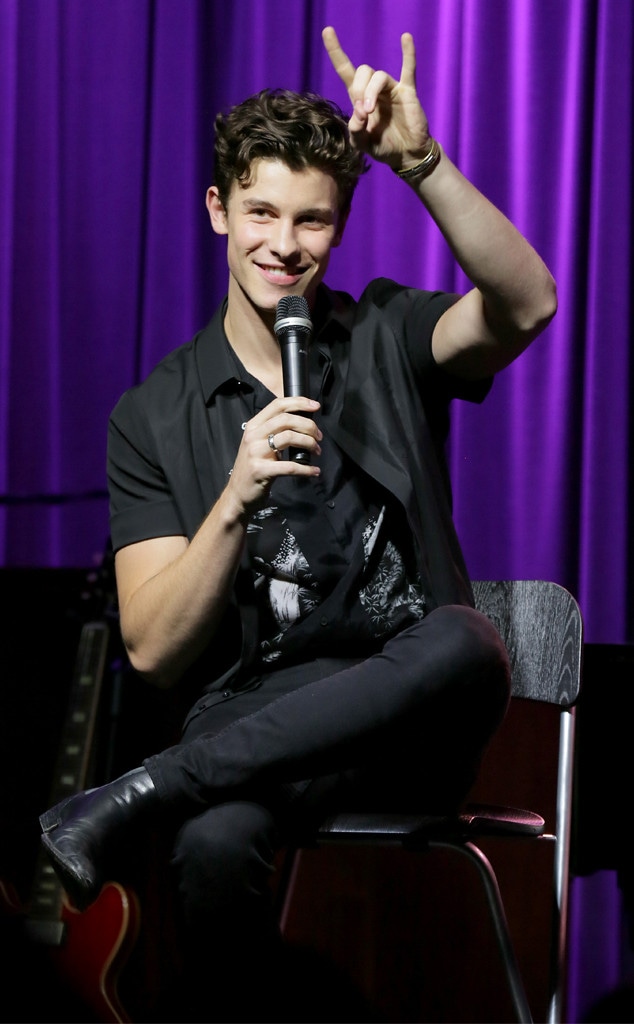 Rebecca Sapp/WireImage
Yesterday, a few lucky fans—including musicians Ryan Cabrera, Teddy Geiger and Dave Grohl—got the chance to spend "An Evening With Shawn Mendes" at L.A.'s Grammy Museum.
The event began with a Q&A, moderated by Scott Goldman, the Grammy Museum's executive director. He noted Mendes earned raves after releasing his self-titled third studio album, as well as the respect of industry veterans (like John Mayer and Justin Timberlake). Now that he's more experienced, Mendes said he'd been more open to experimentation. "Now I'm 20, and everybody who was 15 listening to me back then is now 20," he told Goldman. "And they have grown up, too. I'm not afraid of [losing my audience]. I'm not afraid of becoming more mature."
Mendes is proud of his many accomplishments, but he hasn't let success redefine who he is—whether he's onstage of off. "You have to be humble, but you can't wake up and question it. Because if you start to question it, you start to crumble," he argued. "There's a balance there."
Years spent on the road has kept Mendes humble, and his authenticity is one of his strongest selling points. "I toured for so long with just me and an acoustic guitar. That was what I think started the connection with me and the fans—that real connection. The truth is, there was nothing to hide behind. I messed up 24/7," he laughed. "There are compilations on YouTube!"
Watch:
Shawn Mendes Opens Up About His Secret Journal
Mendes also discussed "Nervous," the second single from his current album. When he was writing the song, Mendes was very into the idea of juxtaposition: "How do we make it sound like I'm the most confident dude ever, but the message is the absolute opposite?" In reality, he said, "I'm the most nervous guy. Really, what I started to realize is that when you get nervous around people, when you get nervous on stage, it genuinely means you care. And the second you stop getting nervous is maybe when there's a problem, you know? So, I really take nerves to heart. Nerves mean that there's something inside thinking like you need to care about this."
One of the funnier moments of the Q&A came when Goldman brought up Mendes' "Truth Is" journal. "Wow, how did you know this?" the pop singer asked. "Did I say this in an interview?!"
Goldman teased, "I have my sources."
"Is it my mom?" Mendes asked, eliciting laughter from the audience. "The 'Truth Is' journal...I know what you're talking about. So, I have a journal, and in the journal, I basically go, 'Truth Is...' And I write everything that's true. And I think a lot of the times we lie to ourselves about life and how we feel about people or about things, and I go—no matter how crazy or how obscure this thought is—I go, 'The truth is, this is how I feel about this.' And that's what I have."
With a smile, Mendes told Goldman, "And I'll never tell you what's inside."
"I can't even believe you know that exists," he added. "You must've emailed my mom!"
Mendes, whose YouTube documentary drops Friday, ended the evening with a performance.