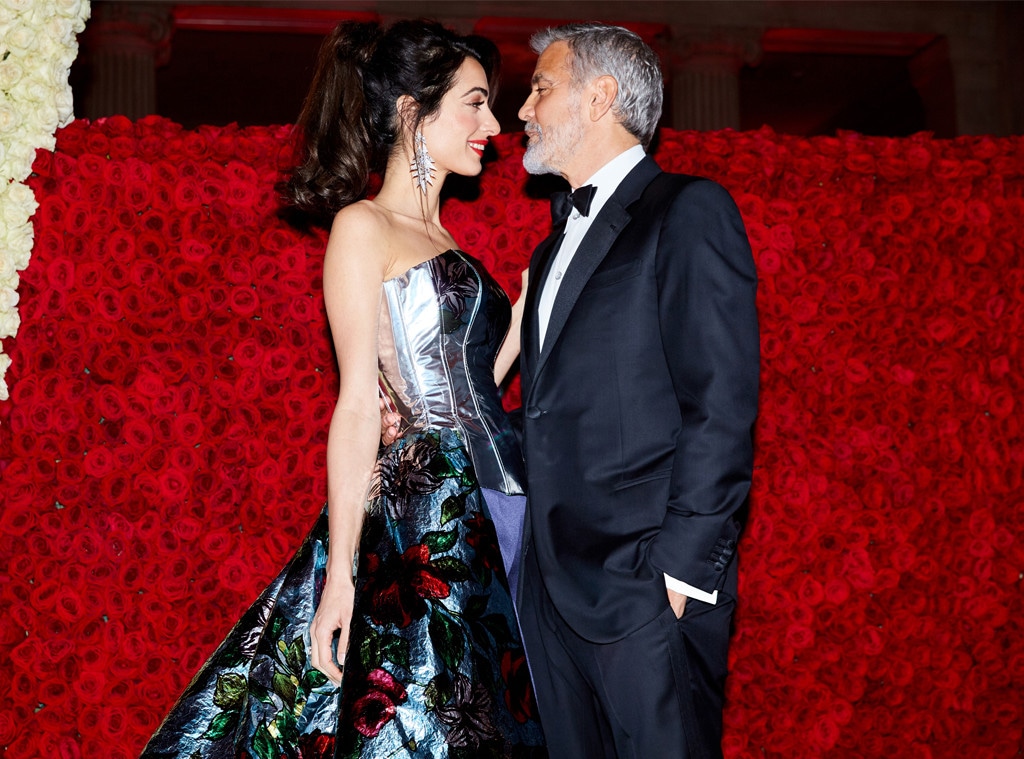 Taylor Jewell/Getty Images for Vogue
"I thought if you had a successful career that you weren't really going to be able to have one great love in your life. And then Amal walked in."
When George Clooney said those words this past summer, it wasn't just a few good lines for his acceptance speech at the AFI Life Achievement Award event.
Instead, it helped demonstrate the Oscar winner's journey from Hollywood's most eligible bachelor to proud husband and father.  And yes, he has Amal Clooney to thank for this exciting chapter in his life.
"George and Amal have a great relationship," a source shared with E! News. "They have figured out the perfect work-life balance and are very similar in that they both are very focused on their work, respectively, but they also love to let loose, get down and have fun."
Today, the couple celebrates their four-year wedding anniversary with a bond stronger than ever. And while George's life was already pretty darn good before meeting Amal, the human rights attorney has changed the world around him in more ways than one. So how did it all begin?                                                         
Frazer Harrison/Getty Images for Turner
"I didn't leave the house," George recalled to David Letterman when discussing his first meeting with Amal. "It's the wildest thing. A mutual friend of ours said, 'I'm stopping by and can I bring my friend?' And I was like, 'Of course.' I got a call from my agent who called me and said, 'I met this woman who's coming to your house who you're gonna marry.'"
"And the funniest thing was my mom and dad were visiting, so my parents were there, and we just talked and we stayed up all night talking and then, you know, I got her email address 'cause she was going to send me some pictures of my parents and then, we started writing and I didn't really, I didn't know if she wanted to go out with me," the Casamigos co-founder continued. "I just thought, you know, we were buddies."
What came next was a special relationship that was much more than your average friendship. In fact, George is more than happy to admit that he knew there was something special from the beginning.
Watch:
George Clooney's Twins Have Amal's Eyes
"I thought she was beautiful and I thought she was funny and obviously smart," he told The Hollywood Reporter. "She probably thought I was old. Then she sent some pictures from when she was here and we were writing each other, emailing, talking, mostly about what was going on in each other's lives and over a period of time, it became clear we were more than just friends."
Fast-forward to April 2014 when news broke that the couple was engaged after roughly seven months of dating. They would later enjoy a stunning wedding ceremony in Italy with family and famous friends including Bill Murray and Matt Damon.
"There was no doubt that we were the right couple and that we were the right team," George explained to The Hollywood Reporter. "And we were a team from right off the bat. Immediately, we felt we were just happy, and we have been happy ever since."
Julien Hekimian/Getty Images
That happiness has only continued once they became parents to not one but two kids. Back in February 2017, The Talk's Julie Chen confirmed the news and revealed the happy couple is expecting twins in June.
And while they tried to keep their journey to parenthood on the private side, both George and Amal couldn't help but gush about their growing family once Alexander and Ella arrived last summer.
"[Having kids] has never been part of my DNA," George once told The Hollywood Reporter. "We didn't plan on it. We never talked about it until after we were married, which is funny. There was an assumption that we didn't want them. And then, after the wedding, Amal and I were talking and we just felt we'd gotten very lucky, both of us, and we should share whatever good luck we've got."
According to a source, George is an "amazing" dad who is "very doting" to the twins and to his wife. We're told Alexander likes to mimic George and has even expressed interest in wanting to dress just like him. 
"George is really embracing fatherhood and being married and seems almost surprised by how happy and natural he feels about it after so many years of swearing this lifestyle off," our insider added.   
And ever since he became a member of the fatherhood club, George says he's shifting his Hollywood career to focus more on directing than acting. "I'm 56. I'm not the guy that gets the girl anymore," the Ocean's Eleven star told The Sunday Times.
He's also more devoted than ever before to supporting causes near and dear to him and his family. Whether expressing his support for Parkland High School students, donating to March for Our Lives or working with The Clooney Foundation for Justice, the couple is committed to a variety of causes.
"They are really bonded by the very real goals they have in terms of their philanthropic ideas and initiatives," a source shared with E! News. "Their goals in that respect are totally aligned, which brings them even closer to each other. They take that very seriously."
And while he remains in the Hollywood spotlight, George is focused less on what's next and more on enjoying the moment.
"Right now my job is changing diapers and walking them around a little bit," George previously shared with The AP via Vanity Fair. "I really didn't think at 56 that I would be the parent of twins. Don't make plans. You always have to just enjoy the ride."