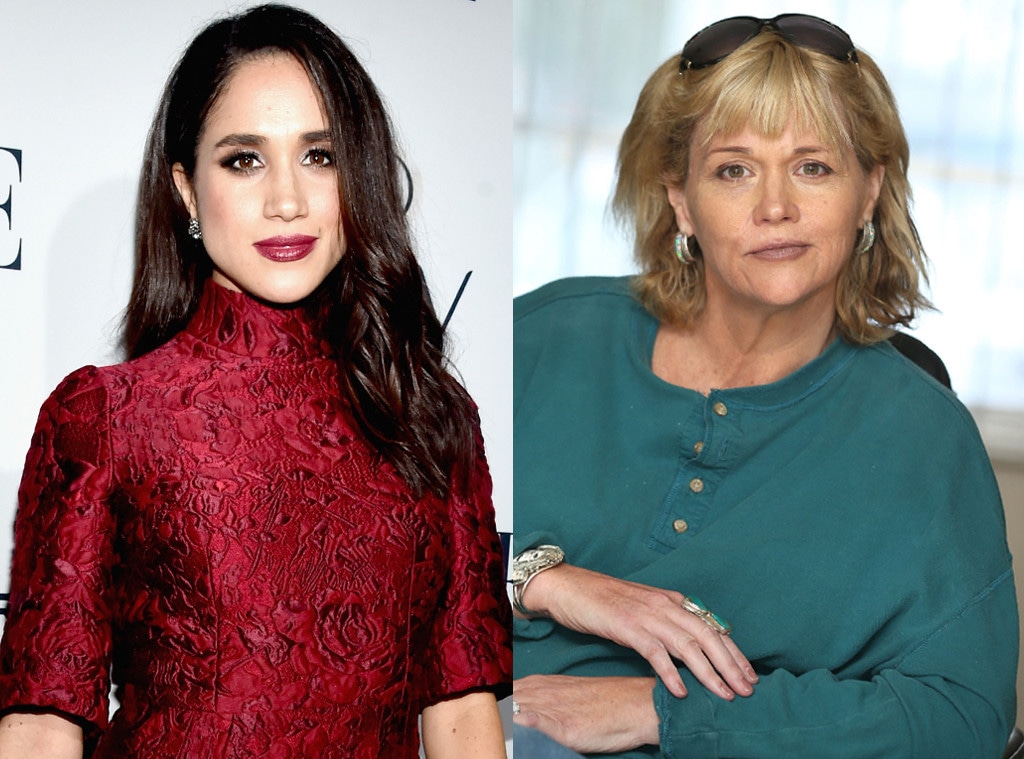 Getty Images; Splash News
In one of his many interviews barraging daughter Meghan Markle for not paying enough attention to him, Thomas Markle issued what sounds like a veiled threat. 
"If I chose in a month, or couple of months, to go to England—I want to see my daughter. I'm thinking about it," he revealed to The Sun. "I don't care whether she is pissed off at me or not...I'm not going to wave flags and make a fool of myself. I'd find a hotel room and try to reach them." 
In the two months since, the retired lighting director has yet to make good on his squeaky wheel strategy. But a different Markle may soon be appearing outside the Kensington Palace gates. Because, in an apple doesn't fall far from the tree move, Samantha Markle—Meghan's long-estranged half-sister—is reportedly making her own trip to London Town. Already in Europe for a trip to Italy, the Florida resident is planning a stopover in the UK, her publicist Rob Cooper tweeted Monday. 
"After making numerous attempts in private to arrange a one on one meeting with The Duchess of Sussex to discuss their 74 year old father's health, Kensington Palace have refused to respond," he wrote. "I fear Meghan may not be made aware of these discreet attempts and therefore making this public is the only option we have left. I currently have Samantha in Europe with just one short flight away. This DOESN'T need to be public, we would prefer to keep this private. Samantha is coming to the UK this week, like it or not." 
As a follow-up, his client posted a simple, ominous message the following morning: "Will be there soon." 
It's unclear what she has planned for the trip, or if it will happen at all, for that matter. This could be one of many stories Samantha has crafted to tease the media, like her wildly reported appearance on Celebrity Big Brother or the time she suggested her "international fashion guru" dad needed "to start his own line of hoodies for older men." But if she is London bound, it's hard to imagine her being issued an invitation to the Kensington Palace cottage Meghan shares with Prince Harry. 
Because at this point is there really anyone who think the 37-year-old duchess is unaware that her half-sister would like a word? She's made as much clear through her frequent tweets (upwards of 30 referencing the duchess, her new relatives or the surrounding drama since Meghan's May vows) and interviews. Anyone with even a passing interest in pop culture and current events is aware that Samantha would like Meghan to, as she says, "bow to the daddy." 
What's less clear, is her end goal. 
She told ITV's Good Morning Britain, she simply wants Meghan to reach out and assure her dad she's settled into royal life just fine. (You know except for all his pesky comments on her job performance.) "He's very worried about her given the distance and the inability to have live communication," Samantha stressed, "so he just needs to know that she's well, she's happy, she's OK and to touch bases, so I hope they get to do that soon." 
So if Meghan were to bend to her will and give their dad a call, would Samantha feel satisfied that she'd finally gotten what she'd wanted? Would the tweets stop? The interviews? The insults? 
Seems unlikely, right? 
Stepping back to examine the history of the drama, many of Samantha's actions read like a study in contradiction. She swears that she never wanted to put this issue out there, that she's sick of the stories turning up in the media and would much rather deal with such sensitive family issues in private. Even her Twitter profile states her location as being "far away from paparazzi." 
And yet she very much inserted herself in the narrative from the beginning. She's long been open to speaking to various news outlets and certainly seems intent on fanning the flames of this family feud. You could almost make the case for one on-camera plea, the last option of a desperate woman who has no other way of getting in touch with her estranged sibling because, as she'd explained on Good Morning Britain, "private channels have been exhausted to no avail." But then why do it multiple times? Does she really believe her words—and the subsequent news stories and blog posts—haven't made their way to Kensington Palace? 
She also claims not to have smeared Meghan, saying terms such as "narcissistic" and "social climber" were put into her mouth by the media. "I was quoted as calling her Princess Pushy," she recounted in the TLC documentary When Harry Met Meghan: A Royal Engagement. "The truth is, I never said any such thing and there's no tape, no recording, nothing in the world that anybody could present to suggest that it was." 
And she takes umbrage with the idea that her tweets are "slams" against her sister or a way of bashing her, she's simply stating as she wrote on her now-private social media account, "honest, open, most diplomatic opinions." Even if that opinion is as cruel as saying that Meghan is "arrogant and ignorant" or that "Harry is a 'wuss' to allow the Duchess of Nonsense to mistreat everyone who has been close to her, especially her family," before suggesting that he "stop wearing Meg's skivvies and bra."
Then there's the notion that Samantha's profiting off her sister's sudden notoriety. She is, she readily admits, but so is everyone else. The way she sees it, her decision to share vignettes from the future duchess' childhood is no different than the reporter that's paid to interview her and pull out such details.
"I worked in media most of my life and in broadcasting, so because my sister is suddenly royal isn't grounds for me to stop doing all of that," she explained on Good Morning Britain. "Let's face it—we all have to survive. Money makes the world go round, so if you want to call that cashing in, that's fine, but I think no one in media would refuse a paycheck for talking about the royal and, as a family, we're not subject to royal protocol."
What's more, she's insisted, she had just as much right to discuss her past as Meghan does.
"We're each individuals with our own life experiences. With all due respect, its not just Meghan," she said. "We're entitled to share that. We're entitled to be open about it and if we can shed some light on some issues for the public, then great and we can enjoy the process. I don't think there's anything wrong with that. It's not disparaging. It's not harmful. For someone to say, 'Oh you shouldn't take any money. You should turn down a paycheck,' well, go tell your boss you don't want a paycheck for interviewing me because that's cashing in." 
Of course, Samantha's biggest opportunistic windfall is still in the works: her book, which has changed focus and titles at least twice, the latest iteration being called In the Shadows of the Duchess. Despite appearances she says, no, swears it's not her intention to paint the royal in a negative light. "What is not true is this unbelievable swell that's been created that it's some sort of slamming tell-all," she told Good Morning Britain. "It's only a tell-all in that I [write about] beautiful nuances of our loves, our family home." The main focus she insisted "has to do with the interracial evolution of this country through the lens of my family." 
Arthur Edwards/The Sun/PA Wire
A far cry from The Diary of Princess Pushy's Sister. But if it's not a tell-all, why is she promising her Twitter followers that the tome will have "all the juice"? Why did she vow, "I am holding nothing back"? 
Which brings us back to the question: Just what is Samantha's end goal? If she's simply trying to drum up interest in her book, then she's playing at a pretty successful strategy. We imagine if and when it hits shelves, no matter what content is inside, it will be widely read and dissected. 
But if she's really trying to get Meghan to see her viewpoint, to convince her to patch things up with her dad, this is probably not the way to go about it. Sources insist they were never all that close and Meghan hasn't really been feeling an urge to reunite lately what with Samantha tossing out labels such as "Cruella de Vil." 
John Stillwell/PA Wire/AP Images
In fact, one source told E! News last year that the siblings, born 17 years apart to different mothers, didn't have much of a relationship to speak of throughout Meghan's childhood. "Samantha was not a part of that life and in no way shape or form did Samantha raise Meghan until she was 12," said the source. "Meghan saw her on occasion at family functions, but never on a regular basis. For about two weeks when Meghan was 12, Samantha moved in with her dad. She has seen her once since then." 
And it's not as if Meghan is indifferent to the situation. To hear insiders tell it, she's not exactly loving being at odds with her dad. 
While Samantha's ruminations aren't "really a concern," to Meghan, a source told Us Weekly, she's truly devastated by Thomas' actions. And it's not as quick of a fix as her half-brother, Thomas Markle, Jr. suggested when he said, "She's capable of doing anything, she's just got to want to do it. If she wants to make amends, by all means, she can do that."
Steve Parsons/Pool Photo via AP
Because the one thing she can't do is be certain her father won't take the details of their chat to the closest news outlet. "She doesn't even know how to communicate with her dad without knowing he won't exploit her," explained the source. "She lives in fear that he'll leak their communication. If he's spoken this much already, why wouldn't he leak their conversation?" 
Her rock in all of this has been mother Doria Ragland, who joined Meghan and Harry at a reception last week for the duchess' charity cookbook. "She's encouraging Meghan to ignore any negative press and focus on her new life," the source noted. "Doria is amazing. She's a total bedrock and always takes the high road. She's a very elegant woman and Meghan really turns to her for everything." 
The mother-daughter duo are so tight that there's been more than a little speculation that the social worker will be the one who finally puts an end to all of the drama. She is, after all, the one person on speaking terms with both Meghan and her ex-husband. 
"Meghan has been adamant that her mom not get dragged into all the drama," a source told UK's Daily Mail in August. "But if anyone can talk some sense into her dad, it's Doria. Meghan is now open to the possibility of her mom working some magic behind the scenes." 
It's a report Samantha shot down, along with another detailing how Harry's advisors had begun reaching out to Thomas last month. "I speak to him every day and it's sad but, no, they have not contacted him," she told The Sun. "The PR machines can stop trying to make out she's making an effort—she is not."
To hear Samantha tell it, she's the only one making an effort, though a Meghan pal recently scoffed at the idea her ambush would be at all fruitful. "Samantha is kidding herself if she thinks there is any possibility of getting together with Meghan, or anyone from the royal family for that matter," the unnamed friend told DailyMailTV. "Meghan and Samantha are not close in the slightest. They never have been and it's doubtful they ever will be, especially after all of Samantha's name-calling and bullying."
So the drama carries on as it seems unlikely much of anything will get Samantha to stop her campaign of tweets, interviews and insults no matter how improbably it is that they'll yield results. At least she's been successful at one thing: keeping this ugly chapter in their family's history alive and kicking.