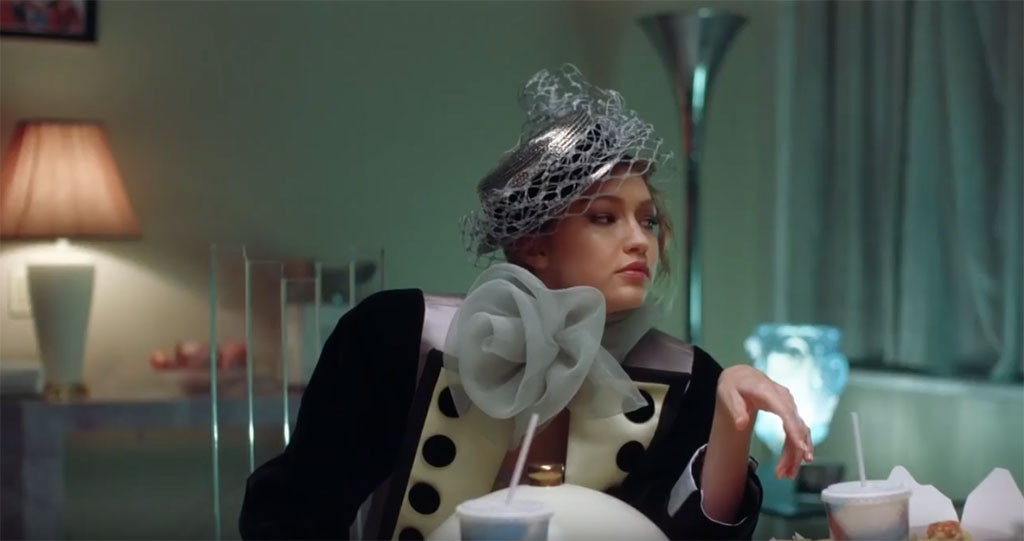 YouTube
This was one bizarre meal. 
When Vogue took fans inside dinner with the Hadids, fashionistas could never have foreseen something like this. Alas, with Halloween just a few short weeks away, it seems like Gigi Hadid, Bella Hadid, Anwar Hadid and mama Yolanda Hadid were ready to get into the spooky spirit and pay tribute to Beetlejuice all at the same time. 
With the magazine's cameras rolling, the family set the scene with an extremely avant-garde, over-the-top version of a night at home. After summoning her children from their perspective spots in the house (Bella was lounging in style with her phone in hand), Yolanda gathered her three kids around the table for a meal consisting of fast foot and fine cutlery. 
Assuming their characters, the fashion family proceeded to banter as they donned the season's most striking couture getups. "Those are my earrings!" Gigi told her younger sister. "Rodarte sent these to me," Bella rebuffed. Meanwhile, Anwar was busy admiring himself in the reflection of his spoon. 
"Anwar, you know we can see you right?" Bella reminded him. 
"I'm so happy to have all three of you home tonight," Yolanda told the trio. "That doesn't happen very often."
On cue, "Day-O (The Banana Boat Song)" proceeded to play as, one by one, all four of the stars were overcome by something mysterious and began to groove in sync. 
As they continued their coordinating choreography around the table, they removed the tops from the platters in front of them to find versions of themselves trapped in the plate. 
For one creepy finale, check out Vogue's video above!