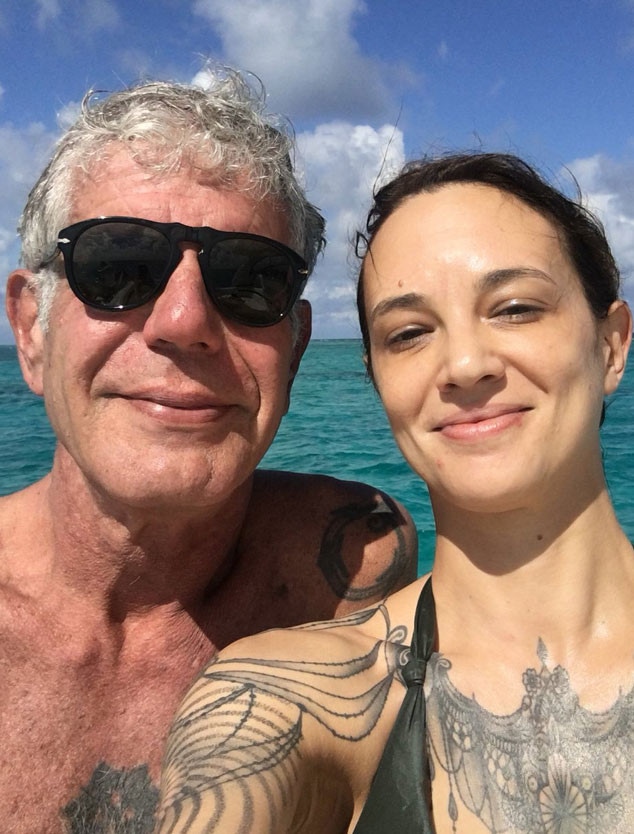 Instagram
Asia Argento broke down in tears while talking about the death of boyfriend Anthony Bourdain in a new interview.
CNN confirmed the Parts Unknown host and acclaimed chef's passing on June 8, stating that his cause of death was suicide.
"It is with extraordinary sadness we can confirm the death of our friend and colleague, Anthony Bourdain," a spokesperson for the network said in a statement at the time. "His love of great adventure, new friends, fine food and drink and the remarkable stories of the world made him a unique storyteller. His talents never ceased to amaze us and we will miss him very much. Our thoughts and prayers are with his daughter and family at this incredibly difficult time."
After the shocking news of his death was announced, Italian actress Argento took to social media to mourn the loss of her boyfriend.
"Anthony gave all of himself in everything that he did. His brilliant, fearless spirit touched and inspired so many, and his generosity knew no bounds. He was my love, my rock, my protector. I am beyond devastated," Argento tweeted. "My thoughts are with his family. I would ask that you respect their privacy and mine."
Now, in a new interview with DailyMailTV, Argento breaks down in tears as she talks about Bourdain's death, admitting that at first, she was "angry" at him after learning of his passing.
"Now...the anger kept me alive because otherwise this desperation has no end, there's no end. So...and then, I was angry [at him], yes, for abandoning me, my kids," Argento told interviewer Laura Collins. "But now it's been replaced, just by, this loss, this hole, that cannot be filled by anything."
This interview comes one month after the New York Times reported that Argento agreed to pay former child actor Jimmy Bennett $380,000, after he accused her of sexual battery in a notice of intent to sue sent by his attorney to Argento's in Nov. 2017, a month after Argento had come forward with an allegation of rape against Harvey Weinstein. In response, Argento released a statement strongly denying the sexual assault claim.
Over the weekend, Bennett gave his first on-camera interview with Italian anchor Massimo Gilletti, in which he addressed his allegations against Argento. "It's hard for me to talk about this in front of strangers and people I don't know, but I do want to get the benefit of the doubt in telling the truth," Bennett said during the interview, via The Daily Beast.
Bennett was also asked about the photo of him and Argento and Bennett—allegedly taken after the two had sex—which how now gone viral. "She asked me to take a photo," Bennett said. "Yes, it was on my phone. Yes, it was after we had sex."
Gilletti then said, "I'm sorry, but you don't seem upset, you don't seem in this picture to be traumatized. You don't look here like someone who was afraid."