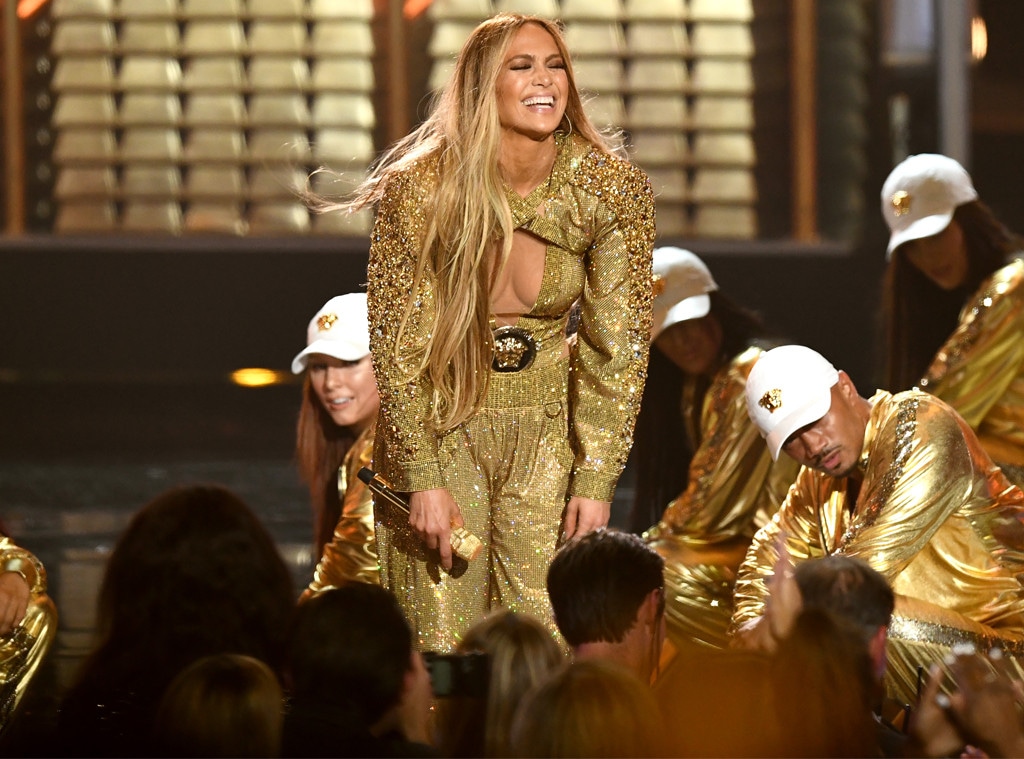 Noam Galai/WireImage
Even Jennifer Lopez is capable of a misstep. 
The triple threat faced exactly that on Saturday night as she returned to the stage for another round of her Las Vegas residency show, All I Have. According to footage shot by an attendee from the audience, the multi-hyphenate star was quickly walking around the stage to clap hands with fans when she unexpectedly slipped, fell backward and landed on her behind. A helpful fan gave her a hand as she quickly pulled herself up and kept on going. A pro like J.Lo certainly knows: the show must go on!
With just three more shows left until her final September 29 performance date, fellow celebrities flocked to the Zappos Theatre at the Planet Hollywood Hotel & Casino to witness the show Lopez has been perfecting for nearly the last three years. The star also hosted a backstage party for the famous ladies—among them Selena Gomez, Sofia Vergara, Jessica Alba, Sarah Michelle Gellar, Becky G, Ireland Baldwin and Dua Lipa. 
Behind the scenes, the group of successful gals mingled and posed for photos with the performer. While we're all endlessly impressed with Lopez, Gomez made her feelings known when she sent her a text and shared her message with fans on social media. 
"You were absolutely incredible tonight!! I didn't want to bother you while you had a moment. My flight leaves now or else I would've stayed! I'm so sorry!! I wanted to tell you how much you inspired me tonight!!!! I haven't felt that free in my entire life! Lol THANK YOU!!" the "Back to You" songstress wrote to Lopez. "I just wanted to tell you how amazing god thinks you are!!!! He was speaking to me through your show tonight!! Like made me feel like a woman!! Lol I love you so much!"
"You are the definition of a triple threat!!" Gomez added on Instagram. "Thank you for inspiring us female artists!"
From her sharp choreography to her quick fall recovery, Lopez continues to show us all how it's done.