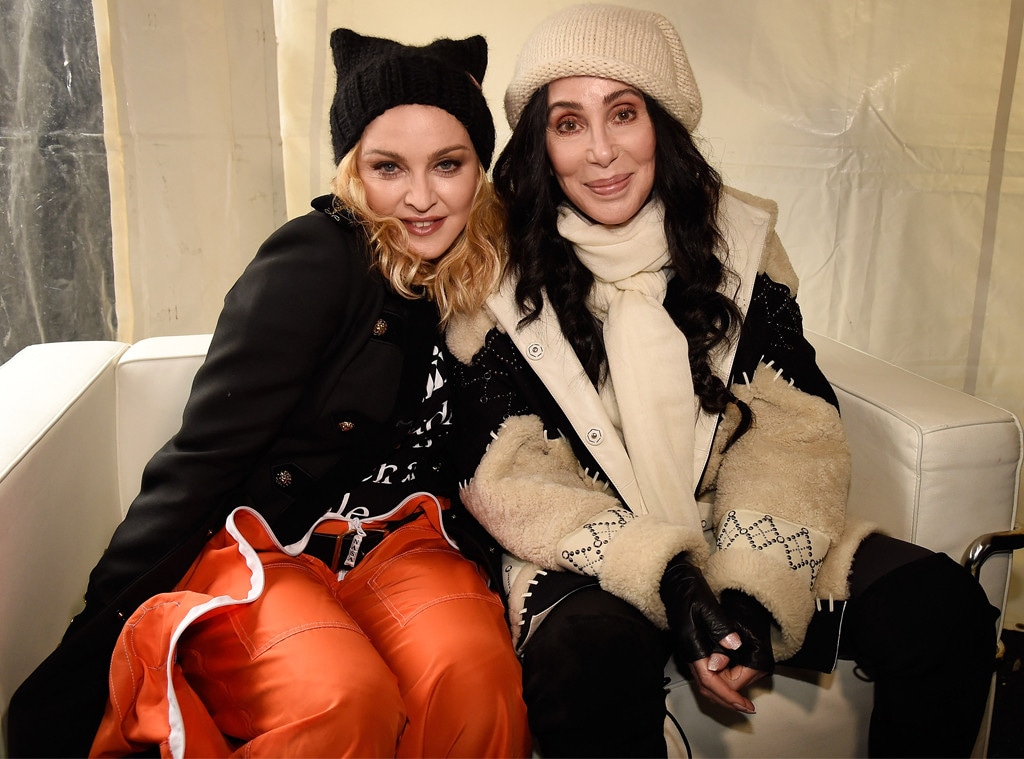 Kevin Mazur/WireImage
If Cher could turn back time, would she make amends with Madonna?
If her latest appearance on The Ellen DeGeneres Show is any indication, the answer is a clear "hell no." To promote her ABBA cover album, Dancing Queen, and her upcoming Here We Go Again Tour, Cher played a game called "5 Second Rule" with Ellen DeGeneres Monday (check your local listings). The premise of the game was simple: Stephen "tWitch" Boss would read a prompt, and then one of the players had to offer three different answers in five seconds or less.
At one point, an innocuous question gave Cher the chance to make a dig at her famous frenemy.
"Name three celebrities you'd want to do a duet with," Boss said.
"Oh! Adele, Pink and...uh, um—not Madonna," Cher said.
The audience expressed shock, with even DeGeneres joking, "Well, all right, Ms. Negative!"
Playing innocent, Cher asked, "Did I cheat?"
"Yeah!" DeGeneres told her. "He said who you'd want to—not who you wouldn't want to."
Unfazed, Cher told the daytime talk show host, "I took a little license."
Until today's episode, fans believed Cher and Madonna were finally on good terms. They were photographed together at the Women's March in Washington, D.C., last year, and in a 2013 Reddit AMA, Cher insisted she "never hated" the Material Girl: "I just thought she was a bitch."
At the time, the 72-year-old "I Got You Babe" singer also noted she had a lot of "respect" for the 60-year-old "Ray of Light" singer. "I think Madge might be one of the most amazing artists I've known. I don't like everything she does, for sure, but she is always riding the crest of the wave," Cher explained. "She always saw trends WAY before anyone else and had great videos."
Cher's issues with Madonna date several decades. As she once explained in an interview in the '90s with CBS' Steve Kmetko, "There are lots of things that I respect about her. I think that she knows how to work the business like nobody I've ever seen before." But in spite of Madonna's business acumen, "There's something about her that I don't like. She's...mean. I don't like that."
"I remember having her over to my house a couple of times, because [Sean Penn] and I were friends, and she just was so rude to everybody. It seems to me that she's got so much that she doesn't have to act that way," Cher continued. "She acts like a spoiled brat all the time. And it seems to me when you reach the kind of acclaim that she's reached—and you can do whatever you want to do—you should be a little bit more magnanimous, and little bit less of a c--t."