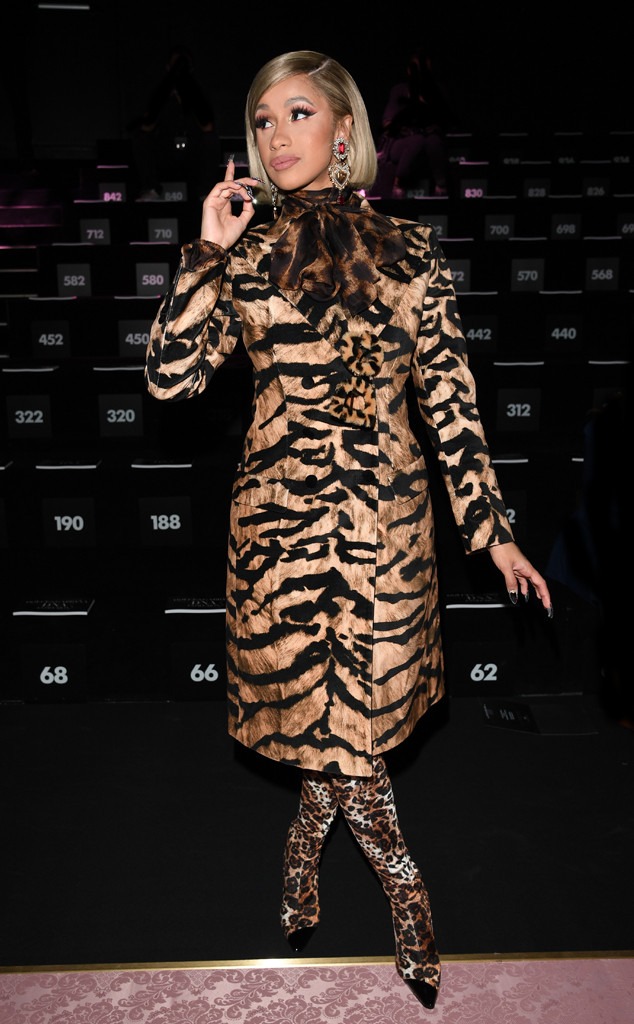 Daniele Venturelli/WireImage
Cardi B is back in the public eye and turning heads again after laying low following her fight with Nicki Minaj, while the two rappers have yet to cross paths despite both traveling to Milan for fashion week.
Cardi attended the Dolce & Gabbana spring/summer 2019 show on Sunday. She sat in the front row with Stevie Wonder and Liam Payne and wore a tiger-print coat, high leopard-print boots and tiger-print fur-trimmed glasses. She used the accessory and a lot of makeup to cover up the forehead lump left over from an injury she sustained during her heated altercation with Nicki at the Harper's Bazaar ICONs party during New York Fashion Week more than two weeks ago.
The Milan show marked the first time Cardi has been photographed at a public event since the altercation. Cardi posted on her Instagram Stories videos from the event, including a clip of a model walking the runway in a light gray ruffled gown, a near-identical dress to the one that the rapper wore, and accidentally ripped, while taking part in the fight.
"Mine was red," she wrote.
Daniele Venturelli/WireImage
Cardi B showcased her trademark potty-mouthed sense of humor en route to the Dolce & Gabbana show in an Instagram video posted on Sunday morning.
"Bitch! Get into these motherf--king glasses, bitch!" she said.
She said the tiger-printed fur-framed glasses kept her face "super warm."
"Man these Italians got me f--ked up, giving me Champagne in the afternoon, they must not know that I'm light," Cardi said. "What's up bitch, we're out here in Milan, drinking sparkling water, eating some spaghettis."
She later said she channeled The Nanny star Fran Drescher with her look and that at the show, she and Payne, who has a son, spent the whole time talking about their kids. Cardi gave birth to her and Offset's daughter Kulture earlier this year. Last weekend, Cardi brought the child backstage at Offset's group Migos' show in Philadelphia. They were not spotted among the crowd.
Cardi arrived in Milan last week. On Friday, she shared on Instagram videos of her sister Hennessy Carolina walking the runway at Philipp Plein's show at Milan Fashion Week.
That day, Nicki attended Versace's women's spring/summer 2019 show. She sat in the front row with Rosie Huntington-Whiteley and Rita Ora. Nicki, who has appeared at a few public events since her and Cardi's fight, also arrived in Milan last week. The two have not been seen together since the incident.
Swan Gallet/WWD/REX/Shutterstock
After the confrontation, Cardi had claimed Nicki had made a comment about her daughter and expressed her opinion on her parenting skills, which the latter rapper denied.
"The other night, I was a part of something so mortifying and so humiliating to go through," Minaj later said on her Queen Radio show on Apple Music's Beats 1. "The way they passed by looking at this disgusting commotion, I will never forget. I was mortified."
"I would never talk about anyone's child or parenting," she said. "I don't care about anyone's parenting. I don't give a s--t and it's so crazy to me that people always need to make Onika the bad guy. I just want to let the world know that Onika Tanya Maraj would never, has never and will never speak ill of anyone's child."