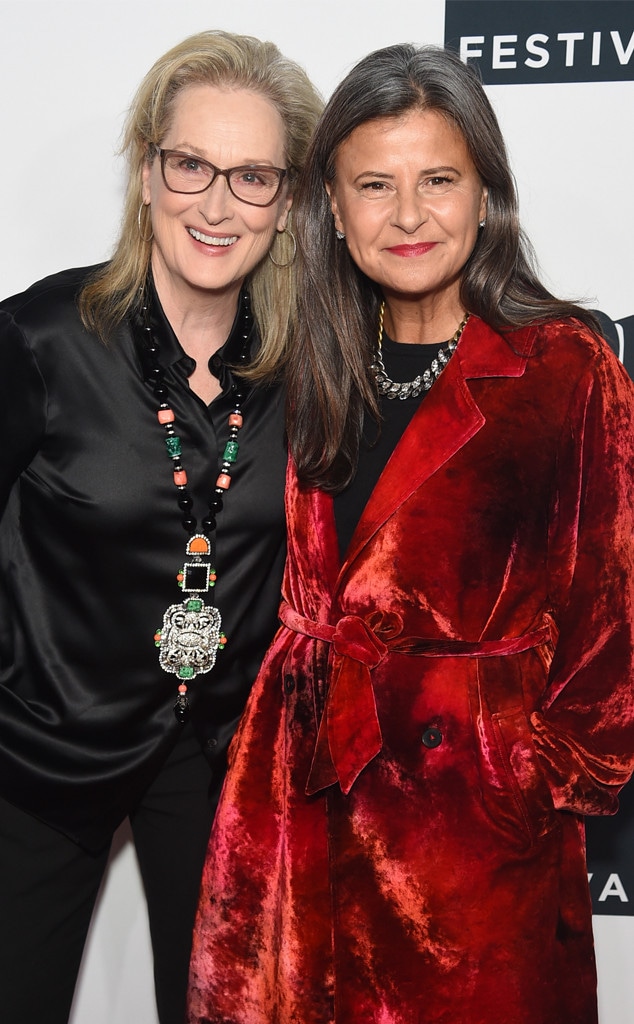 Jamie McCarthy/Getty Images for Tribeca TV
It looks like Meryl Streep just unofficially endorsed her candidate for 2020: her close friend Tracey Ullman.
Streep and Ullman reunited for a discussion at the Tribeca TV Festival on Friday, where the Mamma Mia! actress told Ullman, "We need you to run for president."
Ullman, who is British, may not be able to run for President of the United States, but that doesn't stop her from playing other heads of state in her HBO series Tracey Ullman's Show. The comedienne impersonates a number of worldly figures on her show, including Judy Dench, German Chancellor Angela Merkel, British Prime Minister Theresa May, Camilla, Duchess of Cornwall and so many more.
According to Ullman, she always says "No" when she's asked to impersonate Streep, yet she seamlessly launched into a perfectly accurate imitation of the Doubt star. Before telling Ullman to run for president, Streep said, "The sources of what you do are ultimately kind of mysterious, and, we are so lucky that you have that genuine imagination, desire, heart and soul. You put it all out there."
Politics is a specific realm that Ullman herself loves to delve into. "I found that the most interesting women I could impersonate were politicians," she said in their discussion. 
Streep has also channeled her fair share of politicians and continues to be a prominent voice in politics. In 2011, Streep played British Prime Minister Margaret Thatcher in the film Iron Lady and won an Academy Award for her role. Plus, she's considered by many to be "Hollywood's queen."
The Devil Wears Prada star was honored with the Cecil B. DeMille Lifetime Achievement Award at the 2017 Golden Globes where she made pointed remarks about President Donald Trump and promoting inclusion in the industry. "Hollywood is crawling with outsiders and foreigners, and if we kick them all out, you'll have nothing to watch but football and mixed martial arts," she said in her speech. "Disrespect invites disrespect. Violence incites violence. When the powerful use their position to bully others, we all lose."
After her Golden Globes speech, President Trump took to Twitter and called her "one of the most over-rated actresses in Hollywood."
In contrast, in 2014, then-President Barack Obama bestowed the Presidential Medal of Freedom on her and called her "one of America's leading ladies."
Unlike some Big Little Lies moments, at least no ice cream cones were thrown here.