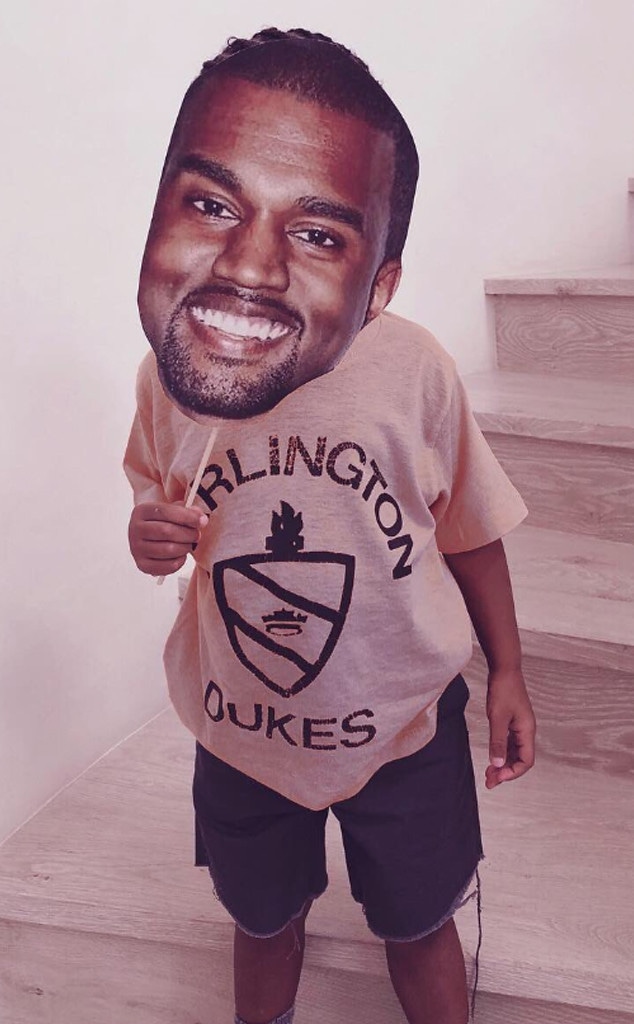 Instagram
He got it from his dada!
Just when you thought Saint West couldn't look any more like Kanye West, Kim Kardashian decided to post two photos that prove any and all searches for the rapper's mini-me is over.
On Friday afternoon, Saint posed in a house with a cutout face of dad.
"Guess who," Kim wrote on Instagram and Twitter as her son wore a Marlington Dukes T-Shirt.
"Look at that face!!!! He's somethin," close friend Jonathan Cheban wrote in the comments section. Best friend LaLa added, "Look at him." Chrissy Teigen, Kourtney Kardashian and Kylie Jenner also liked the photo that brought smiles to lots of Keeping Up With the Kardashians fans.
One fan couldn't help but speculate about Saint and his siblings' similarities with mom and dad.
"I feel like Saint is full on Kim including personality….North West is ye," one fan shared. Kim simply replied, "Facts."
While every shot of Kim's kids is pretty darn sweet, there are a few favorites with Kanye's mini-me that we won't forget.
Back in August, the woman behind Kim Kardashian Beauty shared a video of her son recognizing his dad's voice from a song.
As Kanye's hit "Can't Tell Me Nothing" played in the background, Kim asked who was singing. Saint confidently replied, "Daddy."
And there was also the time Kim asked for a kiss from Saint. As it turns out, Saint wasn't in the mood and refused to lean in for a smooch. "I just gave you a kiss," he shared while hanging with mom.
Kids will be kids!