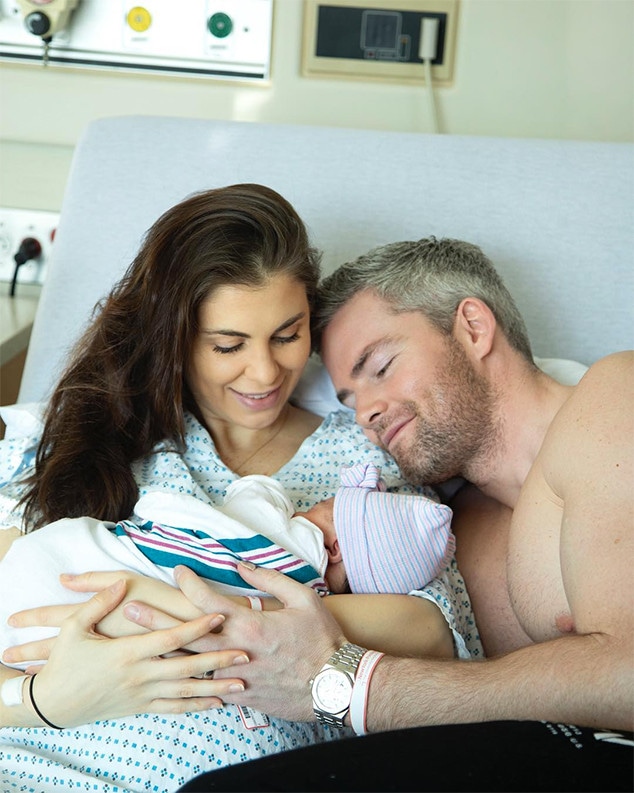 Instagram / Ryan Serhant
Ryan Serhant is a dad!
The Million Dollar Listing New York star and wife Emilia Bechrakis Serhant welcomed their first child, a daughter, last week. On Sunday, he posted on his Instagram a photo of the two holding the newborn in a hospital room and revealed she was conceived via IVF following the couple's lengthy battle with infertility.
"To my daughter, Your momma and I have waited almost 3 years to meet you," he wrote. "We had no idea how difficult getting pregnant with you was going to be. We tried everything. We were so nervous you might never come. When we finally decided to try IVF, we were so scared it wouldn't work. And then you stuck. And then we heard your little heartbeat for the first time."
"Your mom and I were so excited every time we would go to the hospital to see you, but even more terrified we would lose you," he continued. "Because the fact that we were pregnant - as beautiful as it was - was almost too good to be true. And because of that fear, we loved you as hard as we could from the moment we knew you existed. We thought if we put that love for you out there, you would hear it, and you would make it."
He added, "I watched you grow slowly with your momma every day, waiting for the moment I would finally meet you. I feel like I've spent my whole life working towards this moment, when everything would make sense. One day when you read this, I hope you can look back and be proud. And please go and give your Mom a BIG kiss because she's a true warrior, a fighter with the biggest heart, and the Queen of my world. Seriously - one day we will tell you about all the shots, the pain, the sickness, and what birth was like for your Mom on Tuesday the 26th - it was insane! We love you now and forever, our new, beautiful, little puff. Love, Dad."
Emilia also posted a photo of her and Ryan with their baby.
"My sweetheart," she wrote in Greek, then switched to English. "I have waited to exhale for months. It took a long, painful journey to meet you. From the first time we heard your heart I instantly wanted to cocoon you and protect you from the world. I talked to you every single day for 41 long weeks, begging you to 'stick.' (Until the last two weeks I begged you to stop kicking my ribs so hard with those big feet and come out!)"
"I told you every day how much I love you," she continued. "I rubbed my belly and cherished every single movement, as any sign that you were listening. Every night, I prayed with all my soul that you were healthy and thanked God for the miracle that you are. Now that you're finally here, and I get to stare into your eyes, to smell your skin, to hold you, my heart is bursting... I can't find the perfect words to describe how madly in love I am. I am forever grateful...my babylino."
Fans watched the couple open up about the prospect of parenthood on the most recent season of the hit Bravo show. The two discussed the possibility of trying IVF and even bought a townhouse in Brooklyn to provide a home for their future family. The attorney said she was "optimistic" about the process and that she wanted "lots" of little ones.
"I mean, the future has always been big, but the future now is bigger than ever before because the future now isn't just me," the real estate broker said on the show.
If Ryan needs advice on balancing real estate and parenthood, he could always turn to his co-star Fredrik Eklund. After a long and difficult road to fatherhood, the fellow Bravolebrity welcomed twins, Freddy and Milla, with his husband Derek Kaplan in November 2017.
The happy news comes two and a half years after the Serhants tied the knot in a stunning, televised wedding in Emilia's home country of Greece. About 150 guests attended the nuptials.
As E! News previously reported, the two met in 2011 and Ryan proposed in the middle of Times Square in 2014.
Congratulations to the growing family!
(E! and Bravo are both part of NBCUniversal).