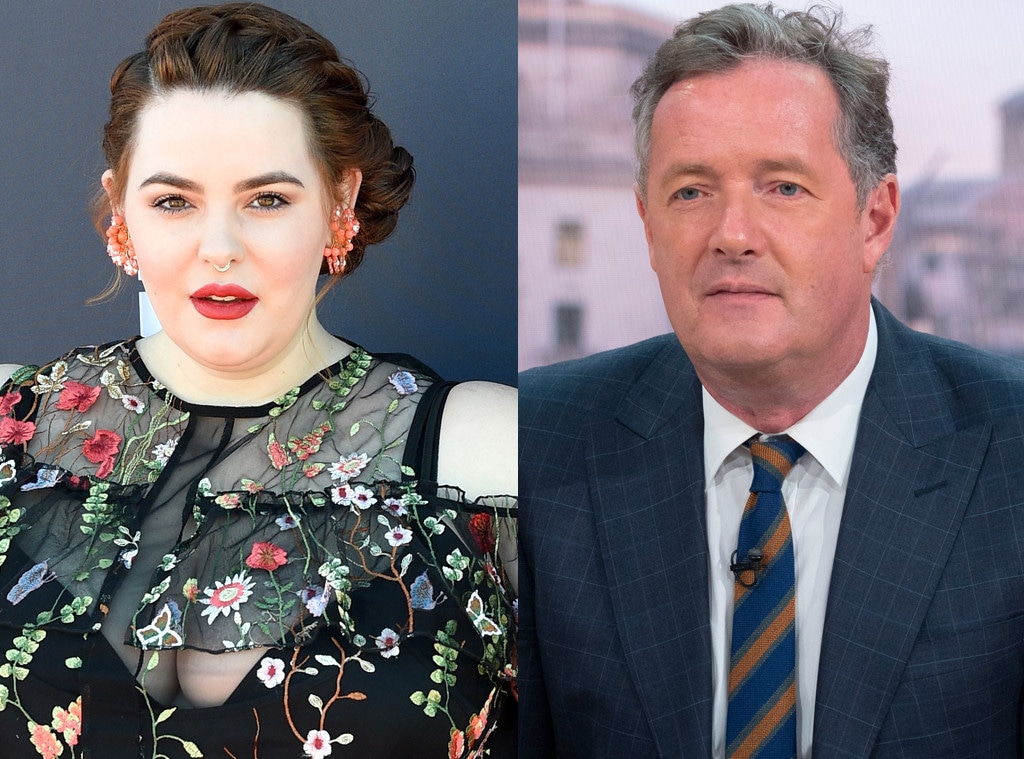 Joshua Blanchard/Getty Images for P.S. ARTS; Ken McKay/ITV/REX/Shutterstock
Piers Morgan is doubling down on his claims that Tess Holliday is "suffering from morbid obesity."
The TV personality wrote a long and candid open letter to the American model on Thursday, after Holliday criticized him for body shaming her. 
In the letter, he writes, "Dear Tess, we don't know each other. In fact, until several weeks ago, I had never heard of you. Then you appeared as the cover star of Cosmopolitan magazine, wearing a green swimsuit and blowing a kiss under the headline: 'A SUPERMODEL ROARS! TESS HOLLIDAY WANTS THE HATERS TO KISS HER ASS.' It was a very striking, newsworthy cover because you are 5ft 3in and weigh over 300lbs."
Morgan continues to inform the model she is clinically unhealthy and at risk of an early death, since it "is a very serious health condition." He details the many the illnesses and conditions that may be caused by obesity, not the least of which is cancer. And while anyone would be terrified by the list of threatening conditions, Piers claims he tells her this because other people continue to tell her a "load of absolute nonsense."
"I'm doing it because I genuinely feel you are promoting a very dangerous message, and because I am genuinely concerned that your own life will be in danger if you continue down this path," he asserts. "A real friend would be telling you what I am telling you."
In response, Holliday tweeted, "The last 2 weeks you've been obsessed with me. Makes me feel like you're almost into thicker girls & too afraid to admit it."
The Brit's claim that he is simply expressing concern for the 33-year-old appeared contradictory to those who remember his many sexist comments against a myriad of women. One of those women is Emily Ratajkowski, who Piers frequently targets because of the provocative photos she often takes part in.
In 2016, Morgan mocked a nude photo shoot of the model on Twitter and accused her of using her sexuality to earn money. "My only issue is Ms Ratajkowski's claim that her stripping's in the name of feminism. It's in the name of money," he tweeted at the time.
Over the years, he has continually aimed derogatory remarks towards the actress, even after receiving heavy backlash. His statements range from offering to buy her clothes, to suggesting she spend time with Serena Williams to learn about true feminism.
That same year he took aim at Chrissy Teigen, who chose to call out the host for writing a "vile" column on Jennifer Aniston. Piers didn't appear to like her comments, because he responded by calling her a "diva" and telling her to "hush before your sanctimonious spleen bursts."
A contentious back and forth continued over Twitter, as each celeb hurled insults at one another, although Morgan said he forgives her "childish impudence" if only because her husband, John Legend, is a genius. Chrissy responded, "my husband thinks you are one of the most misogynistic, condescending morons on the planet but thank you." 
His sexist remarks continued into 2017, when he and his Good Morning Britain co-host Susanna Reid got into a fight on national television over stretch marks. Their heated discussion ignited after unflattering photos of Kim Kardashian were released. Reid argued cellulite and stretchmarks are natural and should be celebrated, whereas her co-host stood firmly against the belief. 
The debate then carried over onto Twitter when Reid wrote, "Cellulite is not a flaw. It is a feature of many bodies, regardless of gender, shape or size."
"Nope, it's a flaw. Like my double chin. Definitely nothing to 'celebrate'," Piers responded.
That instance was not the first, nor would it be the last, in which the Brit would body shame Kim Kardashian. In February, Morgan set his sights on Kim K and Em Rata, yet another time, and claimed they are "setting feminism back years" with their promiscuous photos.  
"They're hijacking the feminist movement and wrecking it for everyone," he said in an interview with Closer magazine.